---
---
The Great Geysir is an erupting hot spring located in Iceland's hugely popular Golden Circle tour area which lends its name to describe this kind of spouting hot spring, giving us the English word 'geyser'. This geothermal area in the Haukadalur Valley, situated to the east of Mount Laugafell, is particularly rich in hot springs and geyser activity. For many people, when they think of Iceland, they find the first thing that springs to mind is an image of a geyser spouting vast amounts of superheated water. These images are synonymous with Iceland as the country is renowned around the world for its impressive erupting geysers. After all, there are only a few of these in existence around the globe!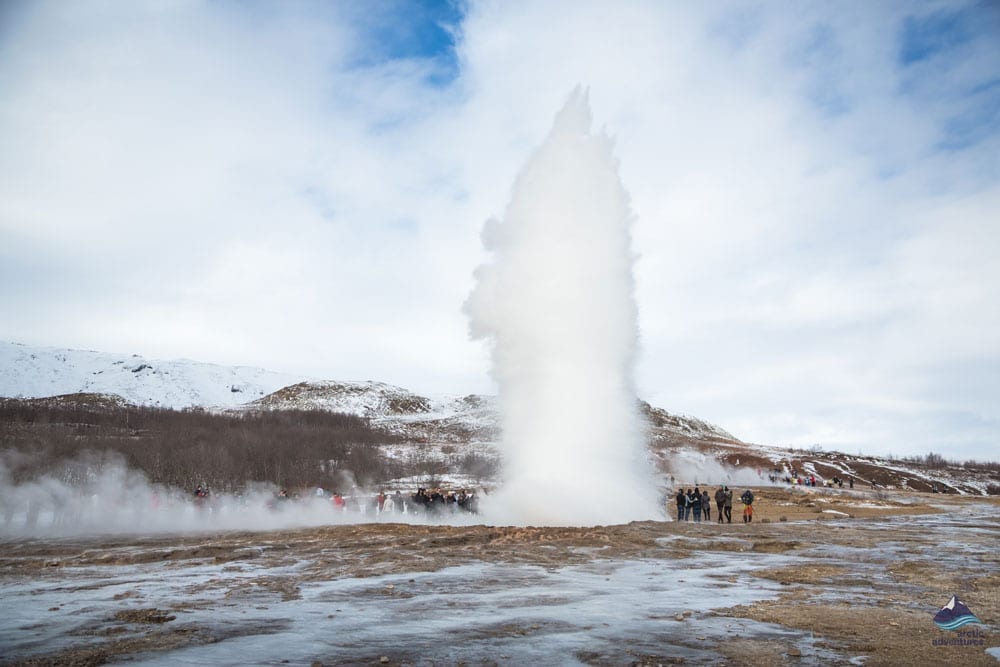 The Icelandic name of the Great Geysir is Stóri Geysir, which literally translates as 'the great gusher', a name which is quite apt if a little odd! The Great Geysir was legendary for its highly explosive eruptions, blasting enormous jets of scalding water to an impressive height of between 200 and 260 feet. It's hard to imagine the sheer volume of superheated water which would explode forth from Great Geyser´s vast 60 foot wide opening. The chamber beneath the visible spout descends to a depth of around 65 feet, providing spectacular photo opportunities.
In 1916, the Great Geyser stopped erupting all of a sudden, much to the display of Iceland's locals and tourists alike! It did briefly surge back into life in 1935, but by 1950, its activity had lessened considerably, and it became fully dormant not too long after. Various ideas have been put forward as to why the Great Geysir stopped spouting, but no one theory seems to fully explain the changing fortunes in the life of this Great Grandfather of erupting hot springs.
The history of the Great Geysir over the last couple of centuries show a pattern of less frequent eruptions, although the explosive spouts would still sometimes soar to impressive heights. It is reputed to have erupted every three hours or so until the early 19th Century when the frequency of these eruptions became less and less. In 1871, William Morris, an English adventurer, illustrator, and writer, recorded in his diary that the Great Geysir erupted every five or six days. This frequency seems to have continued into the early 20th Century. Unfortunately, since then the Great Geysir´s eruptive nature has been steadily diminishing.
The Great Geysir could be jolted into action from time to time through people digging furrows into the rim to encourage activity, but this was short-lived, and the magnificent 200 to 260-foot-high scalding spouts of water remained a thing of the past. Many people have claimed that the amount of debris and rocks thrown into the Great Geysir by tourists caused the eruptions to cease. While it is well known that nothing should ever be thrown into a geyser or any other kind of hot spring for that matter, most people agree the actions of a few troublesome tourists alone could not solely be responsible for the Great Geysir´s grand demise! From time to time, there have been spurts of life, particularly between 1981 and 1983, after a large quantity of sinter was cleared out from a furrow in the rim. In the year 2000, the Great Geysir erupted its scalding cargo an astonishing 122 meters (400 feet) into the air! So, this Great Grandfather of geyser hot springs may not have totally left its glory days behind after all!
The Strokkur Hot Spring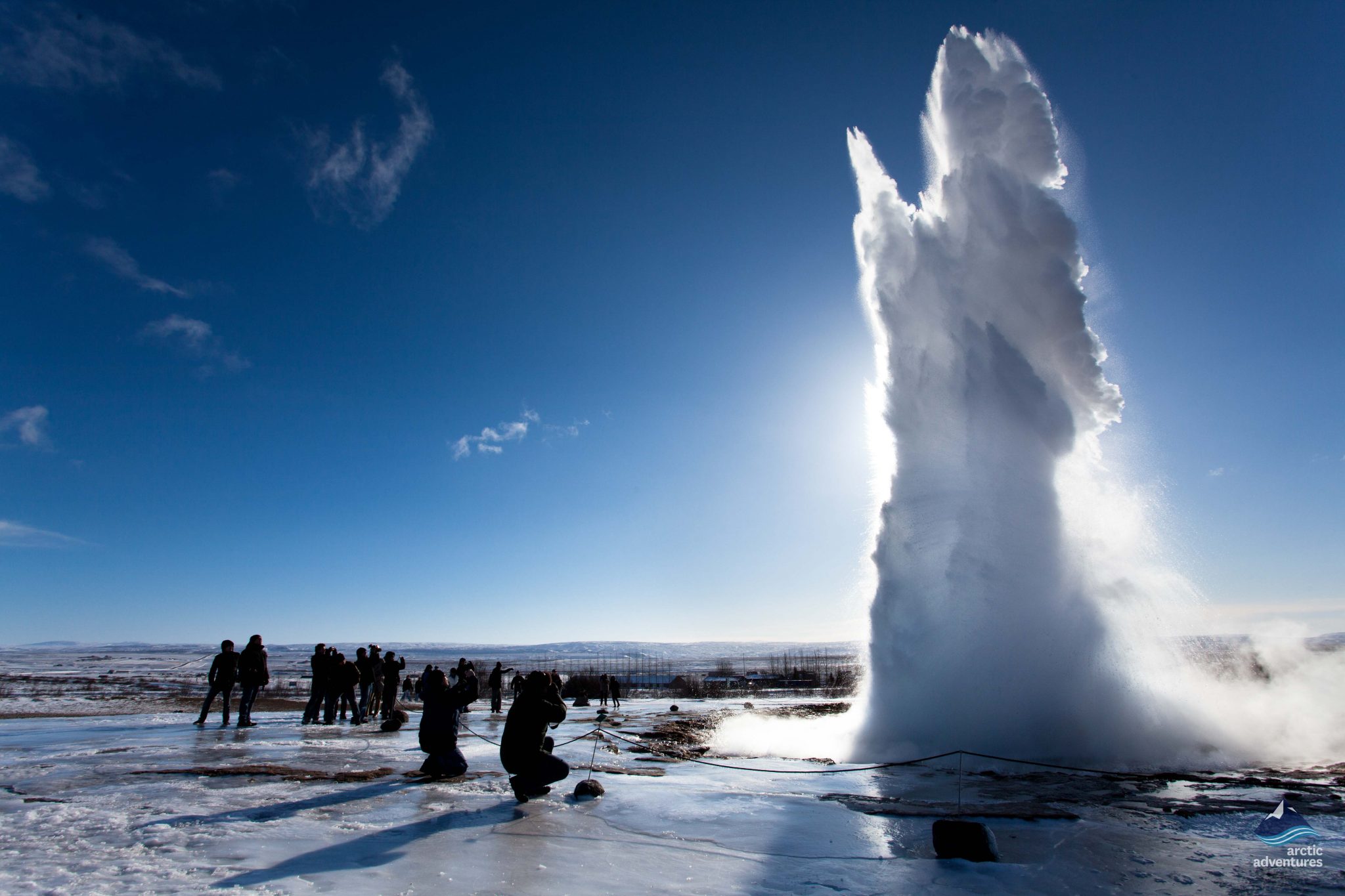 Today, Strokkur, located approximately 300 feet from the Great Geysir, is a highly active erupting hot spring, that spouts obligingly every 4 to 10 minutes. Strokkur means 'the churn´ and it certainly lives up to its name, churning out great torrents of water far more frequently than any other geyser in Iceland. You won't need to wait long to witness a Strokkur eruption. If you think you've missed a glorious photo opportunity, worry not, as another is right around the corner. This is in stark contrast to having to wait three hours, or even several days, for the Great Geysir to decide to erupt!
Standing before Strokkur´s sizzling opening is always exciting. The timespan between spouts varies, but most people get a gut feeling just before the moment arrives. So, what are the signs you should you watch out for? When you see the surface of the pool boiling a little more volatilely than usual, then swaying a little, this usually means that an eruption is imminent. Finally, the surface of the scalding pool will retract back a little – when this happens, Strokkur is well and truly primed for action. Set your camera to sports action mode and get ready to witness one of Mother Nature's show stoppers!
Strokkur is one of the most extraordinary places in Iceland. The sights, sounds and that tingly feeling you get when the most active geyser in Iceland erupts are all very hard to forget.
---
What Causes a Geyser to Erupt?
For tourists and locals alike, we're lucky to have a reliably erupting geyser so close to Reykjavík, sitting directly inside the hugely popular Golden Circle area. Various geological factors have to combine for a geyser to exist, making them very rare in nature. In order for a geyser to erupt, the following features must all be present:
The molten magma has to be sufficiently close to the surface of the earth make the rock hot enough to boil water. No hot rocks = no geyser!
A sufficient and continuous source of flowing underground water is an essential component of any erupting geyser. Drains from Langjökull Glacier pass close by on its journey to Haukadalur, and through porous lava, a constant water supply to Strokkur is achieved.
There must be a conduit to carry the water to the 'chamber' or reservoir which holds the water. This sits underground beneath the opening of the hot spring.
The vent and its plumbing system need to have a silica lining to prevent the water from draining away.
---
The Natural History of Strokkur Geyser
Very little is known about the early history of the Strokkur hot springs. It had been very quiet, or possibly even inactive, before an earthquake in 1789 kindled its activities quite dramatically. In the early days, Strokkur would regularly spout water up to 130 feet in the air. Nowadays though, the eruptions tend not to soar much more than 100 feet high but have been known on occasion to do so. Spouts regularly reach heights of 65 to 80 feet, which is still an impressive sight, particularly when you are stood beside it.
What of Strokkur´s changing fortunes? Not surprisingly, as with any natural phenomenon, they have ebbed and flowed a little over the last 230 years or so. By 1830, Strokkur was erupting very infrequently, but there are reports of people throwing rocks and stones into the bubbling aperture to encourage eruptions. These objects would then be exploded out when Strokkur erupted, flying about like unguided missiles and causing a severe safety hazard. Suffice to say, throwing stones into a geyser is not recommended, as super-heated rocks can kill on impact!
During this period, Strokkur´s eruptions were faltering, so some assistance was needed to nurture it back into life. In 1963, the Geysir Committee came up with a great solution; a 130-foot deep hole was bored beneath the Strokkur's basin. Since then, Strokkur has blasted a lot more regularly.
---
Things to see and do near the Geysir Geothermal Area
After watching Strokkur erupt, follow the pathways around the Geysir Geothermal Area, then come back to witness Strokkur perform for a second or third time! All eruptions are spellbinding but. like snowflakes, no two are ever exactly the same, so repeat viewings are highly recommended!
Take photos or film footage, as geysers are becoming increasingly rare in modern times, so for many people, this really is a once in a life-time opportunity.
Enjoy a walk or a hike among the hot springs
Pathways will take you around the hot spring area. All visitors are advised to keep to the designated areas for safety reasons. There are other tracks and pathways which will take you a little further afield. One particular track will take you to the top of Mount Bjarnafell. Here you can look down on Geysir from a height of 727 meters (1729 feet) and get fabulous views over the whole of Haukadalur. In the days before power was transferred to Skálholt, this valley was an important seat of power; the Lords or Chieftains of Haukadalur are known to have met besides the nearby 19th Century church. While the history books are a little short on detail, it is easy to imagine grand gatherings around a great table surrounded by stately high seats.  
If hiking is your thing, Iceland is renowned worldwide for it hiking adventures and stunning scenery to suit every level. Check out our hiking tours here
Visit Haukadalur Church
Haukadalur Church can be reached by foot or by car, via the marked 3 km (1.9 miles) long gravel track leading to the forestry reserve. The story of the local giant, Bergþór of Bláfell, links to this church. The weighty brass doorknob is reputed to have been owned by this friendly giant who, it is said, gave it in gratitude for the right to be buried within the sound of the pealing church bells. There is known to have been a church on this site since the year 1030 AD/CE, with the old building being pulled down and the present church built in 1842/43. The new church is considerably larger and a more decorative building, an altarpiece carved by the popular and prolific Icelandic sculptor, Ásmundur Sveinsson, has been added.
Geysir is a great location to watch out for the winter northern lights or to witness the midnight sun. The special light of day-break or twilight will always add a surreal and dreamy quality to the Haukadalur landscapes around Strokkur. A winter Golden Circle and Northern Lights tour is also an incredible experience. Driving the Golden Circle late in the evening under the midnight sun is a special and unique experience that should be availed of if you're in the area around these times of year and the weather permits.
---
Geysir Geothermal Area Amenities
Enjoy the stores and shops, situated just across the road in the Geysir Center. Here you will find handcrafted souvenirs and designer goods including blankets, wool sweaters and other clothing fashioned from Icelandic wool. Top quality outdoor clothes and rainwear from the best Icelandic suppliers and manufacturers are also on sale here. If there is something you forgot to pack for your trip, you can buy it here.
You will find the famous Icelandic lopapeysa Icelandic wool sweaters, mittens, socks, hats and other practical every day Icelandic items of clothing. Stylish, top of the range designer wool dresses, jackets, shawls and hats suitable for the most elegant winter occasions can also be bought in stores and shopping centers in the locality.  
---
Restaurants and Refreshments near the Geysir Geothermal Area
Whether you just want a quick coffee, a snack or a full meal, you have plenty of choices:
The Glíma Bistro serves a wide range of meals, snacks, and drinks.
The Kantína Restaurant offers a different menu to the Glíma Bistro.
Súpa Restaurant serves soup and vegetarian food for those looking for a healthier option.
Most of the above are open daily from September to May, 10:00 am to 17:00 pm and June to August, 10:00 am to 20:00 pm.    
The Geysir Hotel Restaurant is currently closed for renovation, it is due to reopen in June 2018.
For more on what delicacies this area has to offer to see our Best Food on the Golden Circle blog post.
---
Other Facilities near the Great Geysir
There are display boards at the entrance to the Geysir Geothermal Area showing information about the geysers and other geothermal activities found in the valley.
Fuel is available at the NI-Gas Station which also sells refreshments.  
Entry to the toilets in the Geysir Center is free of charge.
There are two car parks in the vicinity of the Geysir Geothermal Area. One is on the opposite side of the road at the Geysir Center – you only have to walk across the road to get to the entrance. There is also another car park on the same side of the road as the Geysir Geothermal Area. This car park is closer to the geysers and is a better option for those with small children, limited mobility or wheelchairs.
---
Accommodation near the Geysir Geothermal Area
Litli Geysir Hotel is a 22-room hotel located just across the road from the Geysir Geothermal Area. This hotel offers comfortable accommodation throughout the year.
Hotel Geysir is currently closed for renovations. It is scheduled to re-open in 2018 as a luxury 4-star 77-room hotel with high-end spa and conference facilities.
---
Geysir Geothermal Area Location and Driving Directions
The shortest route to the Great Geysir from Reykjavík is 99 km (61 miles), which will take you through the valley of Mosfellsdalur and the charming village of Laugarvatn.
The other route will take you south, through Hveragerði, and takes a little longer at 108 km (67 miles). Traveling from Þingvellir National Park, the shortest route following roads numbered 36, 365, 37 and 35 is 60 km (37 miles). From Gullfoss Waterfall, the distance is just 9.7 km (6 miles).    
If you'd like to witness the Great Geysir Geothermal Area for yourself, you can do so as part of one of our many wonderful Golden Circle Tours