This 4 day self-drive adventure is the perfect way to explore the land of fire and ice, taking you on a journey through some of its most incredible sights around Iceland
INSTANT BOOKING CONFIRMATION
Suitable for most people in fair condition.
Tour highlights

The Golden Circle - Gullfoss, Geysir & Thingvellir
Blue Lagoon
Londrangar Basalt Cliffs
Hraunfossar Waterfall
Glymur
Mt. Kirkjufell
Reykjavik
Vatnshellir Cave
Old Akranes Lighthouse
Barnafoss Waterfall
Deildartunguhver
Ytri Tunga
Arnarstapi
Hellnar
Djúpalónssandur
Stykkishólmur
Gerduberg Cliffs
Hópsnesviti Lighthouse
Reykjanesviti Lighthouse
Included

Accommodation for 3 Nights w. Breakfast
Rental Car for 4 days (w. all basic insurances: Collision Damage Waiver, Personal Accident Insurance and Theft Protection)
Vatnshellir Lava Cave Tour
Detailed Itinerary & Information Package
This self-drive adventure is the perfect way to explore the land of fire and ice, taking you on a journey through some of its most incredible sights, including the cascading waters of Gullfoss, the equally beautiful cacophony of tiny streams that make up Hraunfossar and the slightly tragic Barnafoss. Seething geysers that throw torrents of boiling water into the air, mighty mountains, imperious glaciers, barren lava fields and temperate hot springs, among many more incredible sights too numerous to list here. An odyssey, an adventure, a chance to travel off the beaten track and get up close and personal with some of the most sublime natural wonders that our world has to offer.
On the tour you will receive a detailed itinerary, map and self-drive handbook, it has been tailor-made to give visitors the very best possible experience, of Iceland's legendary South Coast.
---
Detailed Itinerary Included
√ Detailed map of Iceland with all stops
√ Easily follow daily travel plans
√ Mobile friendly design
√ Descriptions & photos for all major stops
√ Print your itinerary or share with friends
---
Information for your rental car
Pick-up: Choose between pick-up locations at Keflavik International airport (KEF) or BSI Bus Terminal in downtown Reykjavik, at flexible times.
For the best experience, we definitely recommend that you pick your car up early on the day of arrival, and return it in the afternoon or evening on your last day.
Drop-off: By default, the drop-off location for your car will be at Keflavik International Airport (KEF), no matter which pick-up location you have selected.
You can, however, drop-off the car at BSI Bus Terminal in Reykjavik, on the last day of your tour. If you prefer this drop-off location you can change it afterward (details can be found in your confirmation email).
---
Accommodation
Comfort accommodation is included in this package. Great locations, breakfast is included and you will have a private bathroom.
---
Practical information
Remember to bring: Warm layers, waterproof clothing, headwear, scarf, gloves, hiking boots are essential, drivers license and some sunglasses.
What if I don't own all of these clothing items?
Don't worry, you can always rent sturdy hiking boots, waterproof jacket and pants in the booking process.
Please note
When booking for 2 or 4 persons you get twin / double rooms. When booking for 3 or 5 persons you get a combination of double/twin rooms and a single room.
To offer the best price possible, this self drive package is fixed and cannot be changed or altered. The package has been optimized for the best experience.
Day 1 - Arrival - Golden Circle: Gullfoss, Geysir & Þingvellir
Day one begins when you collect your car from your chosen pickup location (we will also provide you with a detailed itinerary, of the many incredible sights that we recommend seeing). Then you will hit the road, heading straight for the iconic Golden Circle area, replete with gushing golden waterfalls, magnificent historical sights, craggy rocks and seething geysers.
If you decide to collect your car from Keflavík Airport, then the scenic route will take you through green carpeted lava fields, rustic houses, mighty mountains and rolling hills. You will skirt around the city of Reykjavik and catch a glimpse of its majestic topography, before arriving at, Thingvellir, your first stop, after around an hour.
Thingvellir is a UNESCO World Heritage Site, which combines historical and geological significance, along with a plethora of natural wonders that make it the complete package. It is home to Althingi, the original site of the Icelandic Parliament, which first met on its plains in 930 AD. Viking nobles used to stand on the Logberg (law rock), to speak about issues within the country. This means that it is the oldest continuously running democratic institution in the world, as the modern Icelandic Parliament still bears its name, although MPs now meet in warmer surrounds.
Thingvellir also sits astride the Mid-Atlantic Ridge, meaning that it literally bisects the continents of Europe and North America. You will have to chance across this gap between tectonic plates, which is also home to a host of beautiful natural wonders, including the Öxarárfoss (ax waterfall), where frothy white rapids crash over the craggy landscape. Diving enthusiasts may also want to check out the Silfra Fissure, famed for the remarkable clarity of its icy blue glacial waters.
Once you have enjoyed all the magic that Thingvellir has to offer, your next stop will be the deep blue Laugarvatn Lake, which is surrounded by picturesque villages and rolling green hills. If you feel like taking a relaxing dip in a geothermal spa, then you should stop off at the Fontana Spa, which does not require a booking and offers a sublime view across the lake.
After that, the route will take you to one of the most iconic places in all of Iceland, the Geysir Hot Spring area, which is pot-marked with bubbling geysers that throw jets of water into the air. The most famous of these is the now dormant Great Geysir, which is where the English name geyser originates from. But don't worry, its little brother 'Strokkur' is still active, throwing molten jets of water more than 25 meters into the air. It really is an incredible experience and will give you a profound sense of the power and violence of mother nature.
The final must-see stop on the Golden Circle Route is the magnificent Gullfoss Waterfall (golden falls), so named due to the golden hue that the water takes as it rushes over the colored lava step. There is nothing quite like seeing this natural wonder in all its regal glory, as rainbows form overhead and the water crashes down into the green valley below.
For those who want to shoehorn more incredible attractions into their day, you could stop at the blood red Kerið crater, where the deep blue water provides a stunning contrast to the red rocks that surround it. Another great stop is the Fludir, geothermal village, renowned for the Secret Lagoon, a geothermal pool that is more than a century old, making it the oldest swimming pool in Iceland. Not far from Fludir, is the Friðheimar Farm, which takes advantage of Iceland's unique geothermal conditions to grow tomatoes in greenhouses. This makes it a great place to stop off for lunch, while any animal lovers should look out for the unique Icelandic horses that are also kept on the farm.
We will arrange accommodation somewhere around the Golden Circle, Hella or Hvolsvöllur areas.
Day Highlights

Reykjavik
Thingvellir
Gullfoss
Geysir
Included

Accommodation with Breakfast
Rental Car
Day 2 - West Iceland: Hvalfjörður, Borgarfjörður & Snæfellsnes
The morning begins with a traditional Icelandic breakfast at your accommodation, before you head out to Hvalfjörður (the whale fjord), an idyllic fjord with deep blue waters and luscious green surroundings. These include Glymur, a moss-green waterfall, that is Iceland's highest, meaning that visitors are rewarded with spectacular vistas over it and the surrounding area if they make the 2-hour hike to its summit.
From Hvalfjörður the journey continues to the Akranes, a picturesque town situated on Iceland's west coast. There is a recently opened café, situated inside its iconic lighthouse: the perfect place to stop off and enjoy a delicious lunch, with spectacular views over the sea and surrounding area.
From there, you will make the hour-long drive to the stunning Hraunfossar (Lava waterfall) and Barnafoss (the Children's waterfall). They are both unique and beautiful in their own right, combining spectacular natural surroundings with gushing streams of water. The Hraunfossar waterfall is made up of thousands of tiny streams, which fall separately instead of combining into a single stream. This means that the waterfall appears as if it is made up of thousands of tiny white waterfalls that blend to make an absolutely sublime sight. The rocks surrounding the waterfall have been dyed various shades of black, red and yellow, by the minerals in the area, making it mesmerizingly colorful.
The Barnafoss (the children's falls), is named in reference to a tragic urban legend when two children are supposed to have fallen into their waters and perished. Despite this, they remain an absolutely gorgeous sight, renowned for the way that the cloudy white water, runs across the jagged rocks that have been formed by volcanic activity over the centuries. The surrounding area is decorated with many birch trees, making it a lovely place to relax or snap a photo.
After the duo of beautiful waterfalls, the next stop is Europe's most powerful hot spring, Deildartunguhver, which pumps 180 liters of scalding hot water at a temperature of 97 degrees. It is an impressive sight, with plumes of steam rising from the pool below. The spring also acts as a natural boiler for many towns in the surrounding area. Nearby is the recently built Krauma geothermal baths and spa which gets its water directly from the hot spring and is known for its great architecture and a delicious restaurant. Pre-booking isn't required but always better if you wish to soak in the hot pools.
By now you will be in the heart of west Iceland, as you move towards the Snæfellsnes peninsula. We recommend stopping at the Gerðuberg basalt cliffs: where columns of basalt rise out of the ground, creating beautiful patterns that you are bound to appreciate. Another unmissable stop is the Ytri Tunga black sand beach, where a friendly seal colony basks in the sun, making it ideal for nature lovers and wildlife lovers alike.
We will arrange accommodation somewhere on the Snæfellsnes peninsula.
Day Highlights

Glymur
Old Akranes Lighthouse
Hraunfossar Waterfall
Barnafoss Waterfall
Deildartunguhver
Ytri Tunga
Included

Accommodation with Breakfast
Rental Car
Day 3 - Snæfellsnes, Arnarstapi, Vatnshellir, Djúpalónssandur, Kirkjufell & Kirkjufellsfossar.
Day three begins with a traditional Icelandic breakfast amidst stunning scenery, with beautifully clean and fresh air. Today's journey will take you on the ring road around this spectacular area, it can be done either clockwise or counterclockwise, but here we will describe the clockwise route.
The first stop is Búðir, a rustic fishing village, which is famous for the lonely Black Church that appears to have been randomly placed on a hill. The church is set to a background of rolling green hills, giving it a unique and photogenic look that visitors are bound to enjoy. Other beautiful stops include the nearby Bjarnarfoss waterfall, which Icelandic legend tells has a fairy woman, who bathes in its gushing steam. Alongside the Rauðafeldsgjá gorge, where a thin stream of icy water has cut a path between the moss-covered cliffs.
After that, we recommend stopping at the picturesque village of Arnarstapi that is located at the foot of Mt. Stapafell and was formerly an important trading post. Today it plays host to an array of amazing seabirds, who nest in the cliffs around the village, including a large population of Arctic Terns.  There is also a large statue of Bárður Snaefellsás, a half man half troll, who appears regularly in the sagas and gives his name to the area. There is a great café, that gazes out across the Atlantic Ocean, between Arnarstapi and the nearby village of Hellnar and we heartily recommend stopping to enjoy some Icelandic food and a sublime view.
Your entire drive around the Snæfellsnes peninsula will be framed by the iconic glacier volcano Snæfellsjökull, allowing you to enjoy it from various angles and perspectives. It became famous when the writer Jules Verne, selected it as the starting point for his famous Journey to the Center of the Earth.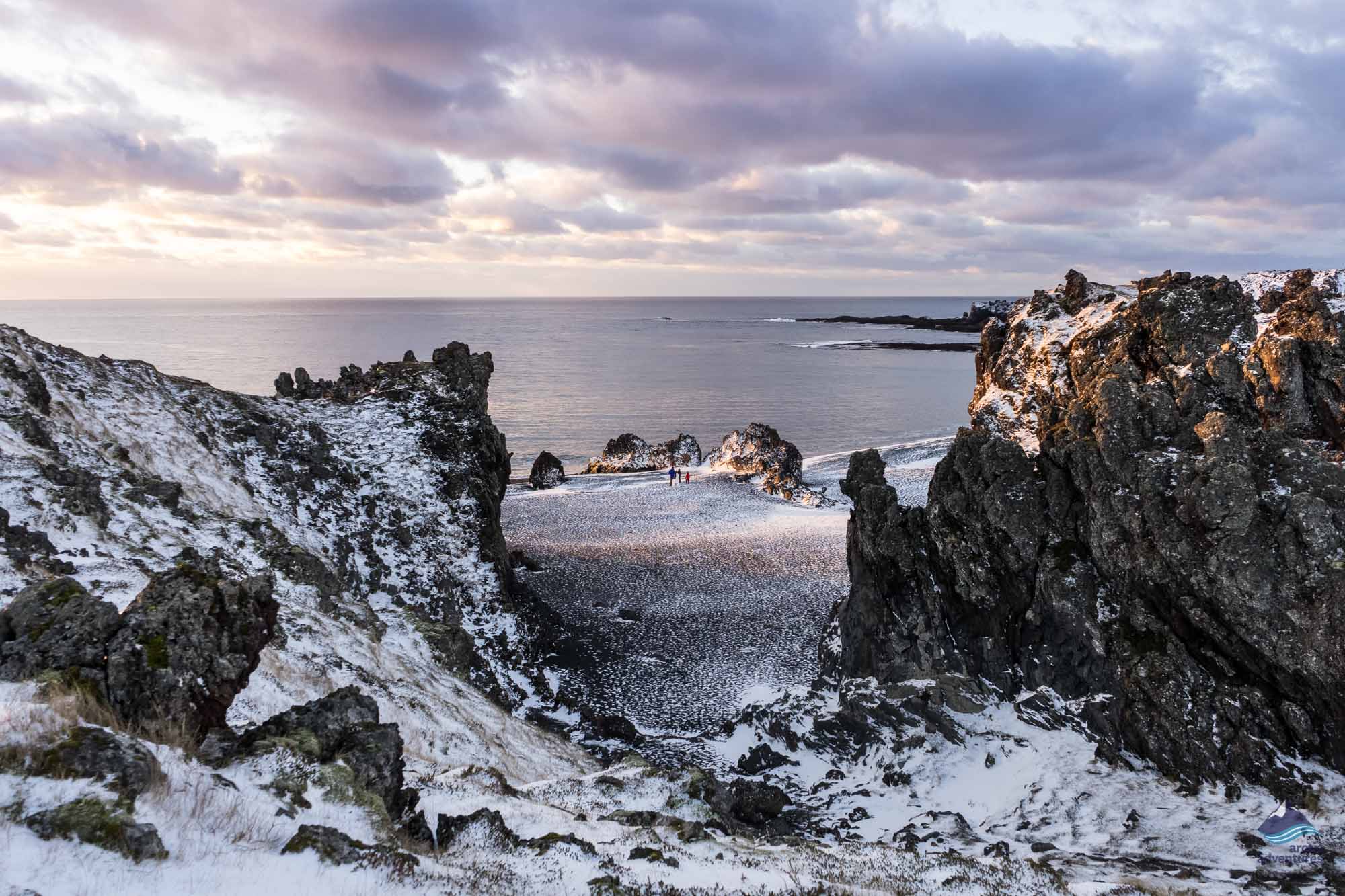 Up next is the beautiful coal-black beach, known as Djúpalónssandur, which used to be a busy fishing hub, but now seems fairly abandoned. Four heavy stones remain there to this day, which sailors used to use to test their strength and range from 23 kg (50.7 pounds) to 154 kg (339,6 pounds).
The next organized stop is Vatnshellir, a fascinating lava cave, which one of our friendly expert guides will take you through. Lava tube caves are ancient volcanic conduits, which carried molten rock through under the surface of the earth. Eventually, the volcano activity ceased, leading to long cylindrical tubes forming, with magnificent rock formations, incredible colors and much, much more. Vatnshellir is an exquisite example of this phenomenon and your helpful guide will teach you everything you need to know about them and how they helped to create the wonderful topography of the land of fire and ice.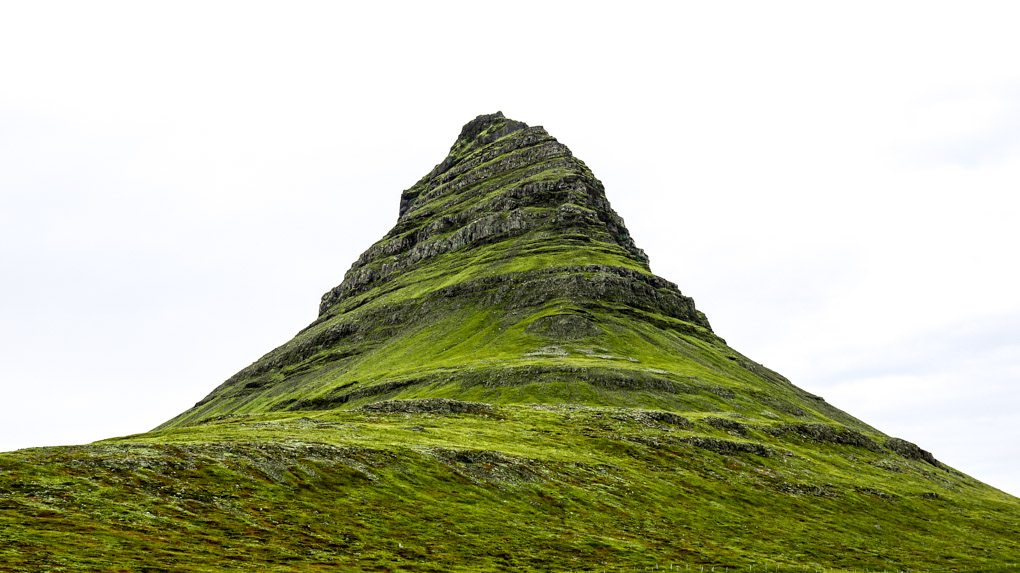 No visit to the Snæfellsnes peninsula would be complete without a stop at Mt. Kirkjufell, a cylindrical cone-shaped mountain, which rises out of the ground like a massive pillar of green. The equally impressive Kirkjufellsfoss Waterfall lies just beneath it, which has made it one of the most photographed landmarks in the world over recent years. It won't disappoint and is an alluringly beautiful place that will remain with you for the rest of your life.
Your accommodation for the final day will be in Reykjavik, allowing you to appreciate the vibrant cultural scene that Iceland's capital has to offer.
Day Highlights

Arnarstapi
Hellnar
Londrangar
Vatnshellir Cave
Djúpalónssandur
Kirkjufell
Stykkishólmur
Gerðuberg Cliffs
Included

Accommodation with Breakfast
Rental Car
Vatnshellir Lava Cave Tour
Day 4 - Departure - Reykjanes & Blue Lagoon
The final day is less organized than the previous three and what you do will depend on when your flight leaves. Luckily Iceland's International Airport is located in the beautiful Reykjanes area, offering plenty of wonderful activities and beautiful locations. It is renowned for being a place of intense natural beauty, with moss-carpeted lava fields, craggy volcanic craters, spectacular rock formations and the legendary Keilir, a distinctive cone-shaped mountain, which has come to be totemic of the area.
There is the crater lake, Lake Kleifarvatn, which has a depth of more than 100 meters in places and is the deepest lake in all of Iceland. There is plenty of mystery surrounding it as well, with local legend holding that a strange mythical creature resides in its murky depths. The surrounding cliffs are spattered with many amazing hiking trails, making it ideal for anyone who loves to get out and explore the great outdoors.
The haunted Gunnuhver hot springs are well worth a look, where local legend tells of a murderous ghost who torments the surrounding villages. While those looking for a more traditional feel of Icelandic life should head to the rustic village of Grindavik. A visit to here could be combined with a stop in the coastal area near Eldey, an island that plays host to a plethora of bird species, including kittiwakes, fulmars, guillemots, cormorants and eider ducks.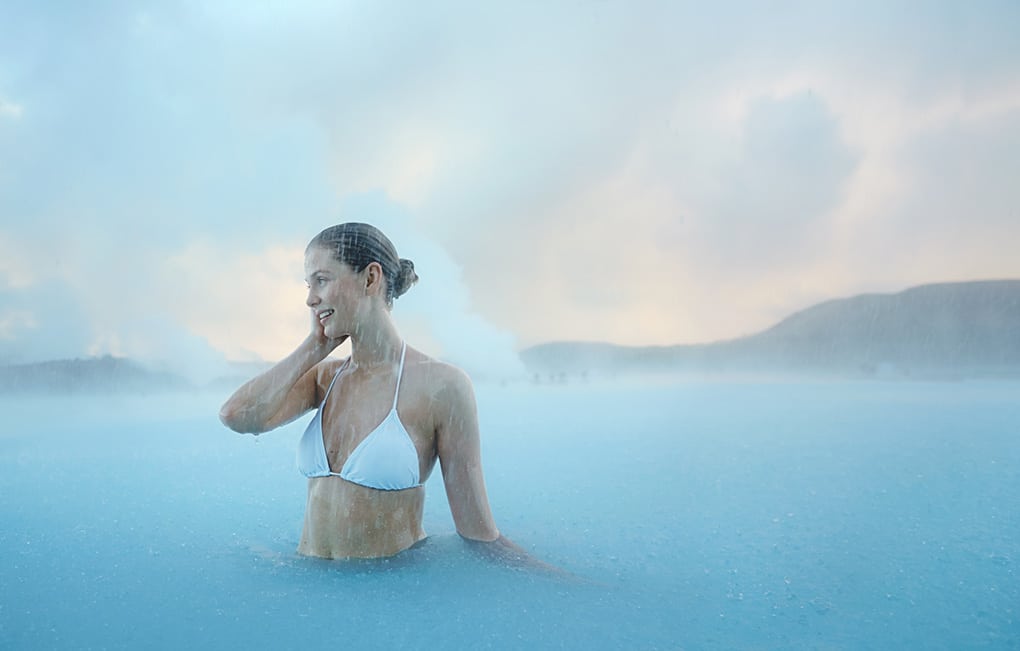 The most popular final day activity is the legendary Blue Lagoon, where guests can relax in geothermally heated, milky turquoise waters. The nutrient-rich waters are renowned for their healing properties, with local doctors regularly prescribing a trip to the lagoon for skin problems. This along with the spectacular surrounding and temperate waters makes it the ideal way to rest after a busy four days.
Day Highlights

Blue Lagoon
Hópsnesviti
Reykjanesviti
Bridge Between Continents
Book this tour
Price from: 48.396 ISK
NO BOOKING FEES
FAST & SECURE PAYMENT
You have chosen: From KEF airport
Instant confirmation & Low Prices
Pick-up & Drop-off at Keflavik international airport. Note you can change the drop-off location to Reykjavik (see confirmation email for details, extra fee may apply).
You have chosen: From Reykjavik
Instant confirmation & Low Prices
Pick-up at BSI Bus Terminal in Reykjavik. Drop-off at KEF airport. Note you can change the drop-off location to Reykjavik (see confirmation email for details, extra fee may apply).