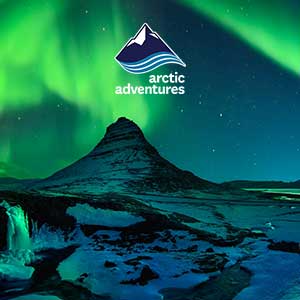 Hike between glaciers, volcanoes and stunning nature in the Icelandic highlands. This hike will take you from the famous Skogafoss waterfall to Thorsmork, the valley of Thor.
INSTANT BOOKING CONFIRMATION
Spend your day hiking in between glaciers and volcanoes in the highlands of Iceland, exploring stunning untouched nature and newly formed volcanic craters.
Be amazed by the diversity of the Icelandic landscape and get to know Iceland in a completely different way.
The 25-kilometer long Fimmvörðuháls trail takes you from the famous Skógar to the fertile paradise of Þórsmörk, the valley of Thor. Spend the evening enjoying local cuisine and wake up to even more hiking adventures in this historic setting. The perfect 2 days in Iceland for any nature lover!
Want to experience Fimmvörðuháls but in a shorter time period? See here the 1-day version of the Fimmvörðuháls hike.
For people in good shape and in good health.
Tour highlights

Small Group Experience
Skogarfoss waterfall
Eyjafjallajokull Glacier
Myrdalsjokull Glacier
Magni and Modi new craters
Kattarhryggir e. Catspine
Waterfalls
Thorsmork Valley
Icelandic lamb BBQ
Included

Pick-up & drop off from Reykjavík
English Speaking Tour Guide
Accommodation in a hut (shared rooms)
Luggage Transport to Básar
Meals from lunch on day 1 until lunch on day 2
All Necessary Safety Equipment
Free WiFi on Board Your Bus
The Fimmvörðuháls Trek has been one of Icelander's favorite treks for many centuries.
Fimm means five and vörður mean cairns. Icelanders used to mark paths by piling rocks in these so called cairns. This is how they could know that they were going the right way. The name Fimmvörðuháls tells you about the 5 cairns you need to be on the look out for so you know the way. You will walk the path of the Viking but also encounter some fresh grounds as Fimmvörðuháls is also where the 2010 Eyjafjallajökull eruption started creating two new volcanic craters named Magni and Móði.
You will set off from Skógar having the famous Skógafoss waterfall on our left side and numerous other waterfalls as we hike along the stream. The scenery is outstanding, glaciers, ashy fields, lava fields, historic sites and fertile grounds. This trek ice sure to stay in your memory a lifetime.
We will hike in the foothills of Mýradalsjökull glacier, go across Goðahraun which formed in the eruption in 2010 and visit two new volcanic craters that formed in the same eruption. They are called Magni and Móði after the sons of the pagan thunder god Þór e. Thor.
This is very fitting as the trail ends in Þórsmörk, which is named after the famous of the thunder god. This fertile oasis is a paradise and where we will stay over the night inside the charming huts of Básar. During the evening the group will feast on a gourmet Icelandic lamb barbecue and reflect together on our challenging but amazing day that we have had.
The morning after we meet for breakfast before heading off to explore the stunning grounds of Þórsmörk valley. Our options for the day are the magical hiking grounds found in the valley such as hiking up the amazing Valahnúkur mountain or around the Elf Church, some even decide to go as far as into the Strákagil canyon. The day is up to us and the adventures that await us!
What to bring:
Warm, breathable, lightweight and waterproof outdoor clothing
Headwear and gloves
Sturdy, waterproof hiking boots are essential
Sleeping bag (for indoor sleep), earplugs
Day backpack and water bottle
Toothbrush and personal toiletries
Sunglasses, sunscreen
Hiking poles (recommended)
Gaiters
What if I don't own all of these clothing items?
Don't worry, you can always rent sturdy hiking shoes, waterproof jacket, and pants when you book your tour. Please note, we do not rent gear from locations, it must be booked in advance.
Day 1
You will get picked up in the morning from you pick up point and we head out of Reykjavík on tour our adventurous day ahead. We will drive along the beautiful south coast going through cute towns and over bridges of some of the most powerful rivers in Iceland.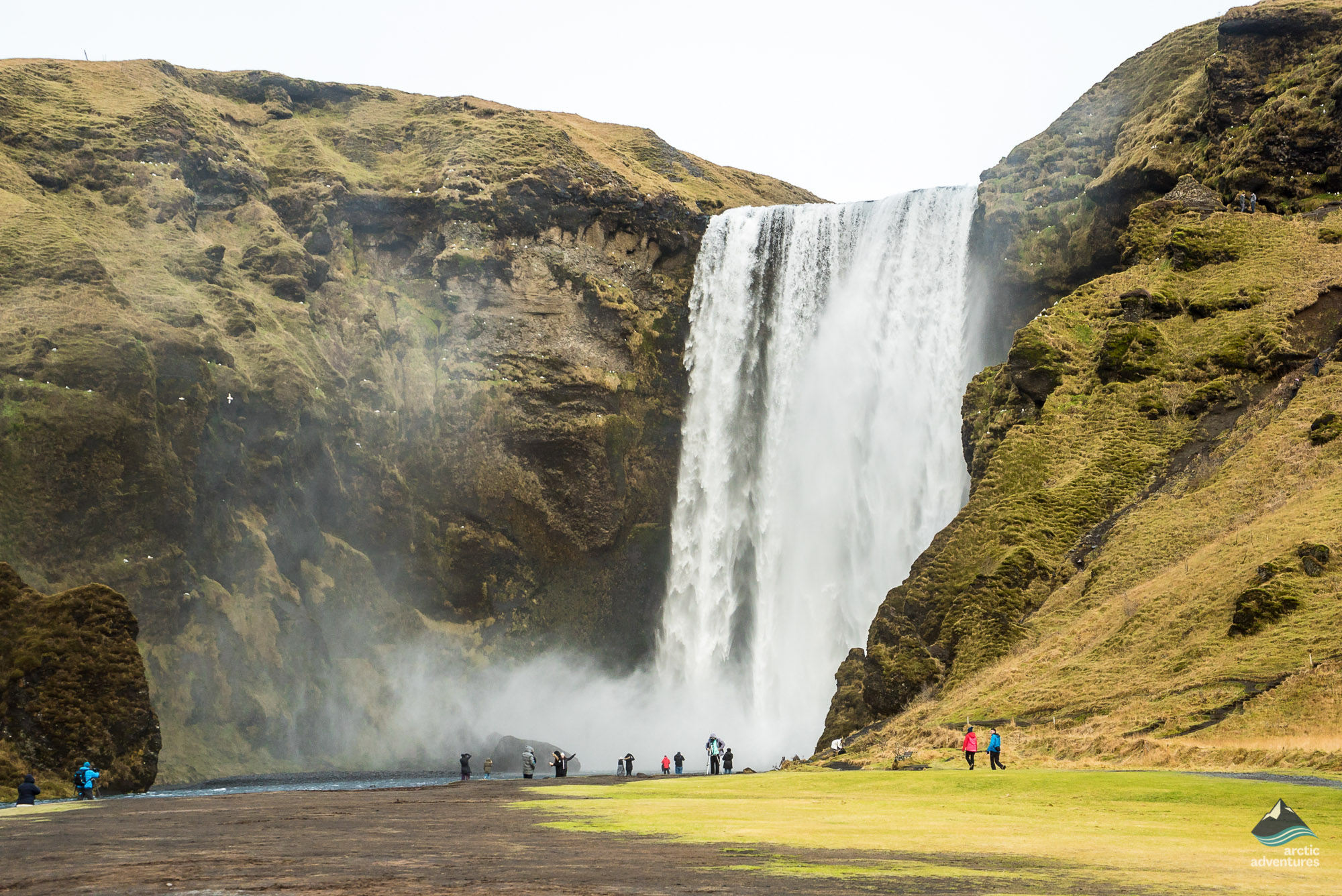 We are making our way to Skógar a famous and historic area in Iceland and also the home to the powerful and photogenic Skógarfoss. This is where we will set off on our epic journey ahead going over the Fimmvörðuháls pass. The trail takes you along the waterfalls origin up into the highlands. You will have cross glacier rivers to encounter the vast Icelandic mountain view that people can't stop talking about.
The glaciers Mýrdalsjökull and the famous stratovolcano Eyjafjallajökull will be close, along with volcanic craters and lava fields. During the hike, we will go across the famous eruption site of 2010 on the Fimmvörðuháls trail where two new volcanic craters formed. They are called Magni and Móði and still today you can feel the heat in the ground by digging only a little in the ash. It's a truly remarkable experience. The lava field they are located in, Goðahraun, also formed in the eruption and throughout the day you will encounter signs from the eruption.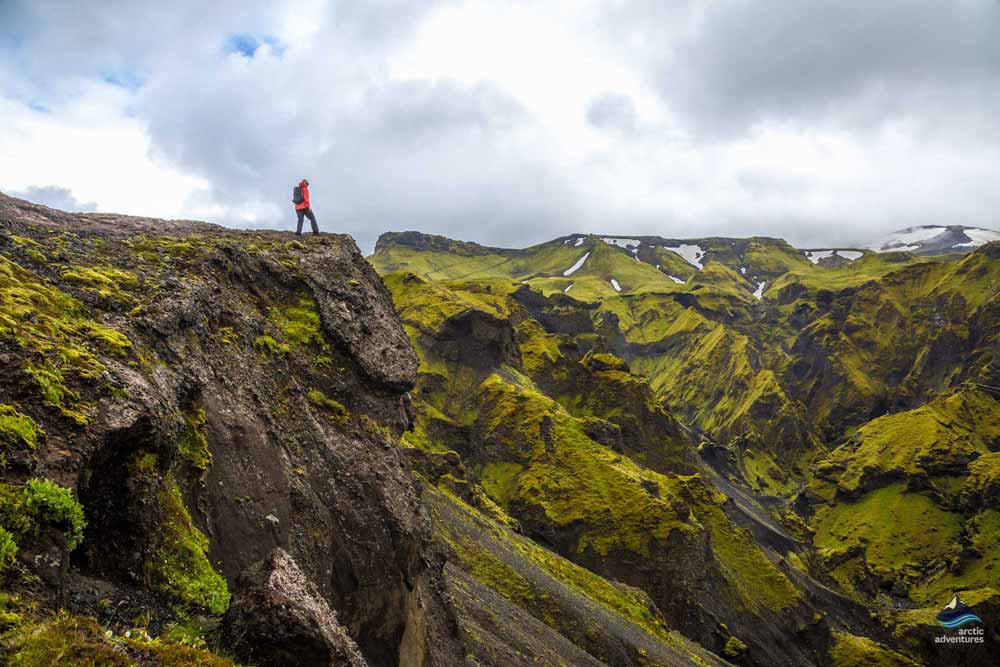 This is as high we will go and soon we will start to descend. But first two mountain ridges have to be crossed. The first one is called Heljar kambur e. Hell's ridge but the name is truly more scary than the ridge itself. Nature has scraped off the ridge and chains have been put up to assist. Next up is the even more famous Kattahryggur e. Cat's spine. On this ridge, you will have heavenly views over the canyon Strákagil and into Básar where we will be staying the night.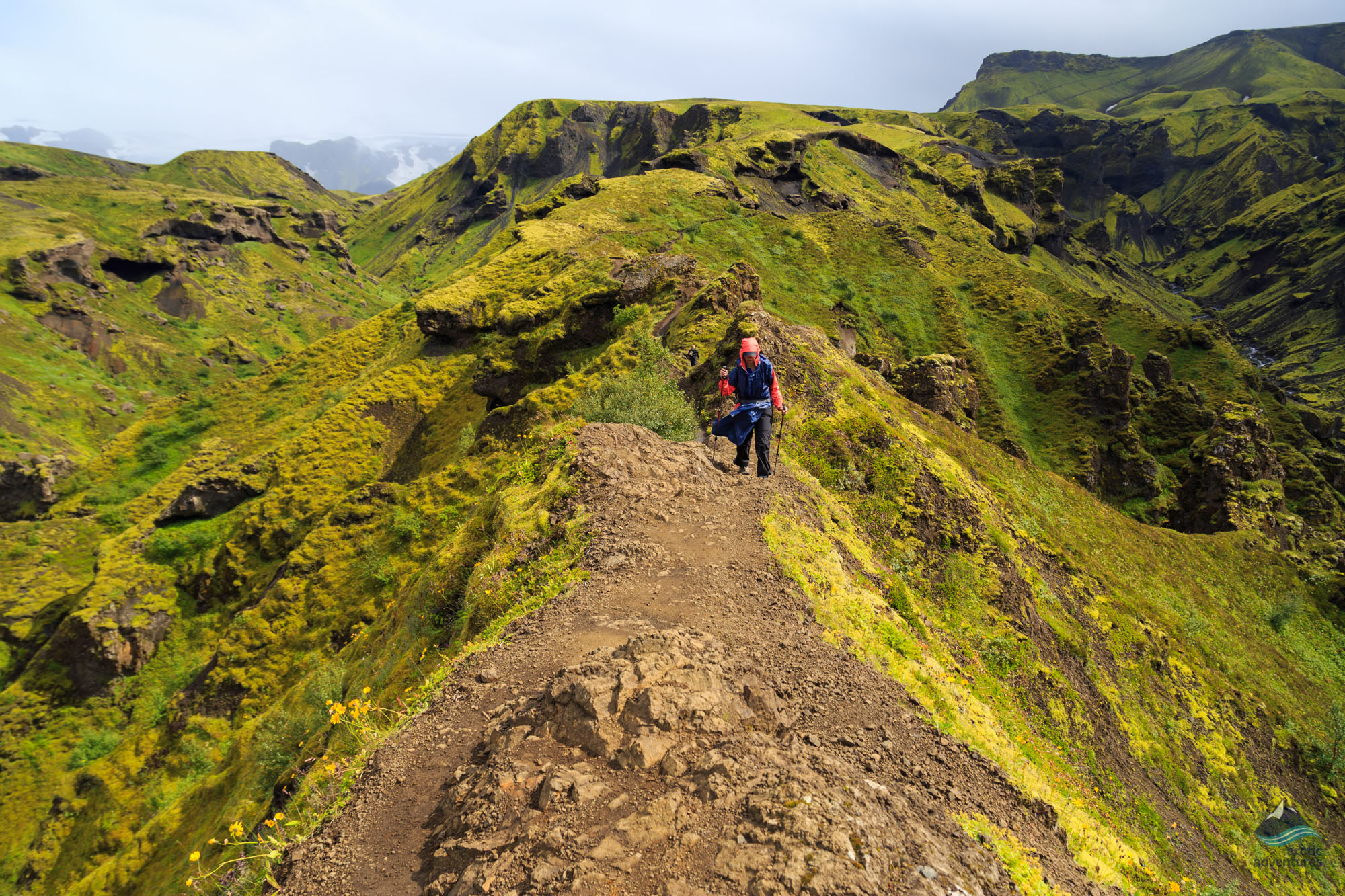 Take time to enjoy the scenery from the Morinsheiði heath, home to the ridges and vistas that will stay with you a lifetime.
The diversity of the landscape is magical and when the trail is coming to an end a surprisingly green and fertile oasis will appear, the name of the place is Þórsmörk and is taken from the pagan thunder god, Thor.
Here you will stay the night in the charming cabin, Básar. Your guide will make the most delicious Icelandic lamb barbeque and we will all sit down for a wonderful dinner, share our experience of the day and talk about the adventure day ahead the morning after.
Day Highlights

Skogar
Myrdalsjokull glacier
Magni and modi
Kattahryggur e. Cat's spine
Included

Pick up in Reykjavik
Guided hike from Skogar to Thorsmork
One night in Basar cabin
Lunch, refreshments & Lamb BBQ dinner
Accommodation
Day 2
We wake up in the mountain hut in Básar with a smile on our face. Yesterday's adventures are fresh in our mind and today will bring even more. We will all join for breakfast and then set off to hike the mountains Þórsmörk valley has to offer.

Whether it's the mountain Valahnúkur, at 220m or the tall Útgönguhöfði, at 540m the views never cease to amaze.
The fertile birch forest in Þórsmörk is colorful and no matter where we choose to go it will be stunning.
Other options we have inside Þórsmörk for the day would be to explore the magical Elf Church which stands tall across from Langidalur or visit the alluring Strákagil Canyon.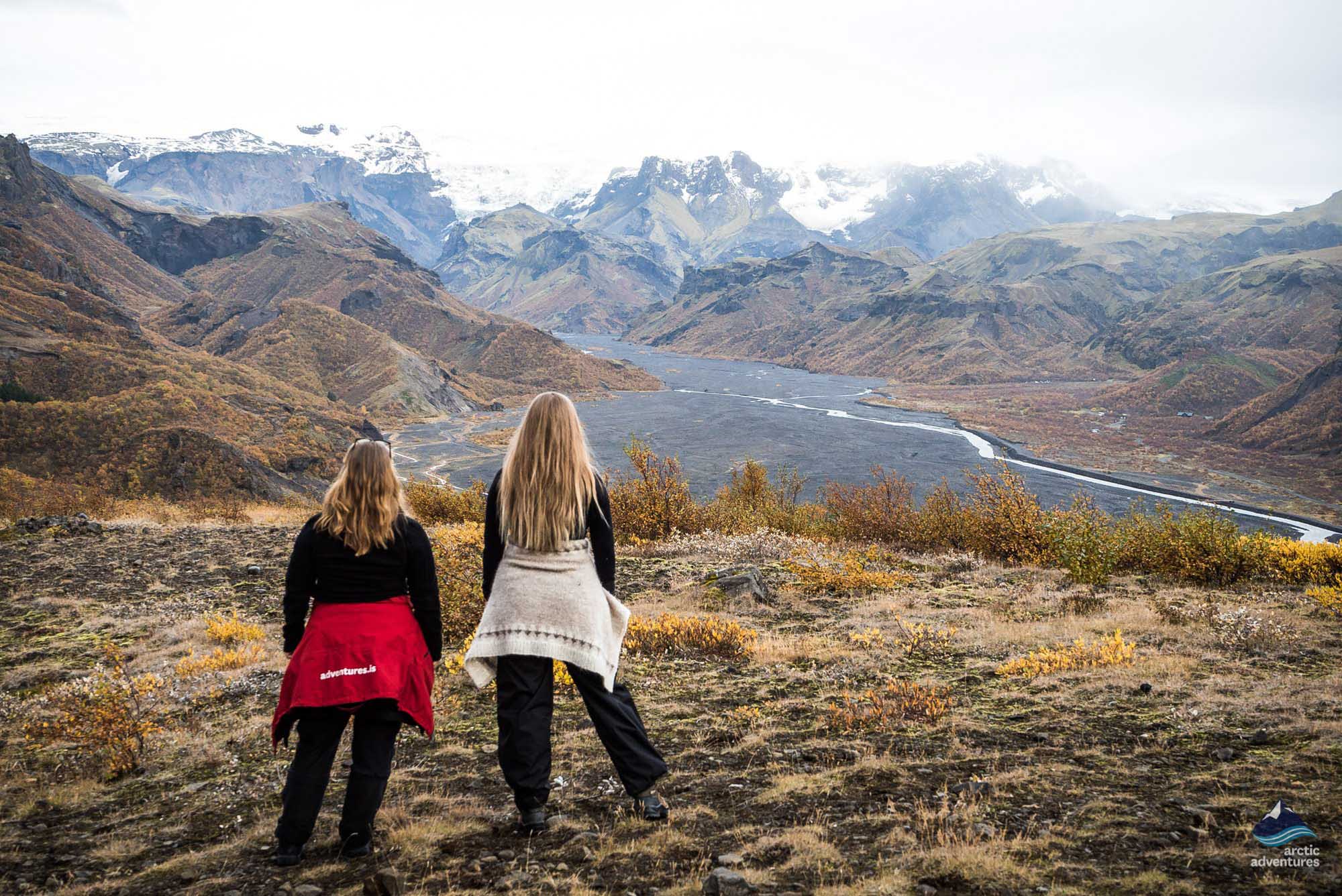 After a day of beautiful surroundings and active hikes in great company we will make our way back to Reykjavík. Be sure to look out the window on the way back.
The drive is a scenic one!
Day Highlights

Thorsmork Valley
Valahnukur Mountain
Birch forest
The Elf Church
Included

Breakfast & Lunch
Guided hike in Thorsmork
Drop off in Reykjavik
Don't worry, you can always rent sturdy hiking shoes, waterproof jacket and pants in the booking process or add it to your booking. See more.
Please keep in mind that we do not rent gear on location.
First of all, check the weather forecast but keep in mind that the weather in Iceland can be extremely unpredictable, as you may have heard. We have a saying "If you don't like the weather in Iceland, just wait 5 minutes" which is sometimes disturbingly accurate!
The weather can be anything from sunny to snowy in almost any season although snow is rare during summer time. We do suggest that you dress accordingly. This means in layers, thermal closest to you and waterproof on top. We've prepared a guide to help you get ready for your adventures, check out – How to prepare for hiking and trekking in Iceland.
No, please do not wear jeans and sneakers on this tour, it's not appropriate clothing for this type of tour. Check the list of what to bring to see what kind of clothing is appropriate.
Book this tour
Price from: 59.990 ISK
NO BOOKING FEES
FAST & SECURE PAYMENT