This two-day tour gives you a perfect opportunity to travel through the magnificent variety of landscapes of the south coast of Iceland.
INSTANT BOOKING CONFIRMATION
This 2 day south coast summer tour is a great option if you want to get out of the city and explore amazing landscape. Admire the waterfalls, the black sands and the moss covered lava fields. Spend the night in a cozy country hotel under the Europe's biggest glacier. Enjoy endless daylight in an arctic summer in Iceland, explore the ultimate highlights of the south coast and meet like-minded travelers from all over the world.
If you can't find any available dates on this tour that suit your needs, try having a look at our equally fun winter version.
2-day South Coast – Ice Cave, Skaftafell & Jokulsarlon Ice Lagoon
Availability

April 15th - September 15th
Suitable for most people in fair condition.
Tour highlights

Small Group Experience
Glacier Hike
Seljalandsfoss Waterfall
Skogafoss Waterfall
Skaftafell - Vatnajokull national park
Jokulsarlon Ice Lagoon & Icebergs
Diamond Beach
Vik (Coastal Village)
Reynisfjara - Black Sand Beach & Basalt Columns
Eyjafjallajokull Glacier (volcano view)*
Hekla Volcano (volcano view)*
Included

Pick-up & drop off from Reykjavík
Guided Tour in a Minibus
Visit to all the Famous Attractions on the South Coast
Glacier Hike with Certified Glacier Guide
Specialized Glacier Gear
English Speaking Tour Guide
All Necessary Safety Equipment
One Night in a Hotel Room with a Private Bathroom
Breakfast at Hotel
Free WiFi on Board Your Bus
This tour will show you the sensational and varied scenery along the south coast of Iceland and take you into mind-blowing glacial landscapes. See the amazing surreal icebergs gliding serenely across the huge glacial lake at Jökulsárlón Glacier Lagoon and enjoy a never to be forgotten glacier hike on an outlet glacier of the great Vatnajökull, the mightiest glacier in Europe. In summer there is even the opportunity to take a boat trip (EXTRA) sailing on the lagoon between the glittering icebergs, many shot through with cool blue ice. One word of warning – the boat trip sells out really fast, book this in the extras section when you arrange your tour! In winter, when the sun is lower in the sky, the light imbues the whole area with a very special magic.
You will see Seljalandsfoss waterfall, with the famous pathway leading behind the cascade, and also Skógafoss waterfall, where the Skógá river drops 60 m through the falls. Traveling across amazing glacial dessert plains, formed by the actions of famous volcanoes, great glaciers, and epic glacial floods, known as Jökulhlaups, you will see the kind of vistas most people have never seen. If you want to experience glacial magic and incredible Icelandic landscapes this is the tour for you.
One night accommodation with breakfast is included. You will stay at a country hotel or guesthouse out in the country. In winter, when the conditions are suitable, this is a good place to spot the northern lights.
For fuller details please see the itinerary section!
Pick up & drop off
Pick up is at 08:00 from your hotel or a nearby meeting point in Reykjavík. Picking everyone up can take up to 30 minutes, your patience is much appreciated.
Available pick-up points: Arctic Adventures's pick-up list.
What to bring: Warm outdoor clothing, a waterproof jacket and pants, headwear and gloves. Good hiking boots are required for the glacier hike.
What if I don't own all of these clothing items?
Don't worry, you can always rent sturdy hiking boots, waterproof jacket and pants in the booking process. Please note, we do not rent gear from locations, this must be booked in advance.
Please note
If you do not choose the single supplement you will be paired in a twin room with another participant of the same gender.
Breakfast is included at your hotel restaurant on day two. Meals and beverages are otherwise not included on this tour. We will, however, be making stops where you will be able to purchase all necessities.
Sometimes we may need to change glaciers or glacier outlets on this tour due to various reasons, including weather conditions. Glacier outlets used on this tour include Svínafellsjökull, Falljökull and Sólheimajökull, all amazing and unique glaciers, equally as beautiful.
We usually have the glacier hike on the second day, but it can be done on either day of the tour, depending on conditions and how much time we have.
Day 1: South Coast of Iceland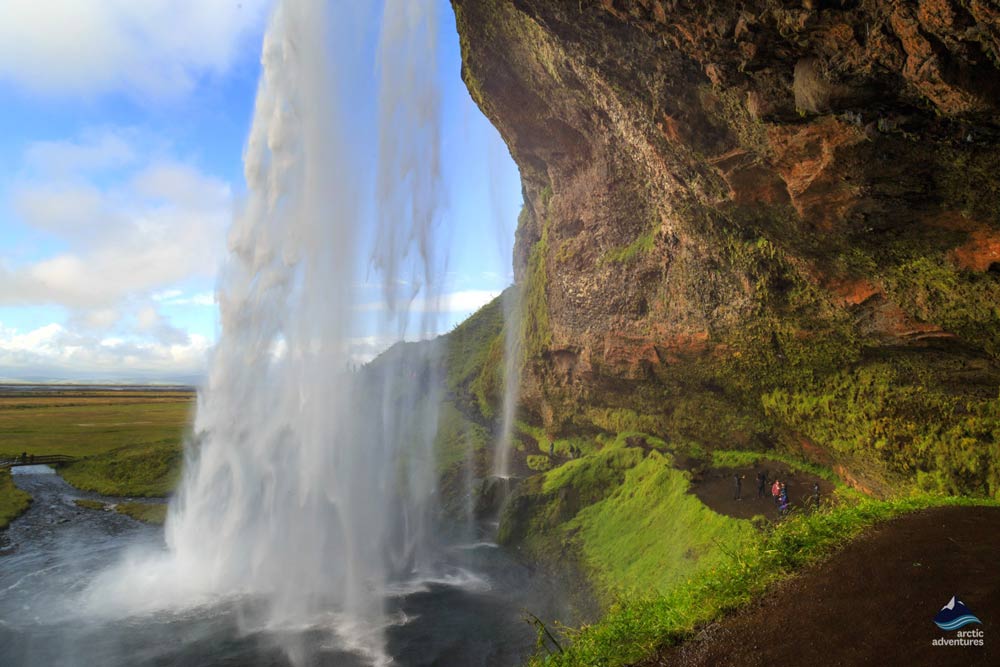 The south coast of Iceland is the setting for today's adventures. We leave Reykjavík behind and travel through a fertile agricultural area and a couple of lovely small villages before we come to the first highlight of the day: Seljalandsfoss waterfall. Here you will have an opportunity to walk behind the spectacular cascade and really experience the force of the water at first hand. We recommend you put on your rainwear because so much tumbling water produces a lot of spray! On a sunny day you will probably see rainbows. We get back on the minibus for the short journey to the next highlight, Skógafoss waterfall, where we stop for a while to take in the stunning scenery.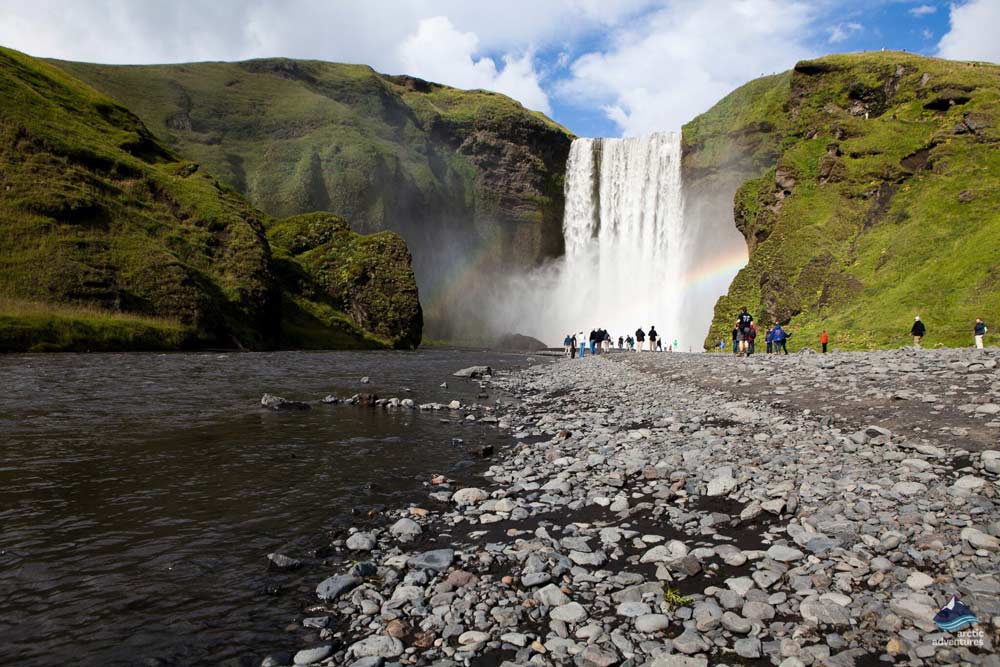 After the waterfalls we go down to the black sand beach at Reynisfjara, with its basalt columns and the impressive Reynisdrangar rock formations rising from the ocean just off the coast, this is a truly a magical place to visit. We stop for lunch at the coastal village of Vík, before we start making our way further east.
You will journey through really unique landscapes, crafted by the actions of great volcanoes and glaciers on our way to our accommodation for the night. We settle in and enjoy dinner (food and drink, other than breakfast is NOT included). We relax and enjoy the evening surrounded by the peace of the countryside. In winter, if the conditions are right this is a great place to look out for the northern lights.
Day Highlights

Seljalandsfoss Waterfall
Skógafoss waterfall
Reynisfjara Black Beach
Village of Vik
Included

Pick-up from Reykjavik
Guided tour in minibus
Visit to all highlights of the day
Lunchbreak in Vik
One night in Hotelroom
Accommodation
Day 2: Glacier day
We start the day at the picturesque Jökulsárlón Glacier Lagoon. During the summer, you have the opportunity to take an amphibian boat ride between the icebergs. Please book this when you arrange your tour because it gets fully booked. In any season you will be able to explore some of the most spellbinding and surreal scenery in Iceland – you really will take the photos of your life here.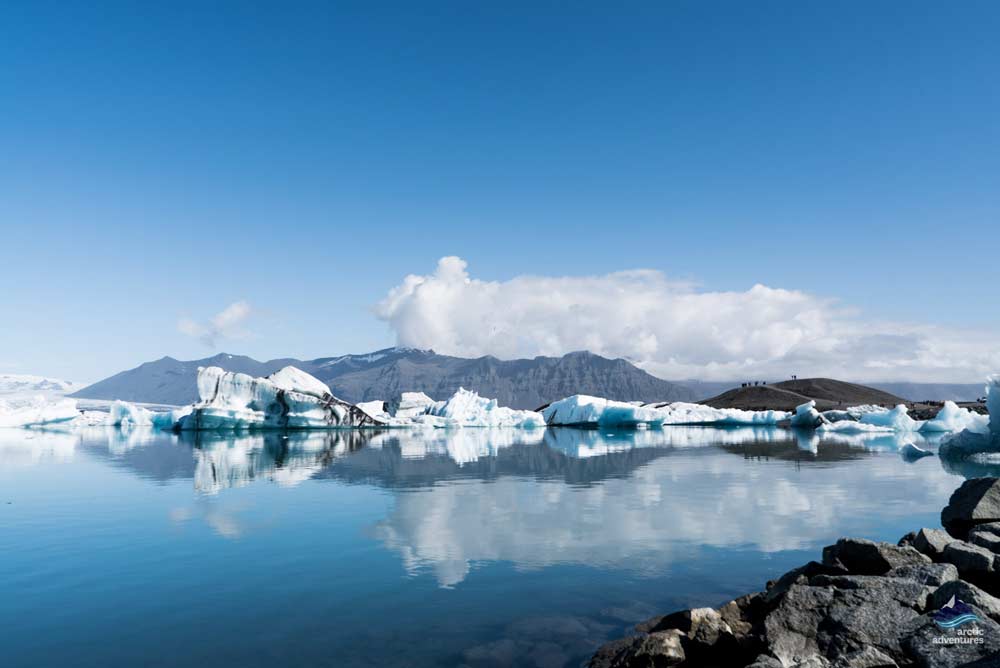 The icebergs float across the lake, jostling one another as they go, after their long slow journey they arrive at the nearby Diamond Beach, where you will usually see a few resting on this beautiful black sand beach. They do, indeed, shimmer like precious diamonds!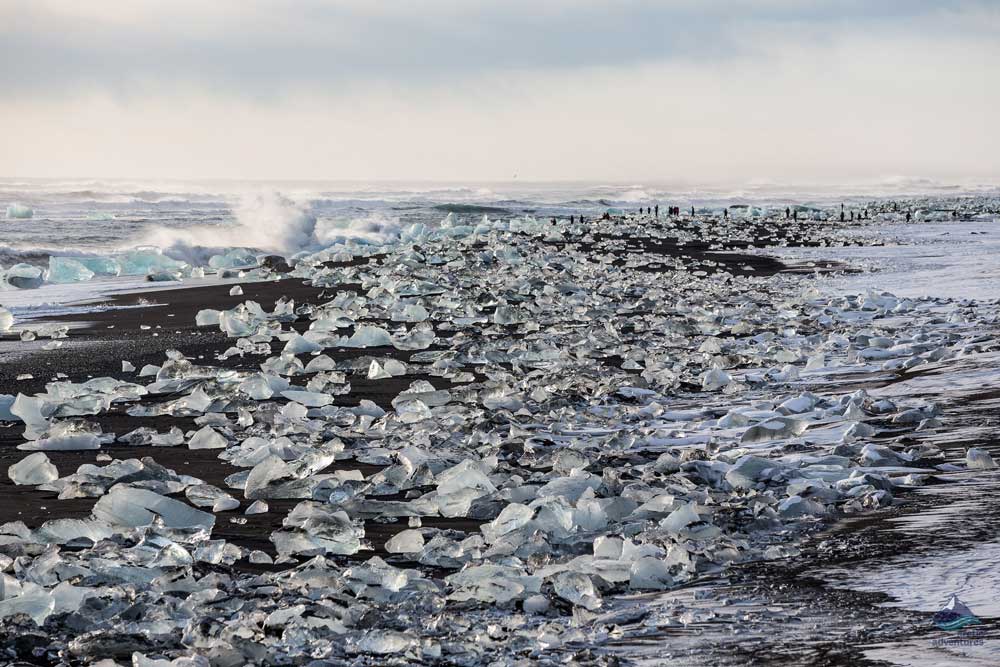 From the Diamond Beach, we make our way to a majestic Vatnajökull glacier tongue where we prepare for the glacier hike. Our skilled guides will give you a safety briefing and issue all the equipment you need before you set foot on an outlet glacier of Vatnajökull, Europe´s biggest ice cap. These outlet glaciers reach out towards the south coast like the talons of a great ice-bird, they are fabulous locations for glacier hiking. On our journey, we will come across incredible ice formations, crevasses and the moulins which drill down through the ice, acting as conduits for meltwater.
A glacier is a powerful place, always changing and moving, your guide will share some fascinating info with you. Any questions, just ask away! Footage of many blockbuster movies has been filmed in Vatnajökull National Park, the area played a star role in Batman Begins, The Secret Life of Walter Mitty and, of course, The Game of Thrones. Jökulsárlón Glacier Lagoon appeared in not one, but two James Bond movies!
After the glacier hike, we start making our way back to Reykjavik. We will travel the same route as the day before, but there will still be a lot of things to see and enjoy on the return journey. We will drop you off at your accommodation place in Reykjavik after these two days of delight.
We will arrive back to Reykjavik around 21:00 (9:00 pm) on day two.
Day Highlights

Jokulsarlon Glacier lagoon
Diamond Beach
Optional Boat Ride
Vatnajokull National park
Glacier hike
Included

Breakfast at Hotel
Guided tour to the highlights of the day
Guided glacier hike on Vatnajokull
Certified Glacier guide
All necessary glacier equipment
Drop off in Reykjavik
Disclaimer
All our tours are undertaken on the responsibility of its participants. Arctic Adventures does not assume any responsibility for accidents that are caused by its customers or can be traced to their own actions. Participants have to sign a waiver before undertaking all trips stating that they realize that all outdoor activities carry an inherent risk.
Book this tour
Price from 54.990 ISK per person.
NO BOOKING FEES
FAST & SECURE PAYMENT
"Excellent Experience in 2-Day South Coast Tour in Iceland"
Very impressed by the waterfalls, volcanos, glaciers, as well as the overall quality of the tour, including the accommodation, meals, and schedules. Two of the highlights of the tour are the boat tour in the Jökulsárlón glacier lagoon, and hiking on the Sólheimajökull glacier (the same spot John Snow and his worriers did in Game of the Thrones!). Yes there was a lot of driving in 2 day's time, but throughout the tour our guide Maria did an excellent job. She was very personable and friendly, went extra mile to fine tune the schedules and stops to make sure we maximize what we could get out of the experience, and paid attention to details. Thank you Maria!
"2 Day South Coast Tour"
My husband and I went to Iceland at the end of November. We were interested in glacier hike and also the glacier lagoon. Looked around online before we left, and found this tour.

The tour was absolutely awesome! Both Jonas and Aron are very responsible and caring. They are very engaging, our whole group had lots of fun. The scenery was stunning! Definitely worth every penny!

I highly recommend this tour to anyone who wants to discover Iceland's best beauty.
2 Day South Coast - Glacier hike, Skaftafell & Jokulsarlon Glacier Lagoon | Average rating: 4.8/5 based on 10 customer reviews
"2 Day - South Coast, Glacier hike, Skaftafell & Jökulsárlón Glacier Lagoon" |
By Cynthia Diogo 13/07/2018
We did the 2 Day - South Coast, Glacier hike, Skaftafell & Jökulsárlón Glacier Lagoon tour and we enjoyed it a lot! Our guide was Rikard and he was a cool guide and very nice person. He was very informative while the whole tour. We liked this tour very much, you can do it in one day also but if you have the time it's really nice to take two whole days to do everything!
"Great trip!" |
By Kirsten A 12/07/2018
Really enjoyed the 2-day tour! We covered more than I expected. The guide, Thor, was very professional, helpful, and informative. My only recommendation is that a schedule would have been helpful--I heard there was one on the website, but I never came across it. It would have been helpful to know what to expect each day. I wasn't dressed as warmly on the first day, when we did the glacier hike, as I would have been if I had know the hike was on the first day. I know the schedule may change depending on weather, but it's good to know to bring extra layers!
"What a wonder. ." |
By Corey 08/07/2018
We knew Iceland was going to be spectacular but it even exceeded expectations, if that is even at all possible. Or guide was lovely, through weather was not great the first day, the Glacier hiking was still the absolute Highlight. Or glacier guide Hurley was so good!!! The tour in general was awesome. Lots of driving but then ...lots of chances to see the amazing country of Iceland. Thanks again.
"Our tour guide (Sindri) was awesome!" |
By Calvin Hansen and Family 26/06/2018
This tour was a lot of fun, but what really stood out was our tour guide, Sindri. Sindri has a gift for telling stories and always kept us entertained! We loved his jokes about Thor, informational asides, and stories about his kids. Thank you so much Sindri!
"Pretty good tour" |
By Bruce Temkin 24/06/2018
I enjoyed the tour, the guide and the professional manner that the tour company arranged all of the elements of the trip. My one complaint was the hotel in Reykjavik, which was a huge, bland and not very nice place. It was clean (as is everything in Iceland), but the room was tiny, even for a NYer!
"Fantastic time in southern Iceland" |
By Josephine Lucas 10/06/2018
What a phenomenal tour! The buses are very nice, the tour guide very knowledgeable and accommodating, the scenery was out of this world- truly! Iceland is a spectacular country! The overnight in the "village" was extremely comfortable and clean with delicious food. The sights along the way were a perfect choice and the time at each was just right. The tour guide (Becka?) was accommodating in meeting any special interests. What a fun, beautiful, informative, adventurous yet relaxing trip! My family would highly recommend this tour to anyone visiting Iceland.
"One tour is all it takes to fall in love with me" |
By Qin 07/06/2018
That was the slogan of our tour guide! LOL. Our guide, Arnar Ingi aka ""Eagle the Guide"", made the tour very memorable. We visited most of the famous sites along the way, but also stopped at a few not so famous but impressive ones due to the smaller size of our group. Not only did we enjoy all the natural beauty that Iceland has to offer, he also shared some Icelandic music and culture with us on the way. We also went to lunch and dinner as a group to get to know each other to make the tour more personable. Despite the raining/windy weather, the tour was great overall!
"Great two day tour of the South" |
By Barbara Schane 21/05/2018
I highly recommend the 2 day south coast tour of Iceland with Arctic Adventures. The group size is small, you get to see a lot of sights in a short amount of time - but I never once felt rushed. Our tour guide and glacier hike guide were both really fun and knowledgeable. I can't wait to go back for a longer visit.
"Great trip, no unpleasant surprises" |
By guy winker 05/06/2018
Great trip, no unpleasant surprises, itinerary was adjusted slightly for the weather which was appreciated, accommodations were fine and food was very good. Thor was excellent as was our glacier guide Simeon. Learned a lot and had lots of fun. Great pics, have already rec you to friends coming in August. thanks
"Rushed but wonderful" |
By Marnie McNeil 13/05/2018
Svenn was our tour guide and he was definitely full of zest for being our guide and very safety minded. This tour could have started earlier and ended later so we wouldn't be so rushed during the day. Our participants were pretty quiet so Svenn accomodated the groups demeanor very professionally.