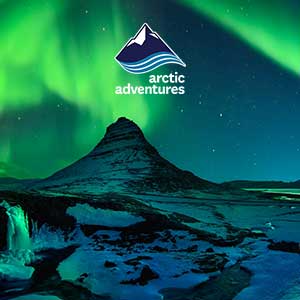 Welcome to the perfect 4-day itinerary for your trip to Iceland. Get inspired by stunning vistas and see the most extraordinary locations and sights Iceland has to offer.
INSTANT BOOKING CONFIRMATION
WINTER DESTINATION OF 2019
Want to do this trip for free? Tag us @arcticadventures on your social media stories and photos during your trip and enter a chance to win a full refund. The winner will be picked once a month!
---
Let's explore the best of both worlds by combining the magical South Coast of Iceland with the mysterious Snæfellsnes Peninsula.
Visiting Iceland is an adventure from start to finish! This tour combines grand waterfalls, gushing hot springs, fishing villages, small towns, gleaming glaciers, and dramatic mountains.
Join our experts on a 4-day expedition to Iceland's highlights and natural wonders.
Suitable for most people in fair condition.
Price from

104.990 89.242 ISK
Tour highlights

Small Group Experience
Seljalandsfoss Waterfall
Skógafoss Waterfall
Reynisfjara Black Sand Beach
Vík Village
Skaftafell National Park
Vatnajökull Europe's largest glacier
Naturally Formed Ice Cave*
Jökulsárlón Glacier Lagoon
The Diamond Beach
The Golden Circle; Þingvellir, Geysir and Gullfoss
The Secret Lagoon
Djúpalónssandur Beach
Arnarstapi and Hellnar
Mt. Kirkjufell
Vatnshellir Lava Cave
Ytri-Tunga Seal Paradise
*Glacier Lagoon Boat Tour (optional)
Included

Pick-up & drop off in Reykjavík
Guided Minibus Tour
Hotel accommodation with a private bathroom (3 nights)
Hotel Breakfast (3 mornings)
English Speaking Tour Guide
Amazing Sightseeing Stops
Ice Cave Tour*
Admission to the Secret Lagoon
Free WiFi on Board Your Bus
A wise man once said, "Iceland is like everything you see in the movies and think can't possibly be real."
It's time for you to discover the meaning behind these words. With amazing natural wonders within such a short distance, Iceland is very likely the most hidden gem in Europe. A road trip in Iceland is like nothing else you've ever experienced!
To make the most of your time here, we've created the perfect 4 Days in Iceland.
South Coast
The tour will start with a 2-day exploration on Iceland's South Coast. First stops are at amazing waterfalls the staggeringly beautiful Seljalandsfoss and the stunner Skógafoss. Both of them are extremely photogenic but at the same time truly unique in their ways and can be explored in different ways, from above or behind! The South will also bring you to mysterious Reynisfjara Black Sand Beach and the charming national park Skaftafell.
Jokulsarlon
Jökulsárlón Glacier Lagoon and Diamond Beach are there for day two, where you will get a chance to sail in between the icebergs you'll never forget. Get up close and personal with some of Mother Nature's most colorful work. From Jokulsarlon, we'll travel up to the glacier and visit a spectacular natural ice cave.
Golden Circle
Your third day is dedicated to the must-do Golden Circle tour, with stops at Gullfoss Waterfall, Geysir geothermal area and Þingvellir. Cap off the day of sightseeing with a cozy soak in the Secret Lagoon hot spring, Iceland's oldest swimming pool. A true treat after a day of amazing sightseeing stops and historical locations (Gullfoss, Geysir and Þingvellir).
Snaefellsnes
On your fourth day, step into the Snæfellsnes Peninsula. Your expert guide will show you all the best the lava-covered peninsula has to offer, including the famous Kirkjufell Mountain, Arnarstapi and Hellnar Villages and Djúpalónssandur Pebble Beach.
---
Pick-up Information
Pick-up is at 08:00 am from your hotel or a nearby meeting point in Reykjavík. Picking everyone up can take up to 30 minutes, your patience is much appreciated.
Available pick-up points: Arctic Adventures's pick-up list.
---
Return time
You will return to Reykjavík around 08:00 pm approximately and you will be dropped off where we picked you up.
---
Practical Information
What to bring: Warm clothing, waterproof jacket and pants and hiking boots.
Please note
*During the winter months (Nov-Mar) we'll visit the "Crystal Ice Cave" near Jokulsarlon glacier lagoon. During the summer months (Apr-Oct), we go to the Katla Ice Cave near Vík. If no ice cave is accessible, we do a glacier hike instead.
Day 1 - South Coast
Our day will begin in Reykjavík where you are picked up from your pre-chosen pick up location. This is when you will meet your guide for the next days and get a first sighting of the like-minded travelers that have chosen this fantastic adventure like you!
We start by driving the South Coast, stopping at the beautiful waterfalls Seljalandsfoss and Skogafoss. Seljalandsfoss is one of the only waterfalls in the world that you can walk behind.
Afterward, we'll stop onto the mysterious Reynisfjara Black Sand Beach where the mystical and fairytale-like Reynisdrangar basalt columns stand tall in the strong waves. The beach is also home to a natural lava cave that has formed into the tuff mountain Reynisfjall. 
Lunch will take place in the charming little town of Vík next to South Iceland's favorite beach. 
Next, we drive through what seems to be a no-mans-land while making our way to the beautiful Skaftafell National Park, known for its ice caves, glacier views, and excellent hiking trails.
Afterward, we'll check in at our hotel in Hof and enjoy some delicious dinner.
Day Highlights

Seljalandsfoss waterfall
Skógafoss waterfall
Reynisfjara Black Sand Beach
Vík
Skaftafell National Park
Included

Pick up in Reykjavík
Guided Mini-Bus Tour
Accommodation + Breakfast
Accommodation
Adventure Hotel Hof
or Similar
Day 2 - Jokulsarlon Glacier Lagoon
Today your glacier adventures continue as our first stop will be the world-famous Jökulsárlón glacier lagoon where glittery iceberg float around in a seal paradise. Take a stroll around the lagoon and indulge in the beautiful scenery or join on an optional boat ride (can be added as an extra) in the lagoon where you will get a chance to go even closer to these eerie turquoise ice blocks.
Next up, we take a short walk to see more of these truly awe-inspiring icebergs on the Diamond Beach where they have drifted ashore and now sunbathe on a black sand beach, shimmering like diamonds on sunny days. This place truly is a sight for sore eyes.
Next up on your guided adventure is a visit to a naturally formed ice cave on an outlet glacier from Europe's largest ice cap, Vatnajökull. You are in for a once-in-a-lifetime experience as you get up close and personal to some of Mother Nature's best artwork.
After the tour, we'll head back to Reykjavík. On the way back to Reykjavík we will make some extra stops at well-chosen locations your guide will choose each time.
The night is spent at a hotel in Reykjavík.
Day Highlights

Jökulsárlón Glacier Lagoon
Glacier Lagoon Boat Tour (optional)
The Diamond Beach
Included

Guided Minibus Tour
Accommodation + Breakfast
Accommodation
Reykjavik Lights Hotel
or Similar
Day 3 - Golden Circle
It's time for the world-famous Golden Circle!
You'll be picked up at your Reykjavík hotel, then we head inland for the must-do Golden Circle tour. The first stop is at the historical Þingvellir National Park (Thingvellir National Park) where you will get a chance to view the meeting of the continental plates in a truly unique way. This UNESCO World Heritage Site is home to one of the world's first parliaments, beautiful waterfalls, a stunning lava field and views like never seen before.
After a brief lesson in Icelandic history, we join for the Geysir geothermal area where the impressive Strokkur will spout up into the air giving all those who are there to see goosebumps and awe-looking faces. This is truly a must-see while in Iceland!
Cap off the Golden Circle with a final stop at the glacier-originated waterfall Gullfoss (Golden Waterfalls). Look for the rainbows that are likely to appear as the two-story showstopper gushes down into Gullfoss Canyon. The waterfall can be viewed from two different locations, both recommended!
The day is then topped with a dip in the warm waters of the Secret Lagoon, Iceland's oldest swimming pool.
The night is then again spent in Reykavík, Iceland's lively capital.
Day Highlights

The Golden Circle
Þingvellir National Park
Geysir Hot Springs
Gullfoss waterfall
The Secret Lagoon
Included

Guided Minibus Tour
The Secret Lagoon Admission
Accommodation + Breakfast
Accommodation
Reykjavik Lights Hotel
or Similar
Day 4 - Snaefellsnes Peninsula
After breakfast you will be picked up again now for a completely different exploration as this time we will be making our way North West onto the Snæfellsnes peninsula, home to the famous Snæfellsjökull glacier Jules Verne made so famous in the book, Journey to the center of the earth.
The day is packed with memorable stops. First we will explore the farm Ytri Tunga where seals play all year around, not at all shy from humans and show off on the beach. Then there is the picturesque Arnarstapi, everyone's favorite Instagram spot a little coastal village and after the close-by Hellnar where we will take a break to have lunch with an epic view.
The adventure will next take us to the Vatnshellir Lava Cave where you will have the option (at an extra cost) to explore Iceland's underworld in a spacious lava cave which sits right at Snæfellsjökull's glacier roots.
Djúpalónssandur pebble beach is our next destination where  your guide will tell you fascinating stories of shipwrecks and adventures around the area.
For many the last stop is the best stop on this part of the tour as we end the day on Snæfellsnes peninsula with a stop at the queen of all mountains, mt. Kirkjufell which towers above Grundarfjörður fishing village.
On the way back we check out the Gerðuberg basalt cliffs, which is just yet another reason why Icelandic road trips are the best! We will drop you off in Reykjavik at around 20:00 (8 pm).
Day Highlights

Ytri-Tunga Seal Paradise
Arnarstapi
Hellnar
Vatnahellir Lava Cave
Djúpalónssandur Pebble Beach
Mt. Kirkjufell
Gerðuberg
Included

Guided Mini-Bus Tour
Drop off in Reykjavík
Special Offer Travel Period for April - June
Special Sale ends on 31.03.2020 at midnight (GMT)
Save 10% - Discount added at checkout
Promotional code: MAR2020
Book this tour
Price from: 104.990 89.242 ISK per person.
NO BOOKING FEES
FAST & SECURE PAYMENT
Loading...