Explore the greatest highlights of the South coast such as Reynisdrangar ocean cliffs, Jökulsárlón Glacier Lagoon, sensational waterfalls and far more.
2 day tour exploring the south coast sights of Iceland and Jökulsárlón Glacier Lagoon – see the best and most exciting spots – the dramatic black sand beach at Reynisfjara and the Reynisdrangar peaks rising from the ocean and iconic waterfalls. You will see glacier scenery and the stunning and amazingly shaped icebergs gliding across the lagoon at Jökulsárlón on this small group guided tour.
Availability

November 1st - April 15th
Suitable for most people in fair condition.
Tour highlights

Reynisfjara Black Sand Beach
Reynisdrangar Ocean Cliffs
Northern lights (when conditions allow)
Black Sand Beaches
Skógafoss Waterfall
Jökulsárlón Glacier Lagoon
Volcanoes & Glaciers
Seljalandsfoss
Guided Group Tour (Small Group Experience)
Included

Transportation in a Mini-bus
Pick-up/drop-off
Accommodation with a Private Bathroom
Breakfast at the Hotel
Experienced Guide
One Piece of Luggage & a single Carry-on
The northern lights are natural phenomena, we always do our best but we CANNOT guarantee you will see them, this is entirely dependant upon atmospheric and cloud conditions.
For fuller details of your tour daily activities please see the tour itinerary!
So you have got two days to see the most glittering highlights along Iceland´s south coast? This tour focuses on showing you the very best sights and giving you the chance to experience a warm Icelandic welcome at a country hotel. Here, well away from the lights of the city, you will have the best opportunity to see the northern lights. Of course, a little luck is always needed! We can, though, promise you will experience a deep sense of peace as darkness envelopes the countryside in its velvety blanket.
You will pass through fertile farmlands and little towns and villages on your way Seljalandsfoss, a truly unique waterfall, you can walk behind the 60 m high cascade to stand behind the curtain of tumbling whitewater – this is a really unusual photo opportunity. We also show you the majesty of another great Icelandic waterfall, Skógafoss. Two great mountain glaciers, each one shrouding a powerful and capricious volcano in its depths, stand high above Skógafoss waterfall, the infamous Eyjafjallajökull, and Mýrdalsjökull with the ominous Katla lurking beneath its icecap!
Jökulsárlón Glacier Lagoon, see the huge and amazingly shaped icebergs filling the lagoon and floating in a mystical procession to the nearby Diamond Beach. Your guide will tell you all about this amazing and stunning place, learn why jewel blue shades glint within the ice and how the vast lagoon, now the deepest lake in Iceland was formed. We stop at Skaftafell in Vatnajökull National Park to see the great glacier tongues which reach southwards from the mighty ice dome of Vatnajökull, the largest glacier in Europe, before we return to Reykjavík. We stop along the way in one or two places depending on the weather.
What to bring: Warm layers, sturdy hiking shoes, headwear, scarves, gloves and waterproof top later. 
During winter: Spikes which fit onto your shoes to provide extra grip on ice are helpful (traction cleats or ice-grips).  
What if I don't own all of these clothing items?
Don't worry, you can always rent sturdy hiking shoes, waterproof jacket and pants in the booking process. We do not rent gear from locations, it must be ordered in advance.
Please note
Breakfast is included on day 2 at your hotel. An evening meal will be available at your country hotel - you can pay for this locally.
Day 1: SOUTH COAST HIGHLIGHTS-JOKULSARLON
Pick up is at 08:00 from your hotel or a nearby authorized meeting point. Picking everyone up can take up to 30 minutes but you do have to be ready at 08:00.

You are dropped off in Reykjavík at around 19:00 – 21:00 on the second day – please bear in mind the weather in Iceland can sometimes influence schedules a little.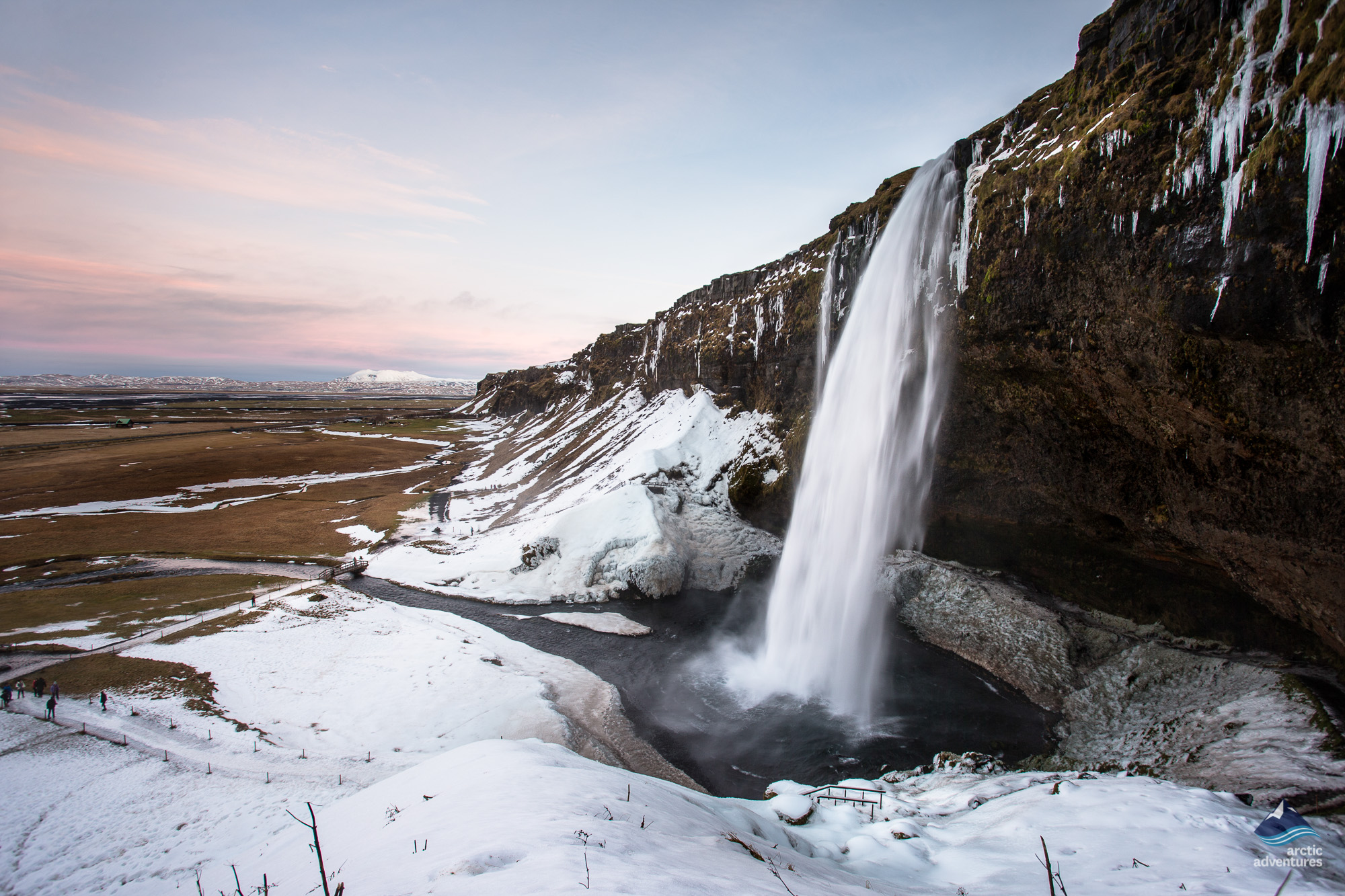 On this 2 day tour you really will see the very best of the south coast of Iceland. You will travel through the scenic farmlands of the south on your way to the first attraction, the very unusual and photogenic Seljalandsfoss waterfall. It is possible to walk behind the cascade for a unique vantage point if you do not mind getting a little damp, a good raincoat is recommended! Glacial water which has flowed from Eyjafjallajökull, the mountain glacier housing the famous Eyjafjallajökull volcano in its depths, tumbles through this 60 m high waterfall. The cascade actually drops from the former sea cliffs into a fairly shallow pool, you can clearly trace the ancient sea cliffs as they extend for hundreds of kilometers.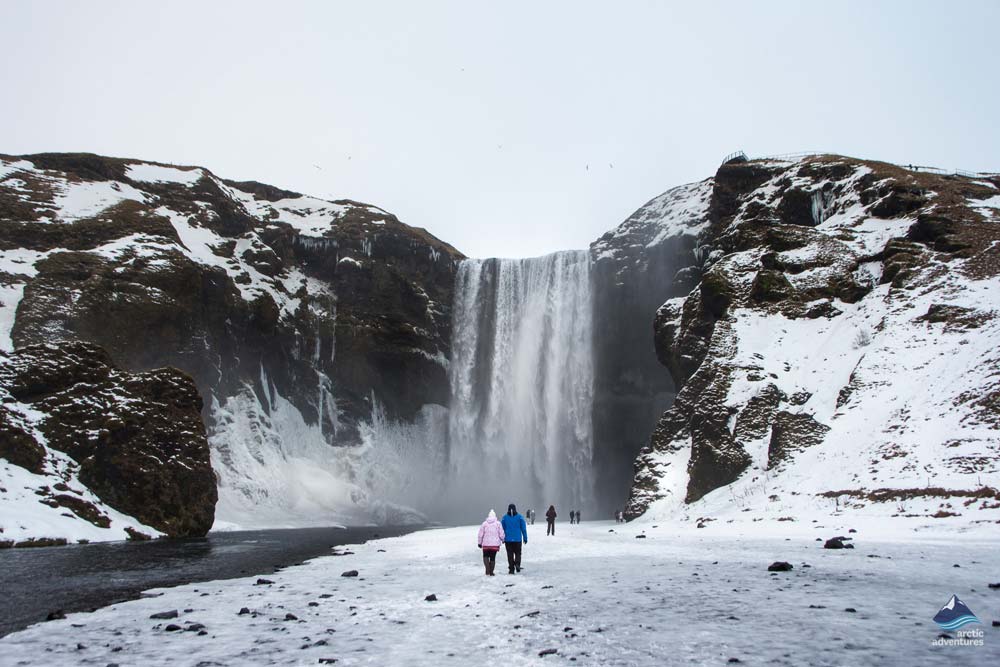 Your second stop will be at Skógafoss Waterfall, these very graceful but quite powerful falls also drop around 60 m. At the base of the waterfall there is a pathway, leading up through many steps to the start of a trail which passes between two great volcano mountain glaciers, Eyjafjallajökull and Mýrdalsjokull, home to a highly explosive volcano, the notorious Katla. You will have time to climb the steps to the top to see truly outstanding views.
Visits will be made to the charming village of Vík with the church high on the hill. You will also see Reynisfjara, a stunning black sand beach with incredible black basalt column formations rising like trolls off the shore – the famous Reynisdrangar ocean cliffs – this place has a really unique atmosphere.
Your final stop of the day will be at Jokulsarlon, the surreal glacier lagoon at the edge of the Breiðamerkurjökull, an outlet glacier or tongue of the great Vatnajökull glacier. Huge icebergs calve off the glacier and float across the lagoon on their way to the Atlantic Ocean. You may feel as though you are in a film and in a way you will be, footage of many famous Hollywood movies has been shot at Jökulsárlón!
Your accommodation will be at a Country Hotel in South Iceland. The restaurant menu includes as many local products as possible and breakfast is included. We enjoy dinner upon arrival (not included in tour price). During the evening, and into the night, we look out for the northern lights in the area around the hotel, whenever the conditions are suitable.
Day Highlights

South coast scenery
Seljalandsfoss Waterfall
Skógafoss Waterfall
Jökulsárlón Glacier Lagoon (Jokulsarlon)
Small group experience
Northern Lights (if we get lucky)
Included

Pick up, drop off and transport
Guided small group tour
Professional Guide
Visits to highlights
1 night hotel accommodation
Day 2: JOKULSARLON-SKAFTAFELL-SOUTH COAST-REYKJAVIK
After a good breakfast we pay another visit to Jokulsarlon Glacier Lagoon to witness more magnificent blue/white icebergs of all shapes and sizes. There is also time to walk to the nearby black sands of the Diamond Beach and wander a little looking out for seals and photographing more magnificent icebergs, a few are washed ashore where they glisten like diamonds as they rest on the dramatic black beach.
When we leave the lagoon we head back south to stop at the Skaftafell area of the vast Vatnajokull National Park. You will see the glacier tongues which reach down like the talons of a great ice bird from Vatnajökull, the largest glacier in Europe. The views in this area have a fairytale and otherworldly quality about them.
We make more stops along the beautiful south coast whilst we still have daylight – then keep an eye out for the northern lights when darkness falls if the conditions are suitable. We really want you to have the trip of a lifetime with us. The extraordinary and stunning Icelandic nature will, we are certain, ignite your sense of wonder, leaving you with memories which will be precious for years to come.
You are dropped back to Reykjavík around 19:00 to 21:00 – in Iceland the weather can sometimes influence schedules a little.
Day Highlights

Jökulsárlón Glacier Lagoon (Jokulsarlon)
The Diamond Beach
Skaftafell National Park
Glacier views (in good visibility)
South coast scenery
Included

Hotel breakfast
Guided tour to all highlights
Transport and drop off
Small group experience
Disclaimer
All our tours are undertaken on the responsibility of its participants. Arctic Adventures does not assume any responsibility for accidents that are caused by its customers or can be traced to their own actions. Participants have to sign a waiver before undertaking all trips stating that they realize that all outdoor activities carry an inherent risk.
Book this tour
Price from 39.990 ISK per person.
"2 Day South Coast Tour - Amazing"
My friend and I did this tour in January as we wanted to see the Black sand beach, Vatnajökull and Jökulsárlón but didn't have a car. The tour was amazing, our guide Jonas was really experimented and funny and knew lots of stories. Probably the coolest guide I've ever had. The hotel was really clean. Jonas was not afraid of going the extra mile to show us as many things as possible. Very well organised. Bring warm clothes, a good camera and tripod if you can for northern lights. My highlight was probably the Diamond Beach next to Jökulsárlón.