2 Day South Coast - Glacier Hike, Northern Lights & Jokulsarlon Glacier Lagoon
The perfect winter tour in Iceland
This two-day tour along the beautiful south coast of Iceland offers you the ultimate highlights in a small and friendly group.
Don't let winter stop you from traveling further. Our 2 Day South Coast – Glacier hike, Northern Lights & Jokulsarlon Glacier Lagoon is the perfect way to capture the essence of Iceland's natural beauty and diversity of the landscape. Get up close and personal with powerful waterfalls, visit volcanic beaches, stand in a lava field and see the famous Jokulsarlon Glacier lagoon. Travel with like minded travelers to some of the most beautiful locations Iceland has to offer.
We also have a summer version of this tour 2 Day South Coast – Glacier hike, Skaftafell & Jokulsarlon Glacier Lagoon
Availability

September 15th - April 15th
Suitable for most people in fair condition. You have to be able to walk on uneven surface and hike for at least 2 – 3 hours at a slow pace, with breaks. Trails are generally of good quality and glacier travel at a relatively low angle.
Tour highlights

Seljalandsfoss Waterfall
Skógafoss Waterfall
Reynisfjara Beach
Village of Vík
Northern Lights
Glacier Hiking
Vatnajökull Glacier
Diamond Beach
Jökulsárlón Glacier Lagoon
Small Group Experience
Included

Pick up & drop off in Reykjavík
Beautiful natural attractions
Guided glacier hike with our own certified Glacier Guides
Specialized glacier gear
Knowledgeable guide and driver
One night in a country hotel with a private bathroom
Hotel breakfast
Get ready to be amazed!
Right from the start, this tour will take you to the best sights along the beautiful South Coast of Iceland. Walk behind the famous Seljalandsfoss Waterfall, take in the natural energy at the powerful Skógafoss Waterfall and walk along the mystical Reynisfjara black volcanic beach. The stairs of basalt columns stand strong on one side along with an alluring sculpture filled cave and in the ocean, you will find even columns. The view all around is mesmerizing and the waves add to the intensity of the location but they are forceful so stay at a safe distance and enjoy the vista to the fullest!
Our night we will be spent in the countryside to increase our chances of seeing the magical Northern Lights dance in the dark winter sky. The group will join for a dinner to get to know each other better and get in a little relaxation before testing our chances in the evening with the glittering lights. After a hopefully successful Northern Lights hunt in the evening, the group joins in the morning for breakfast (included) at our hotel and fill up our energy for the exciting day ahead. We have a packed day in store for us and the theme is the GLACIER!
The drive is a scenic one with dramatic mountain landscapes and rugged lava but soon the glaciers start getting closer and the famous Jökulsárlón Glacier Lagoon imposes itself on the horizon. The magic of Jökulsárlón Glacier Lagoon is difficult to convey in words but here goes! You will know you have arrived when you see a procession of glistening opalescent icebergs. The natural ice sculptures calve of the Breiðamerkurjökull glacier, which has been receding over the last century, creating the rapidly growing and now enormous glacial lake, this is now the deepest natural lake in Iceland. The multi colored icebergs float across the lake, jostling one another as they go, after their long slow journey they arrive at the nearby Diamond Beach, where you will usually see a few resting on this dramatic black beach. They do, indeed, shimmer like precious diamonds!
But that's not all! You will also set foot on the glacier with a never-to-be-forgotten glacier hike on an outlet glacier of the great Vatnajökull Glacier, the largest glacier in Europe. This glacier has a vast array of amazing features including sharp crevasses and a stunning icefall, where ice drops hundreds of meters from the mountain. You will be provided with ice crampons and all of the glacier gear you could need to walk on a living and constantly evolving glacier. In a small group and accompanied by a very knowledgeable certified glacier guide you will be in the safest hands possible to go for such an exciting journey.
Here you can find a detailed list of information about everything you need to know about this tour:
2 Day South Coast Guide
What to bring: Warm outdoor clothing, a waterproof jacket and pants, headwear and gloves. Good hiking boots are essential for the glacier hike, it is not possible to fit ice crampons to any other kind of footwear.
See the 2 Day South Coast Guide for more information.
Pick up is at 8:00 am from your hotel or the Reykjavík meeting point you have chosen. Please note: picking everyone up can take up to 30 minutes but you do have to be ready and waiting at 8:00 am.
What if I don't own all of these clothing items?
Don't worry, you can always rent sturdy hiking boots, waterproof jacket and pants in the booking process. Please note, we do not rent any gear from locations, this must be booked in advance.
Please note
If you do not choose the single supplement you will be paired in a twin room with another participant of the same gender.
Breakfast is included at your hotel restaurant on day 2. Meals and beverages are otherwise not included on this tour. We will, however, be making stops where you will be able to purchase all necessities.
Sometimes we may need to change glaciers or glacier outlets on this tour due to various reasons, including weather conditions. Glacier outlets used on this tour include Svínafellsjökull, Falljökull and Sólheimajökull, all amazing and unique glaciers, equally as beautiful.
Day1 : South Coast of Iceland
We head out of the city and drive through the fertile southern farmlands, passing through small villages, before we come to the first highlight of the day: Seljalandsfoss waterfall. Here you will have an opportunity to walk behind the spectacular cascade to really feel the force of the water, and get a very unusual vantage point, peeping out through the 'curtain' of water. The next stop, Skógafoss waterfall, is not far away, we spend a little time here to take in the spectacular scenery. A pathway at the side of the waterfall leads up many steps, it then continues and connects up with the famous Fimmvörðuháls trail. Great volcano mountain glaciers dominate the dramatic landscapes which rise above Skógafoss.
After visiting the waterfalls, we go down to Reynisfjara, a black sand beach. There are impressive basalt columns and the Reynisdrangar peaks, unusual rock formations which rise above the ocean just off the coast – this is a truly magical place to visit.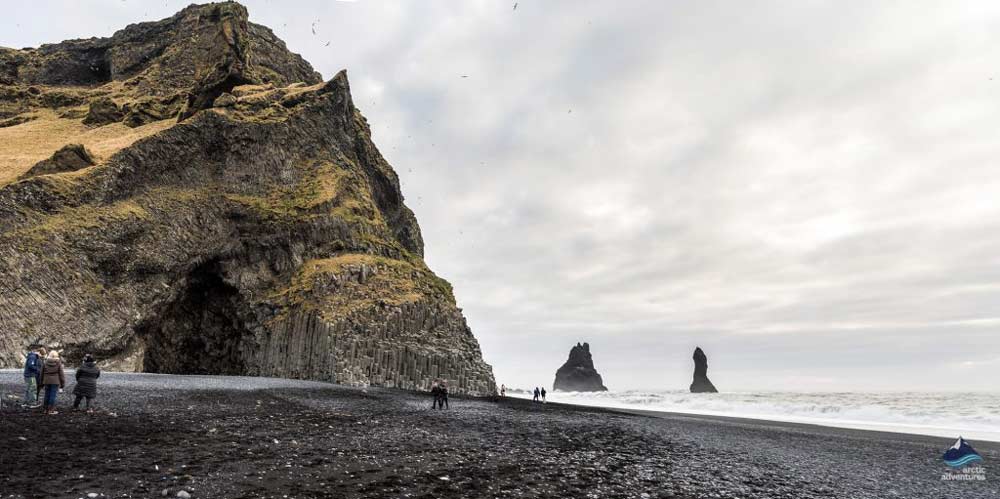 We stop for lunch at the coastal village of Vík, before making our way further towards the east. On the way to your hotel, you will travel through glacial desert landscapes, the like of which you have probably never seen. At our hotel, we relax and enjoy dinner (food and beverages are not included – only breakfast). If the conditions are favorable, you will get the chance to test your aurora luck with a little northern lights spotting.
Day Highlights

Seljalandsfoss Waterfall
Skógafoss Waterfall
Reynisfjara Beach
Vík Village
Northern Lights search
Included

Pick up in Reykjavik
Amazing sights
Knowledgeable guide
Accommodation in a country hotel
Private bathroom
Day 2: Glacier day
Today, we will spend most of our time in Vatnajökull National Park, before we heading back to Reykjavik. You might find the landscapes and scenery familiar since it's been the location for some very famous movie scenes including Batman Begins, The Secret Life of Walter Mitty, The Game of Thrones and action scenes in a couple of James Bond movies.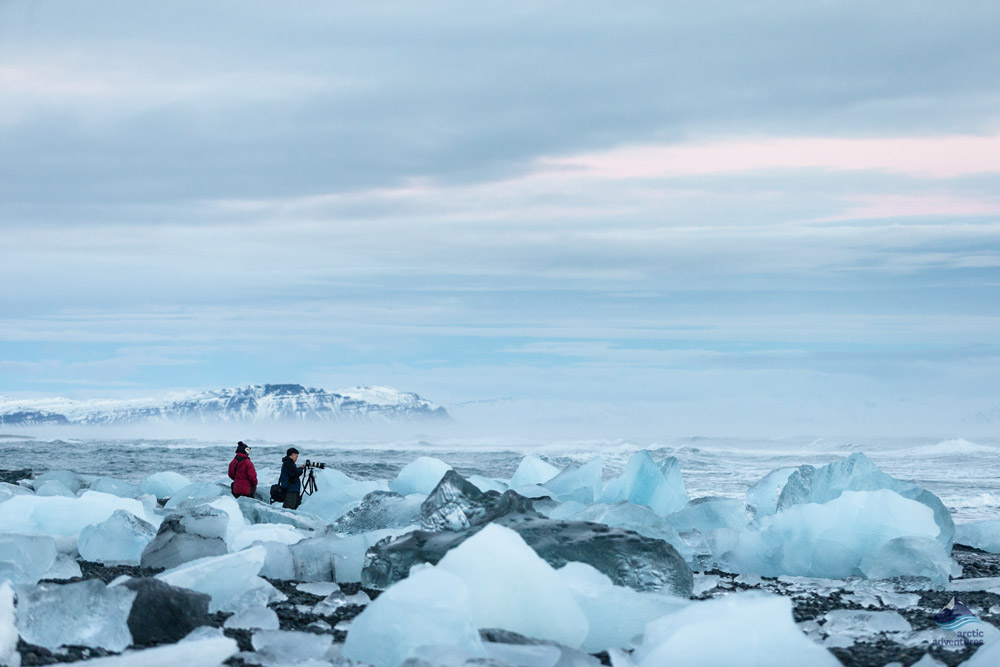 We start the day at the picturesque Jökulsárlón Glacier Lagoon. We spend some time exploring and enjoying this incredibly stunning and magical place, wandering to the Diamond Beach to see the icebergs which have made their journey from the lagoon to the Atlantic Ocean. Some of these icy beauties are washed onto the beach where they sit shimmering like opalescent diamonds on the coal-black sand.
Next up is an exciting glacier hike. We make our way to Svínafellsjökull, a majestic tongue of Vatnajökull, the largest glacier in Europe. We like to call Svinafellsjokull the Hollywood Glacier since it can be found in lots of famous movies, like Interstellar and Batman Begins. We meet our expert Glacier Guides at our booking office in Skaftafell. Before we set foot on the glacier, our specialist glacier guides will go over all safety features and equipment so that you will feel comfortable once you are on the glacier.
A glacier hike is always a magical journey, you will see incredible ice formations, the labyrinths of crevasses which wend their way through the ice, and an impressive icefall, where ice drops hundreds of meters from the mountain. Your guide will share a lot of glacier facts with you and answer any questions that you may have. Glaciers are incredibly vibrant, always moving and changing.
After the glacier hike, we begin our journey back to Reykjavik. We will travel the same route as the day before, but there will be a lot of new things to see and enjoy on the way. We drop you off where we picked you up in Reykjavik after two days of exciting adventures.
We will we be returning back to Reykjavík around 9 pm.
Day Highlights

Vatnajökull National Park
Jökulsárlón Glacier Lagoon
Diamond Beach
Glacier hiking with our own certified Glacier Guide
Svínafellsjökull Glacier
Scenic drive to Reykjavík
Included

Breakfast at the hotel
Fantastic Sights in Iceland
Knowledgeable guide
Experienced Glacier Guide
Glacier hiking tour
Drop off in Reykjavík
Disclaimer
All our tours are undertaken on the responsibility of its participants. Arctic Adventures does not assume any responsibility for accidents that are caused by its customers or can be traced to their own actions. Participants have to sign a waiver before undertaking all trips stating that they realize that all outdoor activities carry an inherent risk.
Book this tour
Price from 49.900 ISK per person.
Best Trip Ever!
My husband and I went on the 2 day south coast tour. Oliver was our amazing tour guide for the two days. We cannot express in words how much fun we had. He seriously took such good care of us, and did everything he could to satisfy all of our requests. He showed us as much as possible and made sure our small group was taken care of everywhere we went! We had an amazing time, and strongly recommend any one to go on this tour when visiting Iceland. Try to get Oliver as your guide as he is the best, and I am sure you will have a blast!
"Stunning"
Review of: 2-Day South Iceland from Reykjavik:

Highly recommend this tour. We were stunned by the incredible glaciers, glacier lagoon, black sand beaches etc etc. the tour guide tor was informative about the scenery, history and also had some stories to make it even more interesting. We had plenty of time to explore at each of the stops.
2 Day South Coast - Glacier hike, Northern Lights & Jokulsarlon Glacier Lagoon | Average rating: 4.4/5 based on 9 customer reviews
"Amazing 2 day tour, fantastic guide" |
By Sibylle Chatelain 31/01/2018
My friends and I would like to thank Arni, our tour guide, who has been amazing. He taught us a lot about Iceland and shared his experiences and knowledge with us. We thought the Glacier hike was included in the tour but found out it was not. We were very disappointed but Arni suggested an alternative and brought us near the glacier where we hiked and witnessed the most beautiful landscapes. He spent his whole 3 hour break with us and showed us around. His kindness made this tour even more incredible and it would not have been the same with another guide. We highly recommend this 2-day tour and we hope we will come back in the summer this time and we will definitely book it with him.
"Excellent tour!" |
By Eliana Carvalho 31/01/2018
We really enjoyed our tour! The program pretty much covered the major attractions in the South Coast, and was conducted in a relaxed way. Our guide Arni was very knowledgeable, kind and even showed some attractions not on the program, like icelandic horses and deers. The glacier walk was amazing, our guide there was also very attentive and stressed the safety issues. Overall, higly recommended! I have only one thing to add, which is not the company's fault. Reykjavik authorites should improve the bus stops for the tourists, since tour companies ask the tourists to arrive with half an hour in advance, and stay standing in the freezing cold. A total disrespect with the visitors, that create jobs and leave their money in the country.
"Additional "Adventure"" |
By Mark Graham 12/03/2018
Our guide ""E"" was outstanding. She was interesting/informative/quick thinking. We were involved in an automobile accident (not her fault) and she responded very professionally, with our safety her first consideration. The accommodations were nice, as was the dinner at the hotel. We were fortunate to see the Northern Lights that evening! The glacier lagoon was a disappointment as was the glacier hike. I had expected we would spend more time hiking the glacier. All in all, we were very happy we took this tour, which was one of three we had with Arctic Adventures.
"Poor weather, but great company and FANTASTIC guide- Marcin" |
By Amy Feasey 21/03/2018
Took the tour last week. Unfortunately we had terrible wind and rain. But our guide, Marcin, took our safety very seriously and gave us plenty of extras stops to make up for it. Some of which i thought were better than the originals ! :D Thank you Marcin! He was very funny, extremely knowledgeable about Iceland and its history. He regaled us with tales of viking history and the many volcanoes we drove past on our travels. He gave us his long icelandic joke, which had us all chuckling on the way back. He was extremely patient at all the stops, often coming with us to ensure we were safe and answered any questions we had. He gave us enough time to take photos, and when the group spent longer than expected at some stops, instead of rushing us, he simply made up for lost time with the driving. I would 100% recommend him as a guide. The weather affected much of our itinerary but what we missed, they made up for. For example, we were to visit the black sand beach on the 1st day but the wind and rain were so violent that this was called off. Marcin took us to the cliff to look down at the the beach instead, and when the weather was better we went back to the beach the next day. At the country hotel later that evening, we were late arriving due to the sudden snow storm en route. We checked in and all sat together for a meal which was lovely as we got to know our group and talk to our guide more. Our glacier hike on day 2 was called off, so the company had arranged for us to do a 3 hour ice cave tour in Vik free of charge, but again this was called off due to flooding and it wasn't safe to reach. We didn't mind as again this was ensuring our safety was their priority. We instead were taken to the brand new Lava museum for free and learnt about the many volcanoes in Iceland. Marcin had already given us a lot of great information about them as we drove past, but as the museum is so interactive, it was a great place to visit. When we visited the famous glacier lagoon Jökulsárlón, the wind had been so strong for the past couple of days that it had blown all of the ice out of the lagoon!!! There wasn't much left of it on the 'diamond beach' either. So our guide took us to an extra stop, and quite possibly my favourite sight in Iceland! Another Glacier lagoon called 'fjallsárlón'. Such an incredibly beautiful lagoon with breathtaking backdrop. Music fans may recognise this as the place 'Kaleo' filmed their 'Save yourself' video. Simply breathtaking. As a big fan of theirs, I was hoping to see this one day, so thank you Marcin!!!! Would recommend this being part of the original itinerary. He also took us to a secret hidden waterfall near Skogafoss, which though the wind was trying to blow us over, was another fantastic sight to see. This one we could actually walk behind the waterfall and our guide took the braver ones over to ensure we were safe on the narrow path. We had a lovely time on this tour, and though with better weather i'm sure it would be incredible (and less wet!) Marcin ensures you get to see as much as you can in the time provided. I am very happy with arctic adventures. Thank you!!
"South Iceland Tour" |
By Lilian 21/03/2018
The company went through with the tour even though weather was really bad along the coast these two days. A lot of things didn't go to plan such as not being able to see the northern lights and not being able to hike on a glacier. These tour guides are professionals and will not do anything to put you in harm's way. I thoroughly enjoyed the things we did get to do. I wish there would've been options for me to reschedule by tour given the weather.
"I would highly recommend this tour for a quick stay in Iceland" |
By Melisa Polazzi 23/03/2018
We recently went on a 2 Day tour (South Coast, Glacier Hike, Northern Lights & Jökulsárlón Glacier Lagoon) with Arctic Adventures. Marcin was a fantastic guide – knowledgable, entertaining and an excellent driver on the rainy/windy/snowy roads we encountered on our tour! Unfortunately, due to poor weather conditions, our glacier hike and ice cave tours were canceled and we were not able to see the Northern Lights, but Marcin remained optimistic. Instead, he took us to an additional glacier lagoon, a lookout over the black sand beach and a hidden waterfall we were able to hike behind. Marcin also took us to a volcano museum (again, to get out of the cold rain). Even with the weather, the views throughout the trip were amazing and we really felt like we were taken off the beaten path! Marcin was very apologetic that our plans got canceled and certainly made up for it with the extra stops. Our group included 17 people, ages 20-65 from all over the globe. Everyone was friendly and the bus was on time and comfortable with wifi. Our rooms for our evening on the Southern Coast were modest, clean and homey. I would highly recommend this tour for a quick stay in Iceland – we fit so much into two days!
"Two Day tour of the South Iceland" |
By James Derrett 31/03/2018
We had an amazing time on this tour and we were so lucky with the weather. Loved the waterfalls at Skogafoss and Seljalandsfoss, the rock formations at Reynisfjara, The Diamond beach and lagoon at Jokulsarlon....plus all the scenery along the way.Our guide was great and really informative. He also had an interesting playlist! We had plenty of stops for photography,food and toilet breaks along the route. The hotel where we stayed near Skalafellsjokull was in an amazing location with lovely food and we were so privileged to see the Northern lights,amazing! Walking on the glacier was also a great experience and our guide for this was fun and very knowledgeable. We would thoroughly recommend this tour!
"A great two days" |
By Wendy Hayes 03/04/2018
I really enjoyed seeing more of the country and the smaller group helped make it more relaxing and enjoyable. I found we had a good balance of group time and time to explore the areas on our own which was really nice. Nick was a great guide - he is knowledgeable about the country, friendly, and made sure all of us were comfortable and having a good time. I also enjoyed the glacier walk - spending some time with different people and Kuba was also a fun and knowledgeable guide. I had a really good time and would recommend the tour to anybody spending some time in Reykjavik.
"Northern lights" |
By Rallo Elena 21/04/2018
For northern lights we had to organize ourselves and i managed to see them at midnight. But the other tourists were in the hotel .. for Icelandic it's normal to see them but some people cannot have the chance to comeback and see northern lights. You should improve this point knowing that the driver has to sleep etc.. but knowing tourist expectations as well