This 5-day holiday package offers a broad selection of great adventure highlights - glacier hiking, Ice climbing, snorkeling, sight seeing, blue lagoon and more.
INSTANT BOOKING CONFIRMATION
Want to do this trip for free? Tag us @arcticadventures on your social media stories and photos during your trip and enter a chance to win a full refund. The winner will be picked once a month!
---
This is the king of package tours for those who want to experience all of the spectacular adventures that Iceland can deliver: snorkeling in Silfra, lava caving, an amazing ice climb, glacier hiking, horseback riding and more. This tour offers an amazing opportunity to truly know this land of fire and ice. An adventurer by day, each night you return to Reykjavík with its exciting restaurants and nightlife.
Please note: If you're traveling with a party of 2 or more, be sure to book everyone under a single reservation. Otherwise, we can't guarantee you will all be on the same tour activity.
This itinerary does not include hotel stays. For multi-day trips with accommodation, check out our Multi-Day Tours. 
Suitable for most people in fair condition.
Tour highlights

Þingvellir National Park (Thingvellir)
Gullfoss Waterfall
Geysir hot spring area
Skógafoss Waterfall
Blue Lagoon
Horseback riding
Silfra Fissure
Snorkeling
Sólheimajökull Glacier 
Leiðarendi (Leidarendi Cave)
ATV's - Quad biking
Ice Climbing
Glacier Hiking
Included

Pick up from Reykjavík
Highlights of the Golden Circle
All activities from highlights
Certified Guides for each activity
Required equipment for each activity
Blue Lagoon entrance fee
This Reykjavík package tour is the very best of winter adventure packages. Full details about each day's activities are shown in the itinerary.
The Icelandic horse
Riding an Icelandic horse is a unique experience which no visitor to Iceland should miss out on, these horses have a unique fifth gait, tölt. The Icelandic horse was brought to Iceland in the 9th century, and the breed has been kept pure. Small but incredibly strong, these horses are perfectly suited to the rough Icelandic terrain. You just have to ride an Icelandic horse!
Snorkeling in Silfra
The unrivaled visibility of Silfra fissure, unique geological situation and the kind of underwater scenery usually only seen in the tropics, has made this a world top 10 dive. Silfra fissure is actually within the ravine in between the Eurasian and North American tectonic plates, these have been slowly moving apart at Þingvellir National Park. Diving between the tectonic plates is totally unique, you cannot do this anywhere else in the world! One of the best winter experiences in Iceland – our quality drysuit will keep you comfortable in the crystal clear glacial water.
Golden Circle
There are three components to the famous Golden Circle: Geysir, home to the famous hot spring which gave us the English word 'Geyser', see torrents of boiling water being erupted 25 m or higher! The geologically amazing, Þingvellir National Park, has the Mid-Atlantic Ridge running through it, right where Iceland´s historic parliament, Alþingi, one of the oldest parliaments in the world, was founded in 930 CE. The amazing history and geology of Þingvellir have placed it on the UNESCO World Heritage Site list. Finally, Gullfoss, (the Golden Waterfall), feel the spray in the air and the sheer power of nature as the roaring water forces its way through the rugged falls, dropping 32 m in two stages.
Lava Caving
Iceland, the land of fire and ice, is one of the most volcanically active places on earth. Those eruptions have formed huge lava fields over the centuries, and sometimes incredible lava tube caves.  Like the speleologist who discovered this lava cave you will get the opportunity to explore beneath the surface of Iceland. Your caving guide will explain the extraordinary and sometimes surprisingly colorful lava structures which were formed when high volumes of fluid lava flowed under lava which was already hardening. Delving beneath the surface you will see an amazing side of Iceland!
Glacier Hike and Ice Climbing
Two totally magical glacier experiences! You get to hike and go ice climbing on magnificent Sólheimajökull, a majestic glacier tongue of the great Vatnajökull, the largest glacier in Europe. Equipped with ice crampons, ice axes, helmets and all of the other glacier hiking and ice climbing equipment you need for your great ice adventure. Your guide will explain ice climbing techniques and how to use these tools then you are off to hike and climb on this rugged, raw and constantly changing frozen wonderland. You will see and learn all about the dramatic sink holes, crevasses and really jagged ice ridges which are part of this glacial world. Overall this combination tour is classed as easy. Ice climbing is classified as a moderate activity. This means it is suitable for those with no glacier experience who are in a reasonable physical condition.
Blue Lagoon
The iconic Blue Lagoon is one of the first places which comes to mind when people think about Iceland. Being located so perfectly, in the middle of a lava field in between the airport and the capital, it kind of is a must-see for anyone traveling to Iceland. The Blue Lagoon's water is natural, pumped up through the ground where it has been heated by the hot lava flowing underneath the surface. It is rich in minerals like silica, which will leave your skin smooth and soft and is actually known to have healing powers for psoriasis and eczema. Doctors in Iceland write prescriptions for people to go to the lagoon. Soak in this magical lagoon in the most amazing Icelandic lava scenery. You will not be disappointed.
Pick up & drop off times:
ATV & Horses: 09:00 am – duration about 9 hours.
Snorkeling in Silfra: pick ups are between 08:00 and 09:00, precise timing depends on the season. – duration about 4 hours with the transfer.
Golden Circle & Lava Caving: pick ups are between 08:00 and 09:00, precise timing depends on the season. – duration around 8 hours
Blue Ice Glacier hiking and climbing: pick ups are between 08:00 and 09:00, precise timing depends on the season. – duration 10 hours with the transfer.
Blue Lagoon and Reykjavík: Pick up can vary depending on when you want to visit the Blue Lagoon.
Vouchers
Pick up and expected drop off times will be confirmed by our sales team after booking. When you arrange your trip you will initially be sent a voucher as proof of booking. This document will not contain your pick up and drop off details. Our sales team will send you a separate email containing your full itinerary, so please look out for this.
Remember to bring: For this package tour you will need to have warm and waterproof outdoor clothing, headwear, gloves, hiking trousers, fleece or wool tops, hiking shoes, warm undergarments (fleece/wool sweater and pants), bathing suit, sunglasses (it can be very bright on the glacier) and a towel. Do not forget your camera!

If you don't want to do the whole package all of the activities can also be done separately:
ATV and Horseback riding
Snorkeling in Silfra
Golden Circle and Lava caving
Glacier hiking and ice climbing
Please note
Flights, lunch, dinner, and accommodation are not included in this tour.
It is possible to upgrade to a solo ATV bike for the ATV & Horse Riding tour. The price of the ATV part of the tour is for two persons sharing an ATV. Please note that when booking in odd numbers an extra fee will have to be paid on location 6.000 ISK extra per person).
ATV and Horses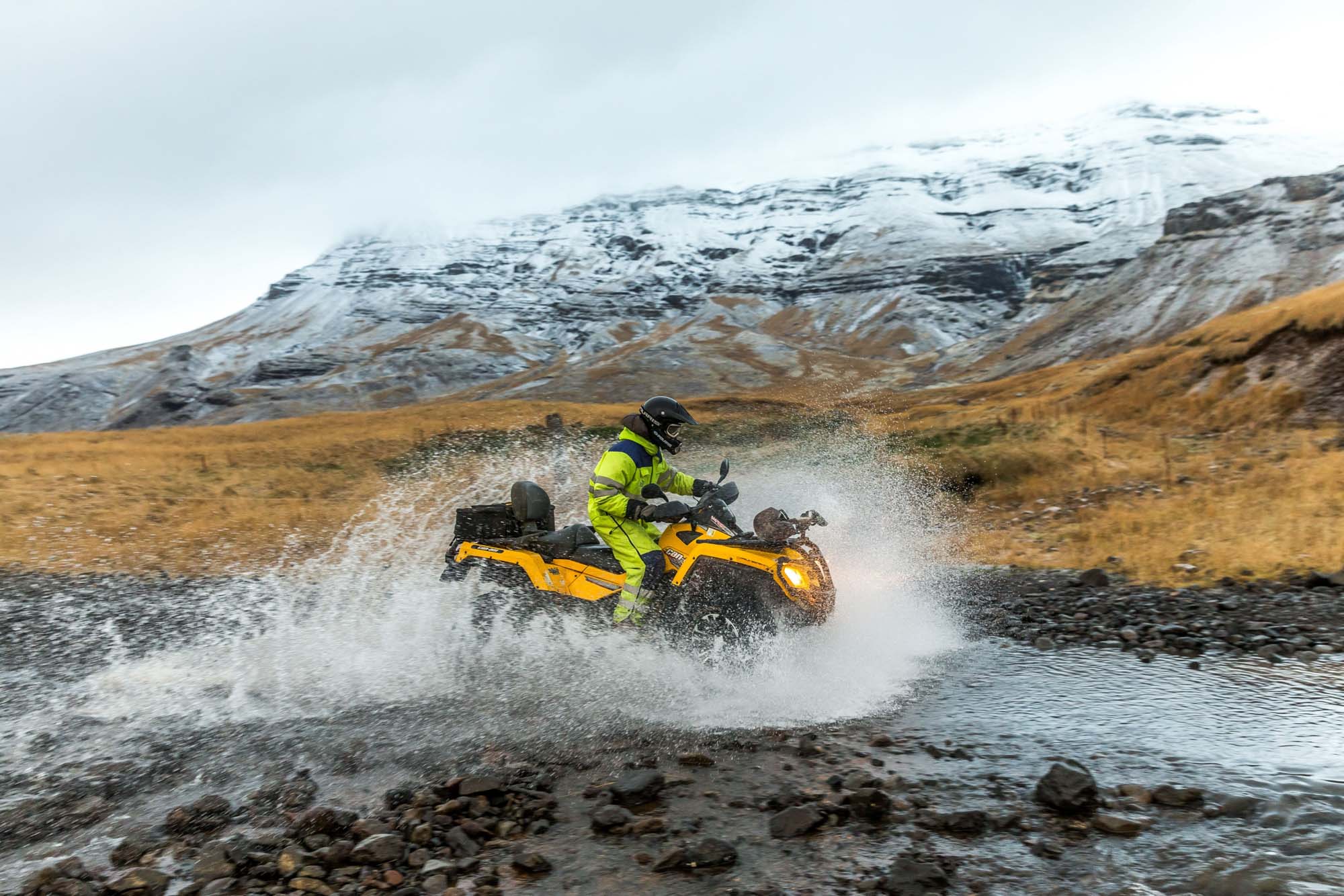 Pick up at 9:00 from your accommodation or a nearby location in Reykjavík. Please note: the pick up process can take up to 30 minutes but you do need to be ready and waiting at 09:00.
We drive out of the city to Íshestar, a horse farm set in spectacular surroundings close to the Bláfjöll Mountains. We will saddle up ready for our Icelandic horseback adventure which will take us through the lava fields close to, Helgafell, a fabulous mountain volcano. This is a classic horse riding tour through stunning and dramatic scenery, the lunar vistas of the lava field will leave you in no doubt at all that you are in Iceland!
You will ride through vast lava fields and across beautiful hillsides to Hvaleyrarvatn, a stunning and charming lake just south of Hafnarfjörður. This area around this beautiful and picturesque lake is much-prized as a recreation area by local people. Icelandic horses are well-behaved and the riding paths here are safe giving you the chance to really appreciate the superb scenery, with the beautiful Bláfjöll Mountains (the Blue Mountains) framing the horizon.
You are then brought back to Reykjavík where you get a short break before being picked up for your ATV ride. At the ATV base near Mossfellsbær a powerful and rugged 650 cc CanAm Outlander Max Quad Bike will be waiting for you. Some simple instructions and you are ready to ride! Your adventure starts with a journey to Hafravatn, a stunning lake beneath steep mountains, with some lovely wooded areas. This is a very popular fishing and picnicking spot with Icelanders, a few of whom are lucky enough to have summer houses with views of the lake.
Now to get the adrenaline really flowing! Roaring off to the top of Mount Hafrafell will certainly do that! From the top the views, on a clear day, are mind-blowing, Mount Úlfarsfell, the valleys behind Mosfellsbær, the whole of the bay around Reykjavík and the Reykjanes peninsula will stretch out before you. This really is the most magical way to explore the mountains on the outskirts of the city!
Remember to bring: Warm outdoor clothing, sturdy shoes, headwear and gloves.
Day Highlights

Icelandic Horses
Lake Hvaleyrarvatn
ATV ride
Lake Hafravatn
Mountain, country and lava views
Included

Pick up from Reykjavik
Horseback riding tour with experienced guide
All necessary horse riding equipment
ATV ride with all necessary equipment
Snorkeling in Silfra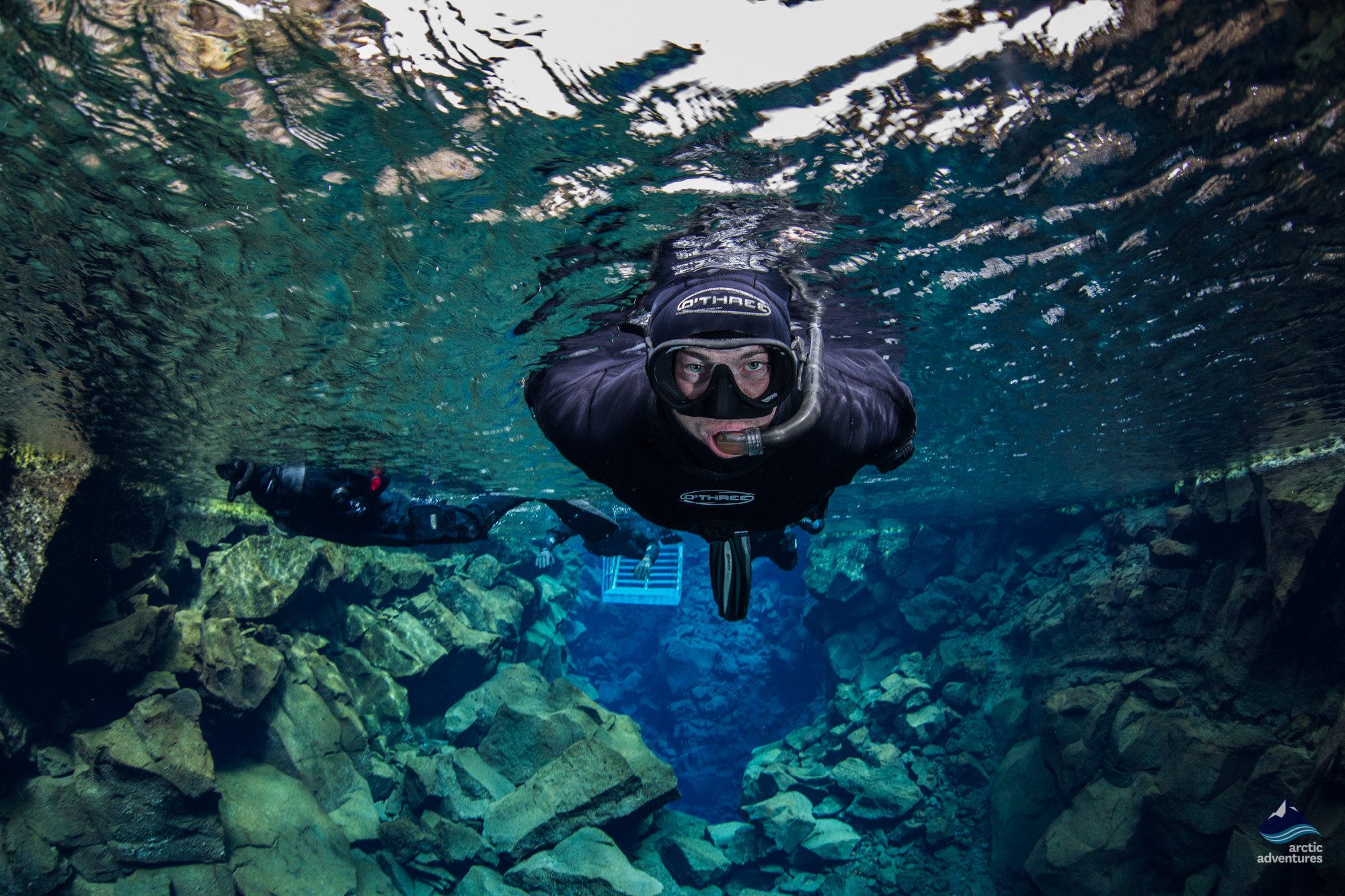 Pick up at 9:00 from your accommodation or a nearby pickup location in Reykjavík. Please note: the pickup process can take up to 30 minutes but you do need to be ready and waiting at 09:00.
The Silfra Fissure is one of Iceland's glittering jewels and one of the most desirable snorkeling locations in the world. From the surface, this narrow channel of blue water meanders through a chasm in the lava field very close to the site of the oldest still existing parliament in the world, Iceland´s Alþingi. Silfra actually sits within the rift valley between the North American and Eurasian tectonic plates at Þingvellir where the plates have been slowly edging apart. Exploring the fissure from beneath the surface, a magical world, with amazing scene after amazing scene opening out before your eyes will unfold.
You will be stunned by supernaturally brilliant shades of blue, as the exceptional visibility reveals incredible rock formations within this amazing sub-aquatic chasm. Silfra offers up to 100 meters of underwater visibility, which is simply unrivaled. Comfortably warm in an insulated drysuit you will be free to enjoy feelings of weightlessness and supreme serenity as you drift along with the lazy current, simply awe-stricken at the spectacular sights in the depths beneath you!  There are four sections, each with a different character: the deep Silfra Crack, the majestic Silfra Hall, the expansive and rich blue world of Silfra Cathedral and Silfra Lagoon which has the most incredible visibility. Silfra has frequently been rated as one of the world's top ten dives. There is nowhere else in the world where you can dive in a fissure between two tectonic plates! Are you up for a really special and totally unique experience?
Please note: You will not be able to wear glasses whilst snorkeling, so unless you bring prescription goggles you will need to wear contact lenses. It is also important that you are able to clearly understand instructions given in English. There are some health and fitness requirements for snorkeling, together with size restrictions (drysuit sizes available), please ask about these when you book your tour.
Day Highlights

Thingvellir National Park
Snorkeling in Silfra Fissure
Included

Pick up from Reykjavik
Certified Snorkeling Guide
All snorkeling equipment
Golden Circle and Lava Caving
Pick up at 9:00 from your accommodation or a nearby pick up location in Reykjavík. Please note: the pick up process can take up to 30 minutes but you do need to be ready and waiting at 09:00.
We start with a visit to a fascinating lava tube cave beneath the lava field at Bláfjöll (the Blue Mountains), not far from Reykjavík. Your qualified and experienced caving guide will get you kitted out with a helmet and a torchlight before escorting you down into the lava cave tube. You will learn how the incredible lava formations were created in this stunning and surprisingly colorful world. Sometimes the cave is amazingly spacious and high, in other parts you will need to travel on all fours.
You then travel to the Golden Circle: Gullfoss (the Golden Waterfall), Geysir, to see Strokkur erupting huge volumes of superheated water every 8 to 10 minutes and then Þingvellir National Park. Here you will see the amazing site of Iceland´s first parliament, Alþingi, which was founded in 930 AD. This amazing place is the site of the oldest continuous parliament in the world and one of the greatest geological wonders. It can clearly be seen here how the tectonic plates have moved apart creating the magnificent and rugged rift valley.
This day tour has it all: stunning natural beauty, interesting history, amazing geological wonders and a great caving adventure!
Day Highlights

Lava fields in Blue Mountains
Lava Caving
Gullfoss Waterfall
Geysir Geothermal area
Thingvellir national Park
Included

Guided Lava Cave tour
Experienced Caving guide
All necessary Caving equipment
Minibus Golden Circle tour
Glacier Hiking and Ice Climbing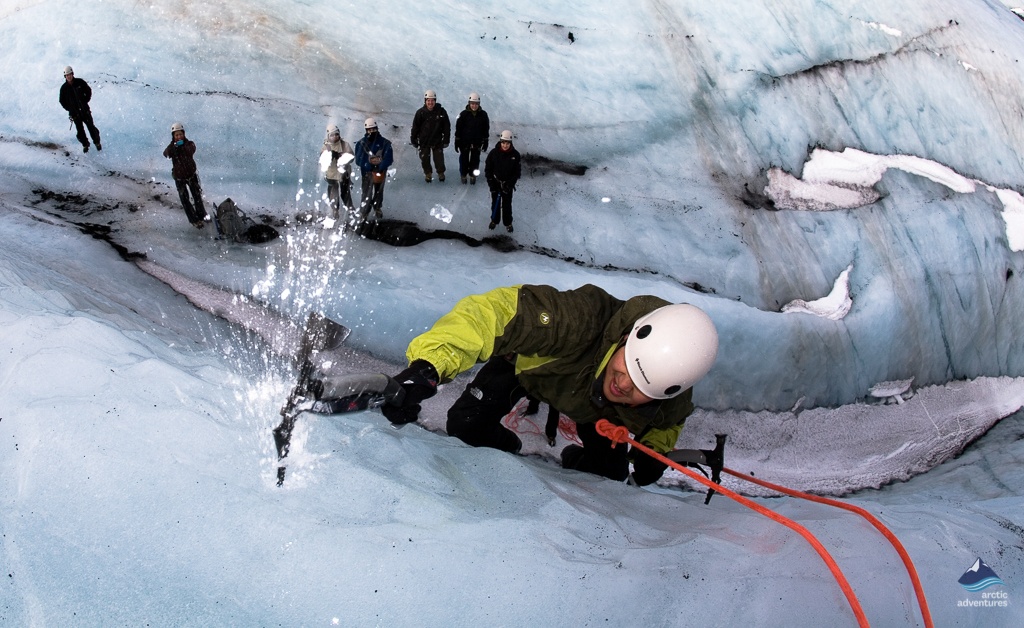 Pick up at 09:00 from your accommodation or a nearby location in Reykjavík. Please note: the pick up process can take up to 30 minutes but you do need to be ready and waiting at 09:00.
Here is your chance to hike and climb on an immeasurably majestic Glacier! This tour will take you onto the amazing frozen world of Sólheimajökull glacier, a rugged, raw and constantly changing glacier tongue of Myrdalsjokull ice cap. With a professional glacier guide, who will provide you with all of the necessary glacier equipment, you will explore Sólheimajökull. Your guide will explain the extraordinary ice formations of this crevasse riddled outlet glacier, you will see sinkholes and jagged-toothed ice ridges. Those who want to can then test our ice climbing skills on the glacier using ice axes, crampons and safety lines. This glacier experience of a lifetime will leave you with unforgettable memories.
On the way back to Reykjavík we even stop at Skógafoss, a beautiful waterfall!
Day Highlights

Sólheimajökull (Solheimajokull Glacier)
Glacier Hike
Optional Ice Climbing
Skogafoss Waterfall
Included

Pick up form Reykjavik
Glacier hike with certified guide
Opportunity to try Ice climbing
All necessary Glacier & Ice Climbing equipment
Reykjavik & Blue lagoon
Pick up: Today you can sleep in a little if you want or take more time to explore Reykjavík on your own! Later you will relax at the Blue Lagoon.
The Blue Lagoon is now a world-famous spa. Make the most of the opportunity to bathe in the milky, silky smooth and skin-soothing waters and to totally relax in the lunar landscape. Facilities include a shop, cafeteria, the Lava Restaurant and a bar offering an impressive cocktail menu.
Enjoy the final day of your cream of adventure tours experience!
Day Highlights

Explore Reykjavik on your own
Blue Lagoon
Included

Pick up from Reykjavik
Entrance to Blue Lagoon