The name says it all! Get the best winter adventures in Iceland on this wild 4-day extravaganza. From snowmobiling adventures to the Golden Circle, we've got it all.
INSTANT BOOKING CONFIRMATION
Join our awesome 4-day Reykjavik Adventure Winter Package with a focus on the Northern Lights!
Thanks to its proximity to the Arctic Circle, Iceland is the ultimate winter playground, and the most incredible base to hunt for nature's jewels of the night, the magical Northern Lights.
Please note: If you're traveling with a party of 2 or more, be sure to book everyone under a single reservation. Otherwise, we can't guarantee you will all be on the same tour activity.
This itinerary does not include hotel stays. For multi-day trips with accommodation, check out our Multi-Day Tours. 
Availability

Sept. - Apr.
Suitable for those in good condition.
Tour highlights

Northern Lights 
Super Jeep ride
The Golden Circle
Snowmobiling on a glacier
Glacier Hiking & Ice Climbing
Skógafoss Waterfall
Blue Lagoon
Sólheimajökull & Langjökull Glaciers
Included

Transport to/from Reykjavík each day
Guided minibus tours each day
All activities mentioned in highlights
All glacier and ice climbing equipment
All snowmobiling equipment
Entrance to the Blue lagoon
Golden Circle sightseeing
This Reykjavík weekend or short break package introduces you to the best of Iceland with adrenaline-pumping, action-packed activities! You'll even get some time to explore the city and try out the famous nightlife.
Hunt for the Northern Lights in a Super Jeep
The Northern Lights have been a source of fascination for millennia, with speculations and wild theories on their divine or celestial origins. With their mesmerizing glow and wild dances, we really see why.  On our hunt, we'll climb aboard a huge Super Jeep to make sure we get the best access to viewing posts that the big buses just can't reach!
Golden Circle, Super Truck & Snowmobiling
On our trip to the Golden Circle, we'll visit three iconic natural attractions. First, we'll pay our respects to the geothermally active area around Geysir, home to the famous hot spring that gave us the word 'geyser'. Though the eponymous jet is dormant now, its neighbor Strokkur never fails to delight, erupting great jets of boiling water high in the air every 5 to 10 minutes! We'll also visit Thingvellir National Park, the rift valley that runs between the North American and Eurasian tectonic plates. Iceland's historic parliament, Alþingi, the oldest continuously existing parliament in the world, was founded here in 930 CE. Last, but certainly not least, is Gullfoss Waterfall (Golden Falls), one of the most iconic waterfalls in Iceland known for its golden-hued mist.
If you are looking for a totally unique way to explore Iceland, go snowmobiling on Langjökull, Iceland's second largest glacier! The drive up from Gullfoss is an adventure in itself, and you'll certainly see why we use rugged, all-terrain vehicles to reach our snowmobile base. A suit, a helmet, and a few brief driving instructions from your snowmobile guide, and you'll be all set to hit the slopes! There's nothing quite like skimming through virgin snow with the wind at your back in the middle of nowhere, surrounded by majestic peaks!
Blue Ice – Glacier hiking & ice climbing on Solheimajokull glacier
Next up, we'll climb onto the glacier tongue of Sólheimajökull, a rugged, raw and truly phenomenal outlet of Vatnajökull. Join our certified glacier guide for glimpses of cool ice formations, including sinkholes, crevasses, and stunningly jagged ridges. Those who feel confident can test their ice climbing skills. We provide the special tools you need, including crampons, ice axes, and safety lines.
Difficulty level: Moderate – all other activities on this package Iceland tour are classified as easy
Blue Lagoon
Last on the list, let your muscles unwind after the long, action-packed adventure at the Blue Lagoon. Soak in the rich silica minerals of the lagoon, where milky blue water leaves your skin soft and smooth.
Relax in this magical pool, surrounded by the most amazing Icelandic lava scenery, you will not be disappointed!
Pick up & drop off times:
Northern Lights Explorer: Pick up 8:30 PM returning at 00:30 AM, these times may vary slightly.
Golden Circle, Super Truck & Snowmobiling: Pick up at 8:30 AM returning at around 6:30 PM.
Blue Ice – Glacier hiking & ice climbing: Pick up starts at 09:00 AM returning at approximately 7:00 PM.
Blue Lagoon: Pick up and return times will be confirmed by our sales team upon.
Vouchers
Pickup and expected dropoff times will be confirmed by our sales team after booking. When you arrange your trip you will initially be sent a voucher as proof of booking. This document will not contain your pickup and dropoff details. Our sales team will send you a separate email containing your full itinerary, so please look out for this.
If you don't want to do the whole package, all of these activities can also be done separately:
Golden Circle and Snowmobiling
Glacier Hiking and Ice Climbing
Please note
Flights, lunch, dinner, accommodation & solo snowmobile on the second day are not included in this tour.
This tour is comprised of 4 different day tours from Reykjavík, and the order of the tours can vary between departures. We will send you the final itinerary once your tour is booked.
Please note
Flights, lunch, dinner, accommodation & solo snowmobile on the 2nd-day are not included in this tour.
This tour is put together of 4 different day tours from Reykjavík, the order of the tours can vary between departures. We will send you the final itinerary once your tour is booked.
The price of the tour is for one person when sharing a two-person snowmobile. For solo or odd number of bookings, you must book a solo snowmobile for 6.500 ISK extra. The solo snowmobile option can be purchased on location
Day 1: Northern Lights Super Jeep Adventure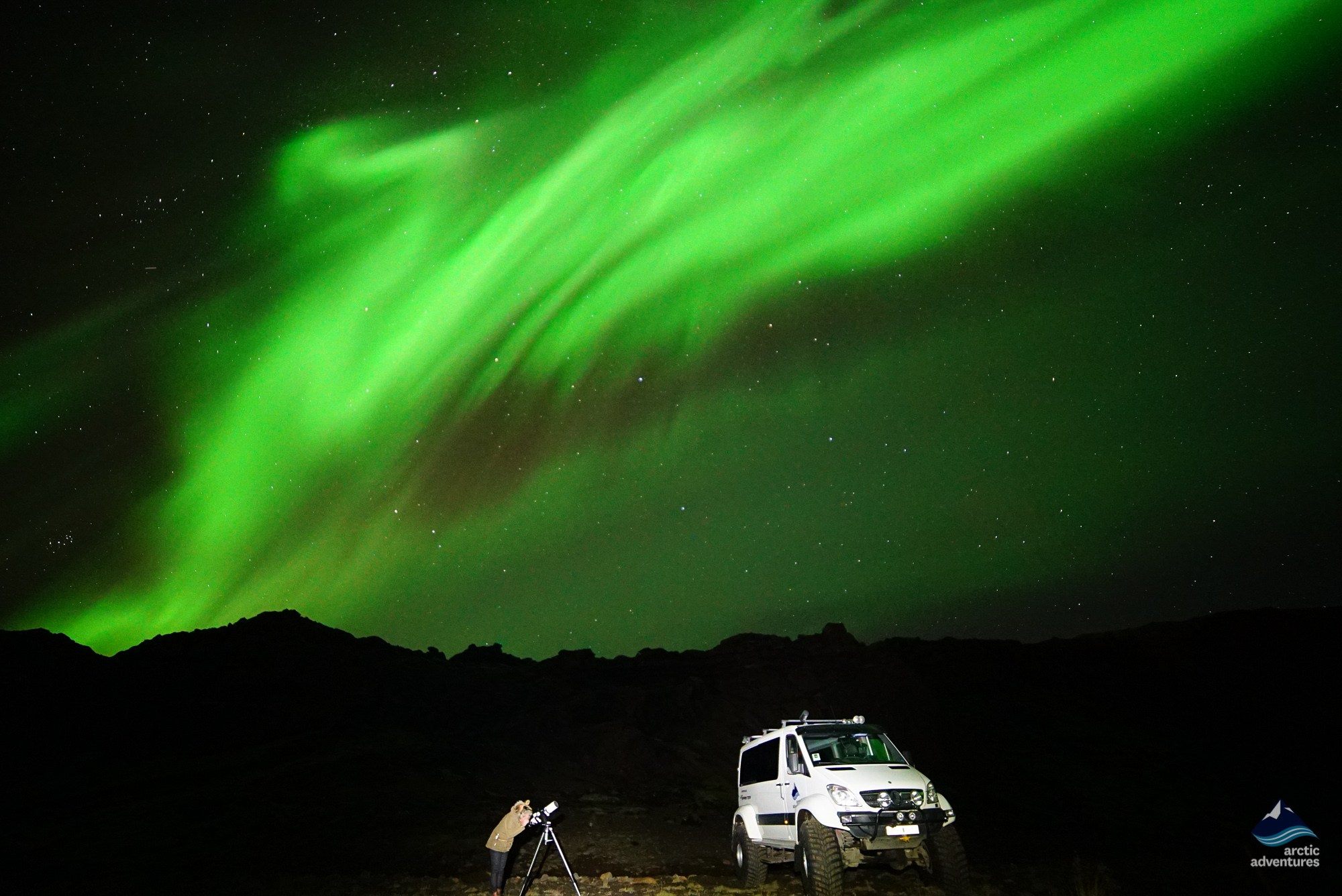 Pickup is around 21:30 from your accommodation or a nearby location in Reykjavík. The start times for our Northern Lights tours vary a little from day to day. The correct time will be stated on your itinerary. Picking everyone up can take 30 minutes, so you may have to wait, but please be ready at your pickup point at the time stated in the email.
Our custom-built Super Jeeps can take you to rugged places where regular buses dare not venture. On this tour, we'll go wherever necessary to catch the aurora borealis. Are you up for the excitement of a true Northern Lights safari?
Our specialist Northern Lights guides will make sure you get the best chance to see this natural phenomenon far away from the city lights. The various ways in which they manifest is all part of the excitement! Will they be transparent green glows, rippling softly, or intense jewel colors scintillating in powerful curtains across dark skies? While green and yellow are the most common colors, we sometimes catch other colors, such as violet, blue, or even the rarest of them all, red. Red auroras are more common in Iceland than anywhere else in the world.
Northern Lights tours are always, in a way, unpredictable. The cloud and aurora forecasts will determine the direction we take as we head away from city lights. In the velvety darkness of the countryside, the colors of the aurora shine more clearly, and the stars will shine brighter. This tour is also a treat for astronomy enthusiasts!
To cap off the night, we'll offer hot chocolate, and even a touch of Brennavín, the famous Icelandic liquor, for the braver souls among us.
You can't wear too many clothes on a Northern Lights tour, so be sure to dress appropriately. – when things chill down just remember really cold frosty weather, those frost particles give the Aurora a greater effervescence!
Please note: The northern lights can never be guaranteed to show even when the forecast is good. We cancel tours when the conditions are unsuitable.
Day Highlights

Super Jeep ride
Northern Lights hunt
Small group setting
Included

Transfer to/ from Reykjavik
Guided tour in a Super Jeep
Hot Chocolate and biscuits
Day 2: Golden Circle, Super Jeep & Snowmobiling Adventure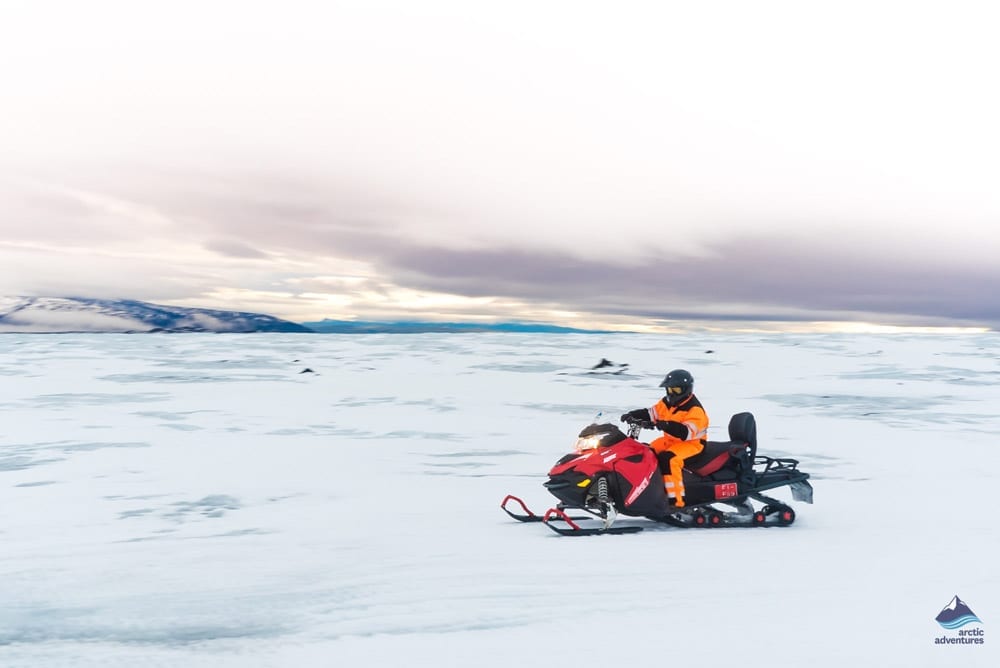 Pick up is at 08:30 am from your Reykjavík pick up point. Picking everyone up takes about 30 minutes but please be ready on time.
Þingvellir National Park is your first amazing stop, the site of Iceland's first parliament, Alþingi, founded in 930 AD. This incredible UNESCO World Heritage Site is also a great geological wonder of the world and lies between the Eurasian and North American tectonic plates. Next on the agenda is the Geysir geothermal area to witness Strokkur geyser erupting torrents of boiling water skywards every 5 to 10 minutes. Last, we take you to see Gullfoss Waterfall (the Golden Falls), on the Hvítá (the White River), which flows all the way from Langjokull Glacier. Feel the extraordinary power as the water pours through the canyon, dropping 32 m in two stages, pivoting dramatically as it does so. You'll have the opportunity to enjoy lunch at Gullfoss Café (not included).
Now for the glacier! Our all-terrain vehicle will drive you to our remote but warm and welcoming Langjökull snowmobiling base. Langjökull is the second largest glacier in Iceland, covering a vast area of 953 m². It rises to 14,500 m above sea level and is surrounded by high mountain peaks. Your snowmobile specialist will give you an overview of your gear and driving instructions step-by-step, and then you'll be ready to hit the slopes for an hour. A rip-roaring ride will get the adrenaline racing through your veins! As you skim across Langjökull, you'll feel like you're sailing across a high snow-capped plateau–a real-life magic carpet ride! Why settle for the ordinary when you can experience something as extraordinary as this?
After it's over, we drive back to Reykjavik, arriving around 18:30 (6:30 p.m.).
Remember to bring: warm layers and weatherproof top layer, headwear, gloves, scarves, and good hiking shoes. A valid Driver's License is required for all snowmobile drivers. Two people share a snowmobile. If you're on your own, or you wish to ride solo, an additional fee of 6000 ISK is payable.
Day Highlights

Gullfoss Waterfall
Geothermal area of Geysir
Þingvellir National Park (Thingvellir)
Langjökull Glacier
Snowmobile Riding
Included

Transfer to/from Reykjavik
Golden Circle sightseeing tour
Expert Guiding
Snowmobile Ride - one hour
All snowmobile equipment
Day 3: Glacier Hiking & Ice Climbing on Solheimajokull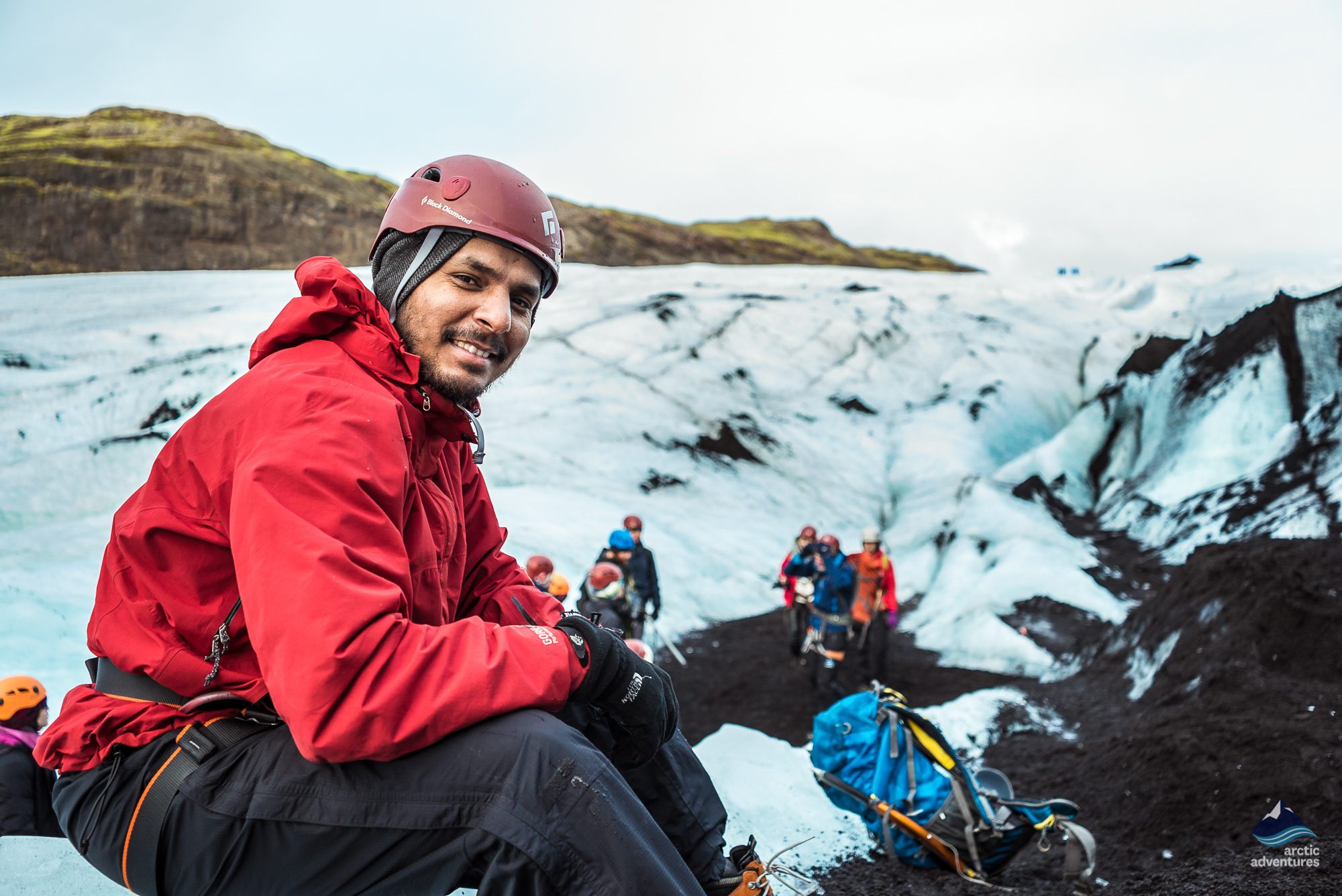 Pick up at 9:00 AM from your accommodation or a nearby location in Reykjavík. Please note: the pickup process can take up to 30 minutes but you do need to be ready and waiting at 09:00 AM.
Here is your chance to hike and climb on a majestic Glacier! This tour will take you onto the amazing frozen world of Sólheimajökull Glacier, a rugged, raw, and constantly evolving outlet glacier of Vatnajökull, the largest glacier in Europe. You'll be joined by a professional glacier guide, who will gear you up with all of the necessary glacier equipment. Your guide will explain how the extraordinary ice formations of this crevasse-riddled outlet glacier were formed, you will see great sinkholes and jagged-toothed ice ridges. The glacier may seem peaceful, but it's constantly shifting and changing. If you stand quietly, you'll hear the cracks and groans as the ice adjusts and moves.
Those who feel up to the challenge can test their ice climbing skills on the glacier using ice axes, crampons, and safety lines. This glacier experience of a lifetime will leave you with unforgettable memories.
On the way back to Reykjavík, we'll make a stop at Skógafoss, a sensational 60-m high waterfall, falling from the former sea cliff! Hike up 527 steps to the crest to look over the Fimmvörðuháls hike path and onto the lowland below.
Day Highlights

Sólheimajökull Glacier
Glacier Hiking
Ice Climbing (optional)
Skogafoss Waterfall
Included

Pick up in Reykjavík
Guided Glacier Hike
Opportunity to try Ice climbing
Certified Glacier Guide
Glacier and Ice Climbing equipment
Day 4: Reykjavik & The Blue Lagoon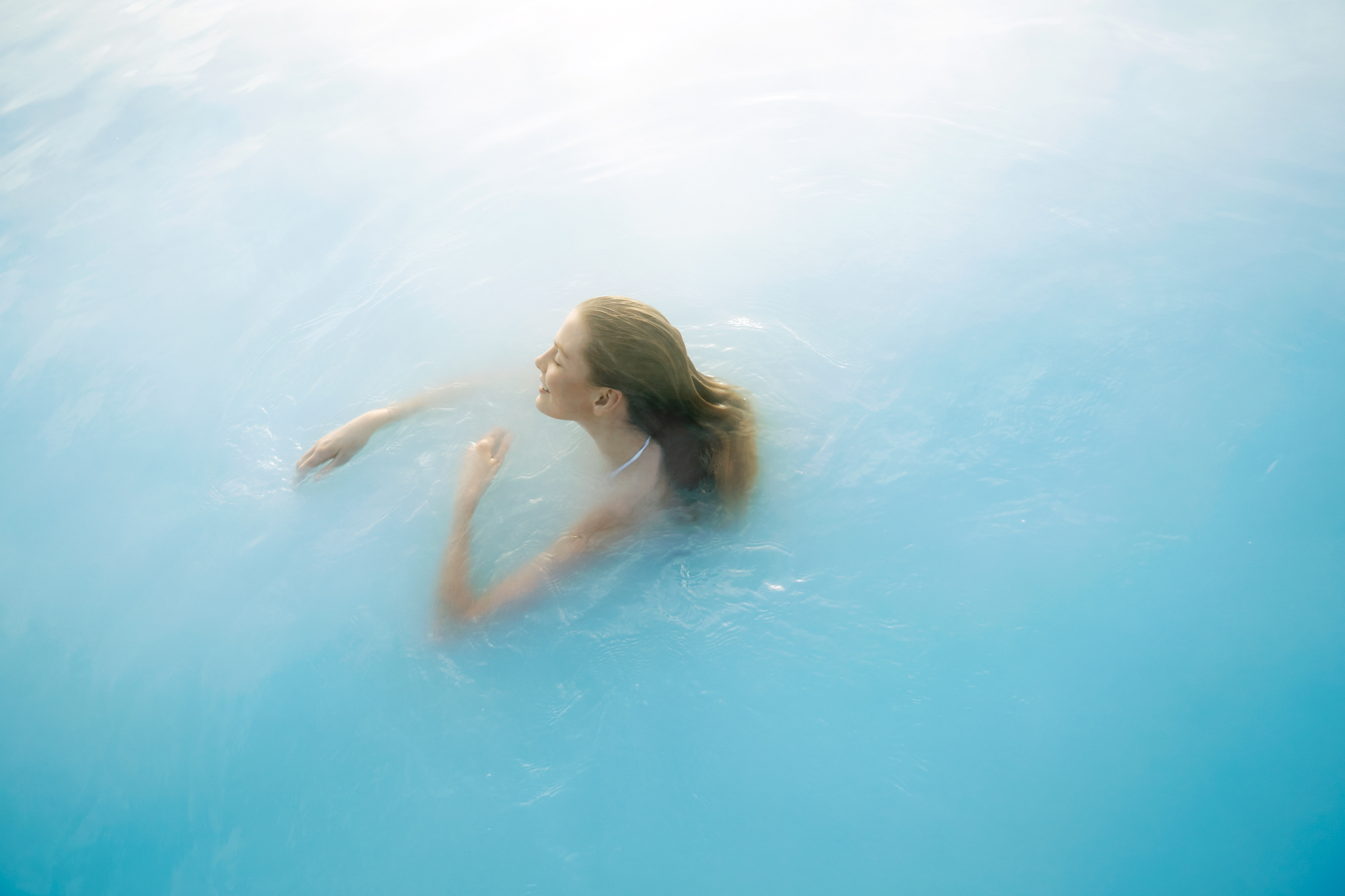 Pick up: There are several tour departures to the Blue Lagoon each day, so you just arrange your departure time with our sales team when you book your tour. Perhaps you want to start early to catch an afternoon flight out. Or maybe you want to sleep in a little on the final day of your grand weekend in Iceland. You may even want a full half-day to explore Reykjavik on your own, before or after. Though small, the capital has plenty to see, from historical museums and galleries to charming coffee houses,  exceptional restaurants and the concert hall of Harpa. Reykjavík's famous shopping street, Laugavegur, is home to great souvenir and artisan shops. Turn upSkólavörðustígur toward Reykjavik's iconic white church, Hallgrímskirkja, where on a clear day you can enjoy awesome views from the church tower.
The Blue Lagoon is now listed as one of the great spas of the world. Bathing in the milky, steamy and skin-soothing waters surrounded by the lunar lava landscapes makes a perfect cap on your winter adventure. Facilities include a shop, cafeteria, the Lava Restaurant and a bar offering an impressive cocktail menu.
Day Highlights

Explore Reykjavík on you own
Blue Lagoon
Included

Transfer to/from Reykjavík
Admission to the Blue Lagoon
Book this tour
Price from: 90.263 ISK
You have chosen: November-February
Fast & Secure Payment
Instant Confirmation & Low Prices
No Booking Fees
You have chosen: March-April
Fast & Secure Payment
Instant Confirmation & Low Prices
No Booking Fees