Embark on a wild 4-day winter extravaganza with this Iceland vacation package Northern Lights edition.
INSTANT BOOKING CONFIRMATION
Want to do this trip for free? Tag us @arcticadventures on your social media stories and photos during your trip and enter a chance to win a full refund. The winner will be picked once a month!
---
Join our 4-day Iceland vacation package Northern Lights tour!
Thanks to its proximity to the Arctic Circle, Iceland is the ultimate winter playground, and the most incredible base to hunt for nature's jewels of the night, the magical Northern Lights.
Please note: If you're traveling with a party of 2 or more, be sure to book everyone under a single reservation. Otherwise, we can't guarantee you'll all be on the same tour activity.
This itinerary does not include hotel stays. For multi-day trips with accommodation, check out our Multi-Day Tours.
Availability

Sept. - Apr.
Suitable for those in good condition.
Tour highlights

Northern Lights 
Super Jeep ride
The Golden Circle
Snaefellsnes Peninsula
Snowmobiling on a glacier
Skógafoss Waterfall
Blue Lagoon
Sólheimajökull & Langjökull Glaciers
Included

Transport to/from Reykjavík each day
Guided minibus tours each day
All activities mentioned in highlights
All snowmobiling equipment
Entrance to the Blue lagoon
Golden Circle sightseeing
Next up we'll kick off our Snæfellsnes Peninsula day tour, rated the most scenic destination in Europe by Luxury Travel Guide. A gem of the West Coast, Snæfellsnes is becoming a tourist favorite in Iceland.
Our journey will take us through spellbinding landscapes you won't be able to take your eyes off of. Witness moss-covered lava fields, stately mountains, stunning black sand beaches, and marvelous lava tube caves.
 Along the way, we'lll stop in charming little villages with old buildings that will take you back in time. Uncover another side of Iceland on this magical road along the coast.
Pick up & drop off times:
Northern Lights Explorer: Pick up 8:30 PM returning at 00:30 AM, these times may vary slightly.
Golden Circle, Super Truck & Snowmobiling: Pick up at 8:30 AM returning at around 6:30 PM.
Snæfellsnes & Kirkjufell Small Group Tour: Pick up starts at 08:00 AM returning at approximately 8 PM.
Blue Lagoon: Pick up and return times will be confirmed by our sales team upon booking.
Vouchers
Pickup and expected dropoff times will be confirmed by our sales team after booking. When you arrange your trip you will initially be sent a voucher as proof of booking. This document will not contain your pickup and dropoff details. Our sales team will send you a separate email containing your full itinerary, so please look out for this.
If you don't want to do the whole package, all of these activities can also be done separately: 
Golden Circle and Snowmobiling 
Snæfellsnes & Kirkjufell Small Group Tour
Please note
Flights, lunch, dinner, accommodation & solo snowmobile on the second day are not included in this tour.
This tour is comprised of 4 different day tours from Reykjavík, and the order of the tours can vary between departures. We will send you the final itinerary once your tour is booked.
Please note
Flights, lunch, dinner, accommodation & solo snowmobile on the 2nd-day are not included in this tour.
This tour is put together of 4 different day tours from Reykjavík, the order of the tours can vary between departures. We will send you the final itinerary once your tour is booked.
The price of the tour is for one person when sharing a two-person snowmobile. For solo or odd number of bookings, you must book a solo snowmobile for 6.500 ISK extra. The solo snowmobile option can be purchased on location
Day 1: Northern Lights Super Jeep Adventure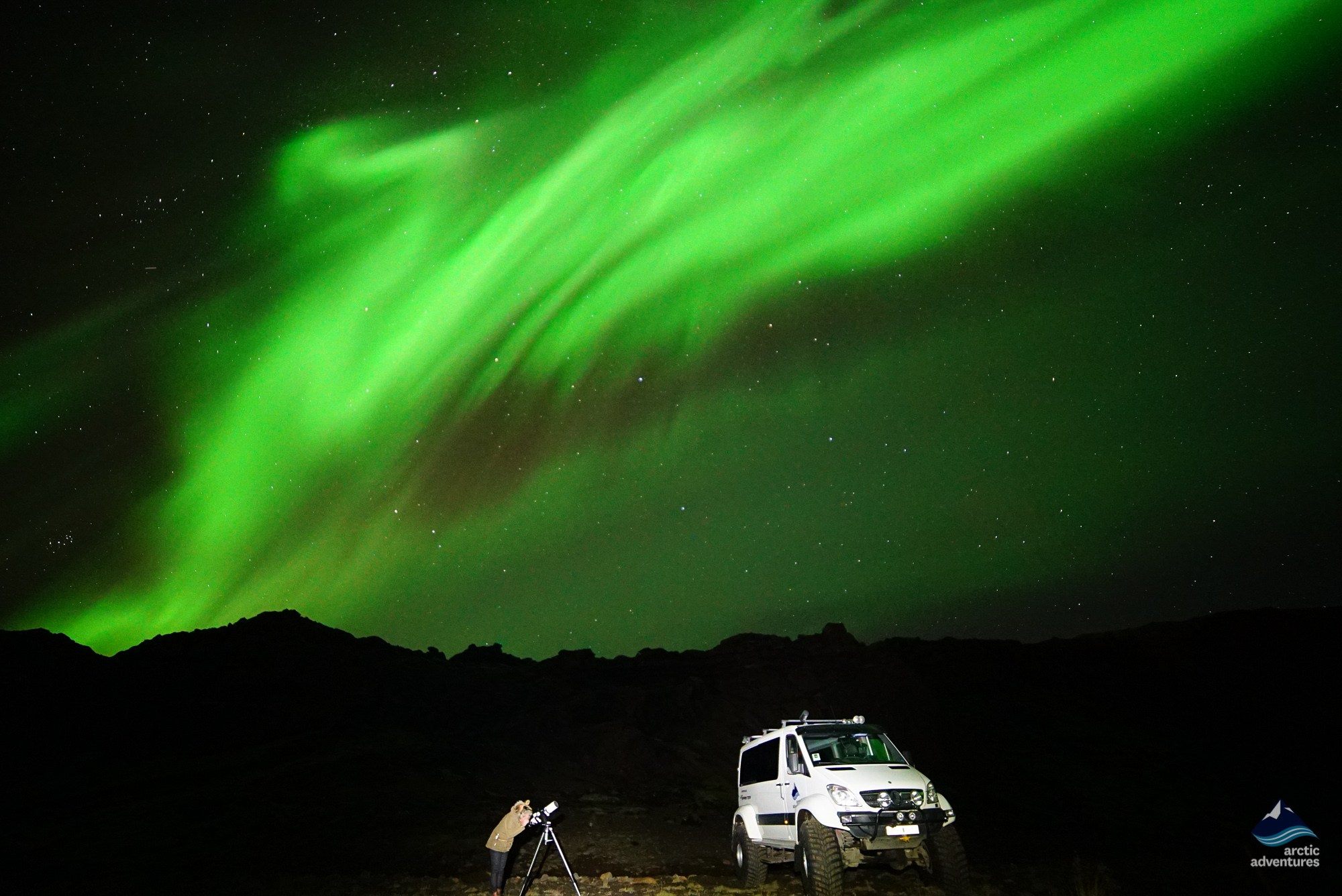 Pickup is around 21:30 from your accommodation or a nearby location in Reykjavík. The start times for our Northern Lights tours vary a little from day to day. The correct time will be stated on your itinerary. Picking everyone up can take 30 minutes, so you may have to wait, but please be ready at your pickup point at the time stated in the email.
Our custom-built Super Jeeps can take you to rugged places where regular buses dare not venture. On this tour, we'll go wherever necessary to catch the aurora borealis. Are you up for the excitement of a true Northern Lights safari?
Our specialist Northern Lights guides will make sure you get the best chance to see this natural phenomenon far away from the city lights. The various ways in which they manifest is all part of the excitement! Will they be transparent green glows, rippling softly, or intense jewel colors scintillating in powerful curtains across dark skies? While green and yellow are the most common colors, we sometimes catch other colors, such as violet, blue, or even the rarest of them all, red. Red auroras are more common in Iceland than anywhere else in the world.
Northern Lights tours are always, in a way, unpredictable. The cloud and aurora forecasts will determine the direction we take as we head away from city lights. In the velvety darkness of the countryside, the colors of the aurora shine more clearly, and the stars will shine brighter. This tour is also a treat for astronomy enthusiasts!
To cap off the night, we'll offer hot chocolate, and even a touch of Brennavín, the famous Icelandic liquor, for the braver souls among us.
You can't wear too many clothes on a Northern Lights tour, so be sure to dress appropriately. – when things chill down just remember really cold frosty weather, those frost particles give the Aurora a greater effervescence!
Please note: The northern lights can never be guaranteed to show even when the forecast is good. We cancel tours when the conditions are unsuitable.
Day Highlights

Super Jeep ride
Northern Lights hunt
Small group setting
Included

Transfer to/ from Reykjavik
Guided tour in a Super Jeep
Hot Chocolate and biscuits
Day 2: Golden Circle, Super Jeep & Snowmobiling Adventure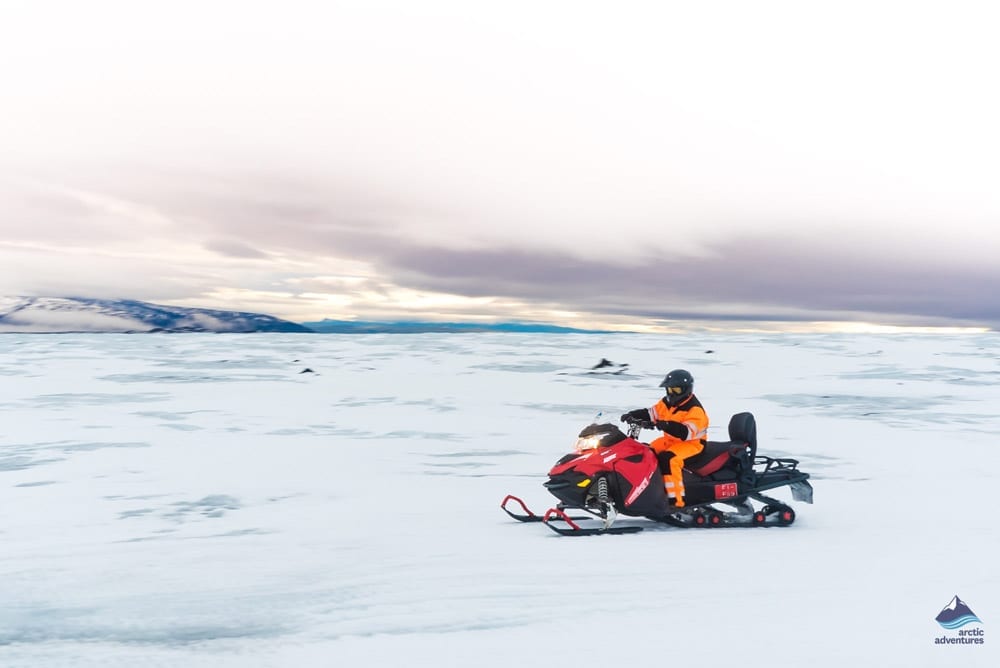 Pick up is at 08:30 am from your Reykjavík pick up point. Picking everyone up takes about 30 minutes but please be ready on time.
Þingvellir National Park is your first amazing stop, the site of Iceland's first parliament, Alþingi, founded in 930 AD. This incredible UNESCO World Heritage Site is also a great geological wonder of the world and lies between the Eurasian and North American tectonic plates. Next on the agenda is the Geysir geothermal area to witness Strokkur geyser erupting torrents of boiling water skywards every 5 to 10 minutes. Last, we take you to see Gullfoss Waterfall (the Golden Falls), on the Hvítá (the White River), which flows all the way from Langjokull Glacier. Feel the extraordinary power as the water pours through the canyon, dropping 32 m in two stages, pivoting dramatically as it does so. You'll have the opportunity to enjoy lunch at Gullfoss Café (not included).
Now for the glacier! Our all-terrain vehicle will drive you to our remote but warm and welcoming Langjökull snowmobiling base. Langjökull is the second largest glacier in Iceland, covering a vast area of 953 m². It rises to 14,500 m above sea level and is surrounded by high mountain peaks. Your snowmobile specialist will give you an overview of your gear and driving instructions step-by-step, and then you'll be ready to hit the slopes for an hour. A rip-roaring ride will get the adrenaline racing through your veins! As you skim across Langjökull, you'll feel like you're sailing across a high snow-capped plateau–a real-life magic carpet ride! Why settle for the ordinary when you can experience something as extraordinary as this?
After it's over, we drive back to Reykjavik, arriving around 18:30 (6:30 p.m.).
Remember to bring: warm layers and weatherproof top layer, headwear, gloves, scarves, and good hiking shoes. A valid Driver's License is required for all snowmobile drivers. Two people share a snowmobile. If you're on your own, or you wish to ride solo, an additional fee of 6000 ISK is payable.
Day Highlights

Gullfoss Waterfall
Geothermal area of Geysir
Þingvellir National Park (Thingvellir)
Langjökull Glacier
Snowmobile Riding
Included

Transfer to/from Reykjavik
Golden Circle sightseeing tour
Expert Guiding
Snowmobile Ride - one hour
All snowmobile equipment
Day 3: Snæfellsnes Peninsula
Pick up at 8:00 AM from your accommodation or a nearby location in Reykjavík. Please note: the pickup process can take up to 30 minutes but you do need to be ready and waiting at 08:00 AM.
Prepare for a scenic adventure of mind-blowing landscapes, charming villages, and natural wonders. Our journey begins through the spectacular lava field of Berserkjahraun. According to Viking lore, this spot is where two Swedish 'berserkers' created Iceland's first road. 
Our first stop is the iconic "arrowhead" mountain Kirkjufell. Sat on the northern side of the Snæfellsnes Peninsula, this majestic highlight rises 463 meters above sea level. Draped with curtains of waterfalls, this sight is the perfect photo opp. After taking in the view we'll continue along the coast.
Our next stop is the famous black pebble beach of Djúpalónssandur. This otherworldly beach is so breathtaking it inspired scenes in the movie Frozen 2. Witness the crashing waves as your guide tells you fascinating shipwreck tales of the beach.
Next, we will visit the small fishing village of Arnarstapi. Enjoy this charming area and stroll the scenic coastline. During your visit check out the Miðgjá stone bridge, a natural stone arch off of the coast. East of Arnastapi, we'll stop at Búðakirkja, the 19th-century church.
The next part of the day is a choose your own adventure with an optional visit to Vatnshellir Lava cave. Located in Snæfellsjökull National Park, this spot inspired author Jules Verne's famous book Journey to the Center of the Earth. Explore the geological wonderland of stalactites, stalagmites, and lava formations. 
On our way back to Reykjavík, you'll catch sight of the Gerðuberg basalt columns from the road. This row of geometric basalt columns is quite a sight. 
Before our arrival back to the capital, we'll make one last stop in the town of Borgarnes. There you can grab a delicious Icelandic hot dog. Finally, we drop you off in Reyjavík, where you can relax from your day of adventure.
Day Highlights

Snaefellsnes Peninsula
View of Snæfellsjökull Glacier
Mt. Kirkjufell
Borgarnes
Djúpalónssandur Black Sand Beach
Búðakirkja Church
Included

Pick up in Reykjavík
Guided Tour in Mini Bus
English Speaking Licensed Adventure Guide
Guided Caving Tour (Optional)
Day 4: Reykjavik & The Blue Lagoon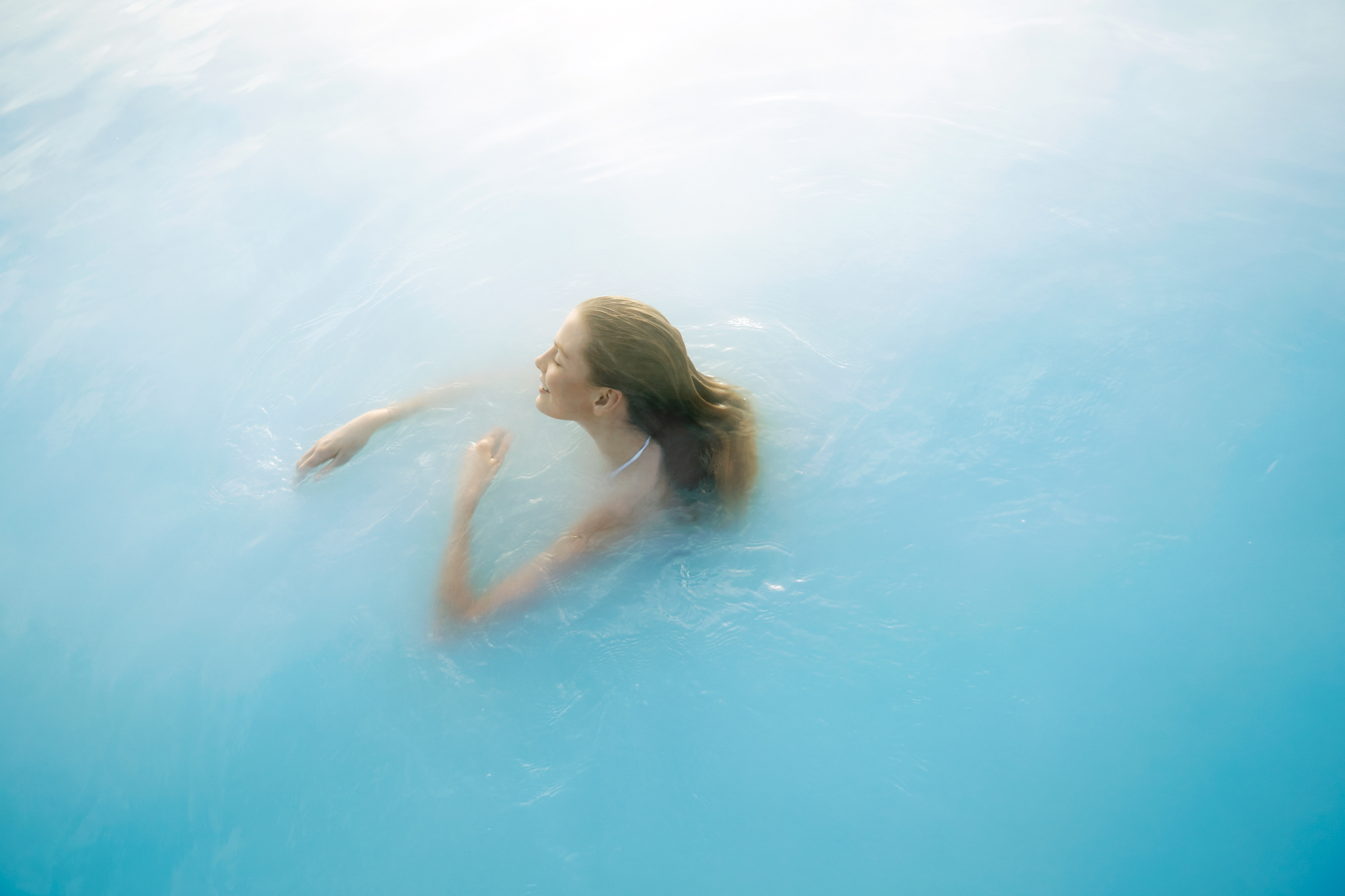 Pick up: There are several tour departures to the Blue Lagoon each day, so you just arrange your departure time with our sales team when you book your tour. Perhaps you want to start early to catch an afternoon flight out. Or maybe you want to sleep in a little on the final day of your grand weekend in Iceland. You may even want a full half-day to explore Reykjavik on your own, before or after. Though small, the capital has plenty to see, from historical museums and galleries to charming coffee houses,  exceptional restaurants and the concert hall of Harpa. Reykjavík's famous shopping street, Laugavegur, is home to great souvenir and artisan shops. Turn upSkólavörðustígur toward Reykjavik's iconic white church, Hallgrímskirkja, where on a clear day you can enjoy awesome views from the church tower.
The Blue Lagoon is now listed as one of the great spas of the world. Bathing in the milky, steamy and skin-soothing waters surrounded by the lunar lava landscapes makes a perfect cap on your winter adventure. Facilities include a shop, cafeteria, the Lava Restaurant and a bar offering an impressive cocktail menu.
Day Highlights

Explore Reykjavík on you own
Blue Lagoon
Included

Transfer to/from Reykjavík
Admission to the Blue Lagoon
Book this tour
Price from: 90.263 ISK
You have chosen: November-February
Fast & Secure Payment
Instant Confirmation & Low Prices
No Booking Fees
You have chosen: March-April
Fast & Secure Payment
Instant Confirmation & Low Prices
No Booking Fees