4 days in Iceland filled with our best ever activities. The most exciting and spectacularly amazing way to spend 4 days in Iceland!
INSTANT BOOKING CONFIRMATION
Want to do this trip for free? Tag us @arcticadventures on your social media stories and photos during your trip and enter a chance to win a full refund. The winner will be picked once a month!
---
Explore the ultimate highlights of Reykjavík and South Iceland on this incredible 4 day adventure tour from Reykjavik. Each morning you are picked up from Reykjavík and whisked away to see unforgettable sights and experience amazing one-of-a-kind activities. From snowmobiling on Iceland's second-largest glacier to snorkeling between the tectonic plates at Silfra and glacier hiking. Join us for a journey of endless adventures!
Please note: If you're traveling with a party of 2 or more, be sure to book everyone under a single reservation. Otherwise, we can't guarantee you will all be on the same tour activity.
This itinerary does not include hotel stays. For multi-day trips with accommodation, check out our Multi-Day Tours.
Suitable for most people in fair condition.
Tour highlights

Small Group Experience
Golden Circle - Thingvellir, Gullfoss & Geysir
Snorkeling in Silfra Fissure
Secret Lagoon
Glacier Snowmobiling
Reynisfjara Black Sand Beach
Seljalandsfoss & Skogafoss Waterfalls
Glacier Walk
Included

Transport to/from Reykjavik
All Activities
Admission to the Secret Lagoon
All Required Safety Equipment
English Speaking Licensed Adventure Guide
Free WiFi on Board Your Bus
This adventure package tour offers you Iceland adventure travel at its best combining our most popular activity day tours. Each day we pick you up for amazing sightseeing and action activities. You are returned to the city to enjoy the best of Reykjavík´s evening attractions. For full details of daily schedules and activities please see the itinerary.
South Coast Sightseeing and Glacier Hiking 
On the way to Sólheimajökull glacier you will travel along the scenic south coast with the Atlantic Ocean on one side and mountains, glaciers and breathtakingly beautiful waterfalls on the other. You will see Seljalandsfoss, the incredible waterfall where you can walk behind the tumbling cascade. You will visit the stunning black beach, Reynisfjara, famous for its amazing black basalt cliff formations, and Skógafoss, a very beautiful waterfall.
Glacier Hiking
Your certified glacier guide will equip you with ice crampons then escort you onto Sólheimajökull, a majestic outlet glacier of the mighty Vatnajökull. Discovering this rugged, raw and constantly evolving frozen wonderland, you will see and learn all about the dramatic sink holes, crevasses and really jagged ice ridges which make this glacier such an exciting and vibrant place. Hiking on the glacier will leave you with memories to treasure forever.
Golden Circle and Secret Lagoon
There are three parts to the Golden Circle: Geysir, home to the famous hot spring which gave us the English word 'Geyser', see torrents of boiling water being erupted 25 m or higher! The geologically amazing, Þingvellir National Park, has the Mid-Atlantic Ridge running through it, right where Iceland´s historic parliament, Alþingi, one of the oldest parliaments in the world, was founded in 930 CE. Þingvellir is a UNESCO listed World Heritage Site. Finally, Gullfoss waterfall, (the Golden Falls), feel the spray in the air and the sheer power of nature as the roaring water forces its way through the rugged falls, dropping 32 m in two stages.
The Secret Lagoon
This geothermal bathing pool is situated in the picturesque area of Flúðir, a hot spring geothermal paradise.  The lagoon is in wonderful surroundings and it is a perfect temperature for bathing. There are seating areas, walking paths and a geyser in the area around the pool. This is the perfect place to enjoy hot spring bathing out in unspoiled Icelandic nature. Showers, comfortable changing rooms and a bar offering drinks and snacks are available.
Snorkeling in Silfra
The exceptionally clear water within the Silfra fissure in Þingvellir National Park is just one reason why this is a world famous dive. You will actually be diving in the fissure between the Eurasian and North American tectonic plates with the most incredible and varied underwater scenery. Silfra at Þingvellir is the only place in the world where you can do this. Our good quality drysuit will keep you warm! Difficulty level: Moderate, everything else on this package tour is easy. 
Snowmobiling on Langjokull Glacier
Snowmobiling on a glacier is one of the most exhilarating and glorious experiences to be had in Iceland. You are driven in an all terrain Super Jeep to our Langjökull snow mobile base, get your snowmobiling gear, a few driving instructions and you are off skimming over the great white world of Landjökull (the Long Glacier).  A magical hour on the ice – there is nothing more special than snowmobiling through fresh snow – you will feel as though you are gliding across the roof of the world!
---
Pick up & Drop off times:
– South Coast Sightseeing & Glacier Hiking: 8:00 am – Duration ~11 hours
– Snorkeling in Silfra: 8:30 am – Duration ~6 hours
– Golden Circle & Secret Lagoon: 09:00 am – Duration ~9 hours
– Snowmobiling on Langjökull Glacier: 12:30 pm – Duration ~10 hours
---

Vouchers
Pick up and expected drop off times will be confirmed by our sales team after booking. When you arrange your trip you will initially be sent a voucher as proof of booking. This document will not contain your pick up and drop off details. Our sales team will send you a separate email containing your full itinerary, so please look out for this.
What to bring: Warm outdoor clothing, waterproof jacket and pants, headwear, gloves, bathing suit, packed lunch, towel and a change of clothing. Sturdy hiking shoes are essential for glacier hiking because it is not possible to fit ice crampons to any other footwear. Those who intend to drive a snowmobile must bring a Driving License.
Day 1: Golden Circle & Secret Lagoon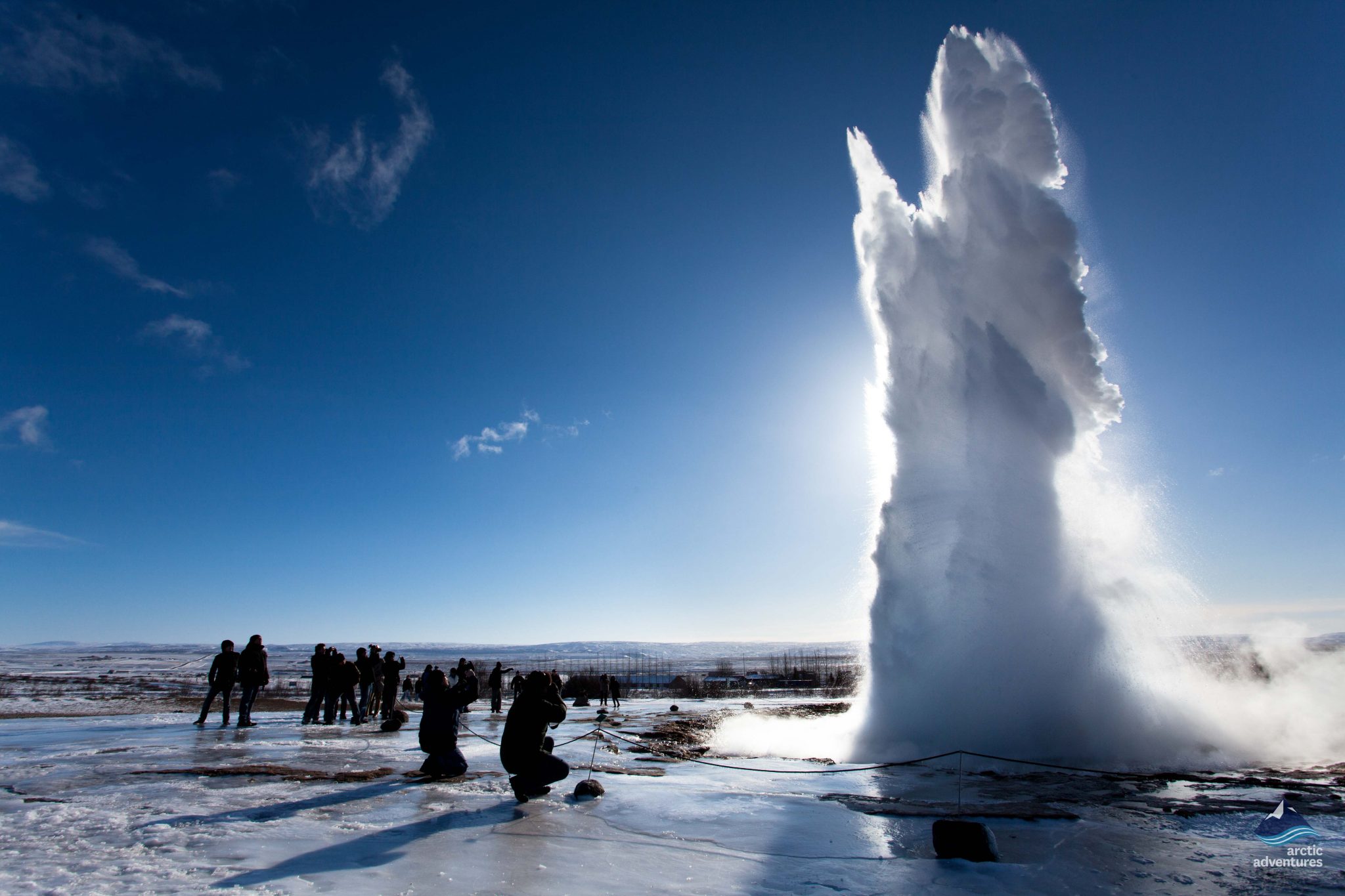 Pick up is at 09:00 am in winter, and 8:00 am in summer, from your accommodation or a nearby meeting point in Reykjavík. This process can take up to 30 minutes but you do need to be ready and waiting at the time stated on your emailed itinerary.
You travel through beautiful scenery to magnificent Gullfoss (the Golden Falls), on the Hvítá (the White River), which flows all the way from Langjökull glacier. Feel the extraordinary power as the water is forced through the canyon, dropping 32 m in two stages, pivoting spectacularly as it does so. At Geysir, you will see Strokkur, the most active geyser nowadays, erupting vast volumes of superheated water every 5 to 10 minutes. Þingvellir National Park is next, the amazing site of Iceland´s first parliament, Alþingi, which was founded in 930 AD. This incredible UNESCO World Heritage Site is not only the place where the Alþingi was founded, it is also a great geological wonder of the world. The rugged cliff, created by the Eurasian and North American tectonic plates slowly moving apart, runs right through Þingvellir. Walking a pathway between two continents offers some incredible photo opportunities!
You will travel through the beautiful village of Flúðir, a highly geothermally active area on your way to the Secret Lagoon, the oldest swimming pool in Iceland. The Icelandic name is Gamla Laugin, meaning the old pool. The hot spring bathing pool is situated in a very beautiful area next to a forest, the pool is absolutely blissful and the nature around it is totally idyllic, there are places to sit and relax, walking paths and a geyser. Showers, comfortable changing rooms and a bar offering drinks and snacks are all available.
We expect to return to Reykjavík at around 17:00.
Remember to bring: warm layers, gloves and headwear, weatherproof top layer, good hiking shoes and your camera. You will also need your bathing suit and towel for the Secret Lagoon.
Day Highlights

Guided small group Golden Circle Tour
Þingvellir National Park (Thingvellir)
Strokkur hot spring at Geysir
Gullfoss Waterfall
Secret Lagoon hot spring bathing
Included

Pick up and drop off in Reykjavík
Knowledgeable Guide
Admission to the Secret Lagoon
Day 2: Glacier Hiking, Volcanoes & Waterfalls - South Coast Adventure
Pick up is at 08:00 am from your accommodation or a nearby meeting point in Reykjavík. This process can take up to 30 minutes but you do need to be ready and waiting at 08:00.

Your tour will take you through farming areas, small towns and villages on the way to Seljalandsfoss, a really rare waterfall. You can actually walk behind the cascade, leaving you with a great appreciation of the power of these elegant falls, as well as some unique photo possibilities. Our next attraction is a giant step for those who have never set foot on a glacier!  Walking safely on ice crampons, accompanied by a certified glacier guide you will even be astounded by the sounds in this magical place, the ancient ice cracks and groans as it moves! See Sólheimajökull's spellbinding ice features including great steep-ridged crevasses. Most visitors are surprised to discover that glaciers are continually evolving. Your knowledgeable guide will really bring this world alive for you!
From white ice to the coal black beach at Reynisfjara. Witness the white-tipped wild Atlantic waves and the starkly beautiful black basalt columns and caverns. See the Reynisdrangar cliffs and basalt rock stacks which rise from the sea, the Icelandic legends say these are mischievous trolls who were turned to rock by the rising sun! Our final stop is at Skógafoss, a 60 m high thundering waterfall, you can get close enough to feel the spray on your face! Or climb the 527 steps to get amazing views from the top, a pathway from here leads all the way up to Fimmvörðuháls, between two great volcano mountains, Eyjafjallajökull and Mýrdalsjökull.
Return to Reykjavík is around 18:00, the Icelandic weather can be somewhat in charge of timescales.
Day Highlights

The South Coast of Iceland
The black beach at Reynisfjara
Seljalandsfoss and Skógafoss Waterfalls
Glacier hike on Sólheimajökull Glacier
Reynisdrangar basalt columns
Included

Pick up and drop off in Reykjavík
South shore sightseeing tour
Certified Glacier Guide
Professional guiding throughout
Day 3: Glacier Snowmobiling from Reykjavik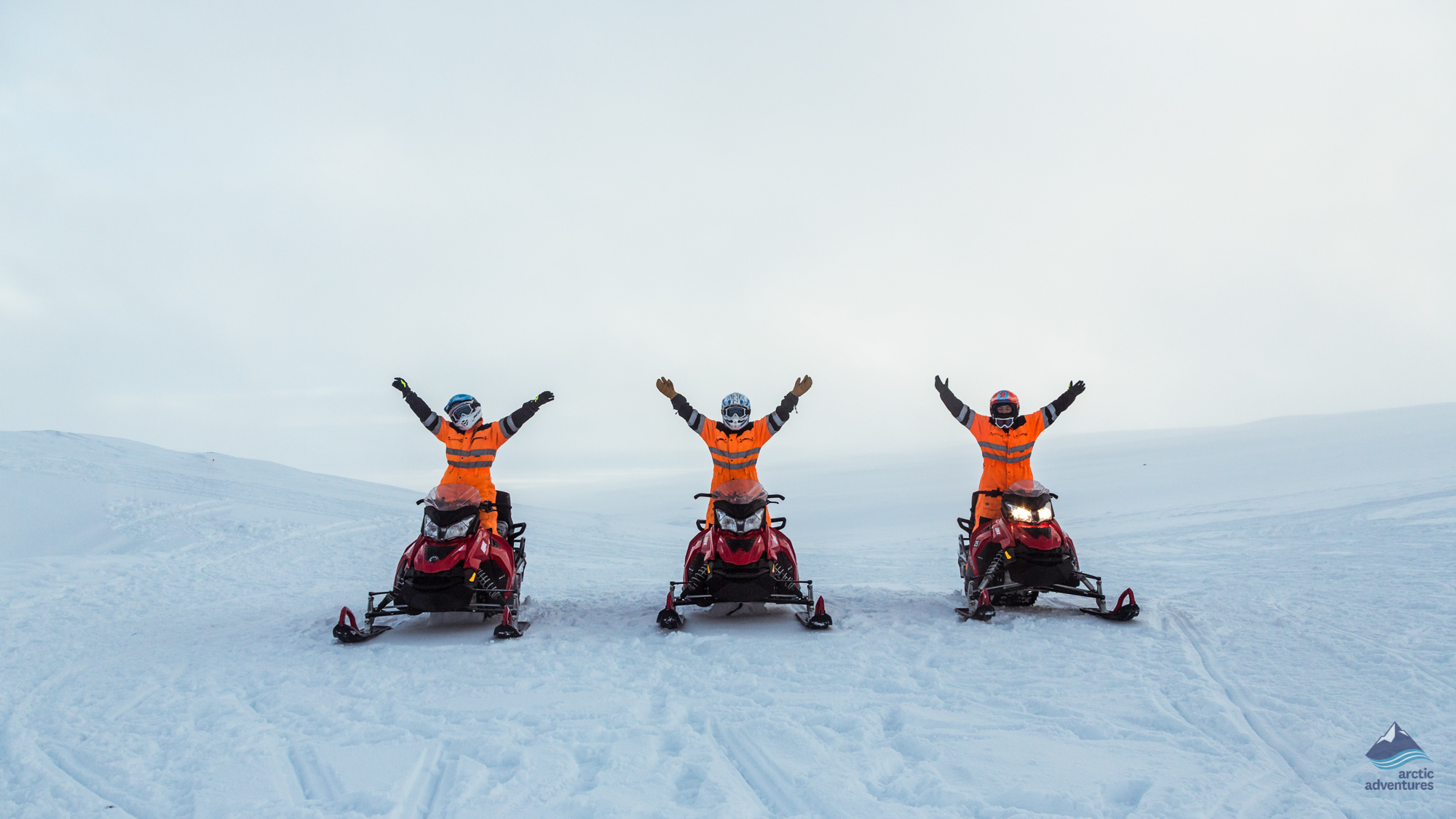 Pick up information:
From 1. November – 31. May: Pick up starts at 12:00.
From 1. June – 31. October: Pick up starts at 07:30.
Picking everyone up can take up to 30 minutes, your patience is much appreciated.
You are taken through the picturesque scenery of South Iceland up way beyond Gullfoss waterfall onto the majestic frost-kingdom of Langjökull, the second largest glacier in Iceland. This really is a once in a lifetime adventure, the glacier covers a vast area of 953 m2 and soars to a height of 14,500 m, surrounded by high mountain peaks. Our all terrain vehicle will deliver you to our remote snowmobiling base.
Your specialist glacier/snowmobile guide will give you your gear, a few, brief snowmobile driving instructions and you are ready, setting off for an hour on the ice. A rip-roaring ride which will really get the adrenaline racing through your veins! As you skim effortlessly across the pristine icy world of Langjökull you will feel as though you are sailing across a magical high plateau, a real-life fairy tale on a real-life and stupendous glacier. This is one of the most exciting and glorious experiences which anyone can have in Iceland – there really is nothing more special. Why settle for the ordinary when you can experience the extraordinary?
The snowmobile base is warm and cozy, with fabulous views. Restrooms and hot drinks are available.
You return to Reykjavík about 18:00 but the weather in Iceland can sometimes cause delays.
Remember to bring: Your Driving License, two people share a snowmobile, each person who wishes to drive must bring their Driving License. Warm clothing to wear under the snowmobile suits we provide and good hiking shoes.
When booking a solo ride snowmobile, an additional fee of 6000 ISK is charged.
Day Highlights

Scenic drive to Langjökull Glacier
Snowmobiling adventure
Langjökull Glacier
Included

Pick up and drop off in Reykjavík
Super Jeep transport onto Langjökull
Overalls, gloves, balaclava and helmet
1 hour snowmobiling
Glacier/Snowmobiling Guide
Day 4: Into the Blue from Reykjavik - Snorkeling in Silfra fissure
Pick up starts at 9 am from authorized pick up points in Reykjavík. The pick up process can take up to 30 minutes but you do need to be ready at the stated time.
We drive you to Silfra Fissure, at Þingvellir National Park. Your certified snorkeling guide will equip you with everything you need, give you a few simple instructions and you are ready to dive. Be prepared to be stunned by the beauty which surrounds you! You will see supernaturally brilliant shades of blue, as the exceptional visibility reveals the most amazing rock formations. Silfra offers up to 100 meters of underwater visibility, which is simply unrivalled. There are four sections, each with a different character: the deep Silfra Crack, the majestic Silfra Hall, the expansive and rich blue world of Silfra Cathedral and Silfra Lagoon which has the most incredible visibility. Our insulated drysuit you will keep you comfortable as you enjoy the sensation of weightlessness and great serenity, drifting with the lazy current and witnessing the spectacular sights unfolding in the depths beneath you! Silfra is usually rated as a world top 10 dive. This is the only place in the world where you can dive between two tectonic plates!
Please note: You will not be able to wear glasses whilst snorkeling, so unless you bring prescription goggles you will need to wear contact lenses. It is also important that you are able to clearly understand instructions given in English. There are some health and fitness requirements for snorkeling, together with size restrictions (drysuit sizes available), please ask about these when you book your tour.
Remember to bring: Warm long underwear, preferably fleece/wool (no cotton!), warm wool socks and a change of clothes (just in case).
Day Highlights

Silfra Fissure
Snorkeling between the tectonic plates
Exceptional underwater visibility and scenery
Included

Pick up and drop off in Reykjavík
All snorkeling equipment
Certified PADI Diveguide / Divemaster
Guided snorkeling tour
Silfra admission fee
Book this tour
Price from: 71.664 ISK
You have chosen: November-February
Instant confirmation & Low Prices
You have chosen: February-October
Instant confirmation & Low Prices