The ultimate adventure getaway! Glacier hiking, Blue Lagoon, whitewater rafting, hot springs, waterfalls, sightseeing, and more!
INSTANT BOOKING CONFIRMATION
Want to do this trip for free? Tag us @arcticadventures on your social media stories and photos during your trip and enter a chance to win a full refund. The winner will be picked once a month!
---
The ultimate adventure getaway! Glacier hiking, Blue Lagoon, whitewater rafting, hot springs, waterfalls, sightseeing, and more! If you are looking to truly do it all in Iceland, this trip is for you. Leave the hassle of planning to us and book this great value package!
Please note: If you're traveling with a party of 2 or more, be sure to book everyone under a single reservation. Otherwise, we can't guarantee you will all be on the same tour activity.
This itinerary does not include hotel stays. For multi-day trips with accommodation, check out our Multi-Day Tours. 
Availability

May. - Sept.
Suitable for those in good condition.
Price from

From 67.062ISK
Tour highlights

Blue Lagoon
Golden Circle
River Rafting
Glacier Hiking & Ice Climbing
Whale Watching
Gullfoss Waterfall
Geysir Hot Spring Area
Þingvellir National Park (Thingvellir)
Skógafoss Waterfall
Included

Transfers with pick-up from Reykjavik
All Activities Mentioned in Highlights
All Necessary Equipment for Each Activity
Experienced Guides for Each Activity
Entrance Fee to the Blue Lagoon
Glacier Hiking & Ice Climbing
Difficulty level: Moderate
This trip will take you to the frozen glacial tongue called Solheimajokull,  a rugged, raw and ever changing hub of ancient frozen water. On this glacier adventure, you will explore the crevasse riddled outlet glacier. With its amazing ice formations, sinkholes and jagged ridges, it is sure to be an unforgettable experience. You will walk along the beautiful glacier, taking in the stunning scenary before getting a chance to try out your ice climbing skills on a natural ice wall. All necessary glacier gear will be provided such as ice axes, helmets, crampons and safety lines. Hiking shoes are essential for this tour so we recommend that you bring your hiking shoes with you for the tour or rent a pair from us for a small fee.
Golden Circle & Rafting
Difficulty level: Easy
This adventure combo tour will take you on an whitewater rafting experience as well as to the famous Golden Circle route, containing three outstanding natural phenomenons. First, there is the geothermal area, Geysir, home of the original erupting "geyser" and his little brother Strokkur. Catch the sight of superheated water bursting from the ground up to 25 meters high. Next, there is Gullfoss, the undisputed queen of Icelandic waterfalls. Gullfoss, "the Golden Waterfall", is an amazing sight. The water flows 32 meters down three steps of lava rocks with breathtaking power and grandeur. Last but not least, is Thingvellir National Park. Here lies the biggest natural lake in Iceland. Thingvellir is a UNESCO world heritage site and the birthplace of Althingi, the oldest existing parliament in the world founded by the Vikings more than a thousand years ago. Thingvellir is also a place of many geological wonders as it lies in the tectonic rift valley between America and Europe. It is completely surrounded by beautiful volcanoes created from the ongoing tectonic drift.

Your Hvita river and Gullfoss canyon rafting experience will begin at Drumboddsstadir, our rafting base camp.  The river has a perfectly balanced mix of beautiful, steep canyons and adrenaline pumping waves and rapids. During the raft, you will pass through the magnificent Bruarhlod canyon where you will have the option of jumping from a cliff into the river. We will provide you with all equipment you need for the adventuree, a wet-suit, life vest, helmet and a paddle. Afterwards, you can make use of the nice hot shower and sauna facilities before jumping back on the tour bus. 

Whale Watching & a visit to the Blue Lagoon
Difficulty level: Easy
This combo consists of 2 different activities. We usually start with the whale watching where the animals most frequently seen on tours are the Minke whales, Humpback whales, Dolphins, and Porpoises. Our qualified guides do an excellent job providing you with information and giving you the best opportunities to see and learn all about the sea life while coasting through Faxafloi bay. Please understand that weather and sea conditions play a big role in how much we actually see. However, each experience is unique and well worth booking! No two whale watching trips are ever the same. Due to unreliable impending forecasts and such, we take sea conditions and weather into account when booking the trips. We will put you in the best situation possible.  We rarely have to go further than 15 km from the harbor. For your comfort and warmth, we offer special suits on board. We do advise that you wear your warmest clothes – hats, scarves, gloves etc – as it can get very cold (even on the warmest days) when the boat is in motion. We also offer hot drinks and soup in our on-board café. Our boats are built so that you have the option to watch the whales from inside as well. With the large windows and inside warmth, you can enjoy the animals of the North Atlantic from a very comfortable view. Each trip takes about 2.5 – 3.5 hours.
After your whale watching adventure you are free to grab some lunch (own expense) before returning back to your hotel for the latter part of your combo tour, namely the famous Blue Lagoon.
Please note that the pick up time for the Blue Lagoon can vary subject to availability to the lagoon itself. Upon booking your admission ticket to the lagoon we try our very best to make the itinerary as convenient for you as possible, giving you some time between the whale watching and the visit to the lagoon but like mentioned above, the departure times are subject to available entrance times to the lagoon.
Pick up & drop off times:
Glacier Hiking & Ice Climbing: Pick up starts at 9:00 am, back approx. 6:30 pm
Golden Circle & Rafting: 9:00 am, back approx. 6:00 pm
Whale Watching & Blue Lagoon: For whale watching you need to meet us at Reykjavík´s downtown harbor (sometimes referred to as The Old Harbor'), at least 30 minutes prior to your departure. The times for both activities will be confirmed by our sales team upon booking.
Vouchers
Pick up and expected drop off times will be confirmed by our sales team after booking. When you arrange your trip you will initially be sent a voucher as proof of booking. This document will not contain your pick up and drop off details. Our sales team will send you a separate email containing your full itinerary, so please look out for this.
What to bring: Warm outdoor clothing, waterproof jacket and pants, head-wear, gloves, bathing suit, packed lunch, towel and a change of clothing. Good hiking shoes are essential.
What if I don't own all of these clothing necessaries?
Don't worry, you can always rent sturdy hiking shoes, waterproof jacket and pants in the booking process. We do not rent gear from location.

If you don't want to do the whole package all of the activities can also be done separately:
Glacier hiking and ice climbing
Whale Watching from Reykjavík
Golden Circle and River Rafting
Please note
Flights, food, and accommodation are not included in this tour.
This tour is put together of 4 different tours from Reykjavík, the order of the tours can vary between departures. We will send you the final itinerary once your tour is booked.
Day 1: Blue Ice - Glacier Hiking and Ice Climbing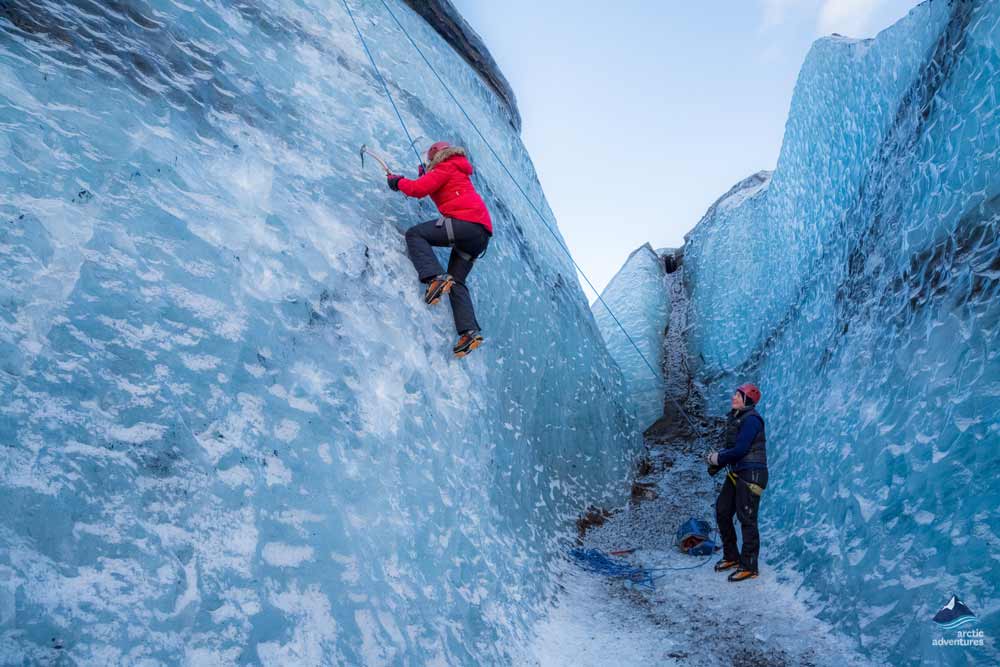 Pick up starts at 9:00 am from authorized pick up points in the downtown Reykjavik area.
Please note that the pick up can take up to 30 min.
On the first day, you will drive along the South Coast of the island towards the mighty Solheimaheimajokull glacier. Arriving at the glacier you will be provided with all of the necessary glacier gear needed for your glacier glacier hike. Solheimajokull is a crawling glacier and is, therefore, rugged, cracked and utterly breathtaking. Accompanied by your guide, enjoy a 4 hour glacier exploration that consists of a glacier hike as well as an introduction to ice climbing. After about an hour of glacier hiking, you stop at one of the many ice walls that this phenomenal glacier has to offer where you will get the chance to try out your ice climbing skills under the supervision of our expert glacier guides. Once all participants have been given the opportunity to test out their ice climbing skills, we will hike back down the glacier. En-route back to Reykjavik we will make a short stop at the magnificent Skogafoss waterfall before reaching the capital where your adventure day tour ends.
Day 2: Golden Circle & River Rafting
Pick up starts at 8:00 am from authorized pick up points in the downtown Reykjavik area.
Please note that the pick up can take up to 30 min.

On day two, you will head out for an amazing visit to the popular Golden Circle. This famous sightseeing consists of three magical attractions, Geysir hot spring area, Gullfoss waterfall and Thingvellir National Park.
We will make sure that you get enough time to stop and enjoy the view as well as to take some photos at each attraction before we head off to the next stop. Along with the Golden Circle you will also be joining us for a whitewater rafting experience down Hvita river. Arriving at our rafting base camp, Drumboddsstadir, you will get dressed, and ready for the raft, the team on site will help you find equipment in right sizes before you jump on the raft for a 1.5 hour rafting experience down the river. After the raft, you can relax in the showers and sauna facilities before heading back to Reykjavik.
Day 3: Whale Watching & The Blue Lagoon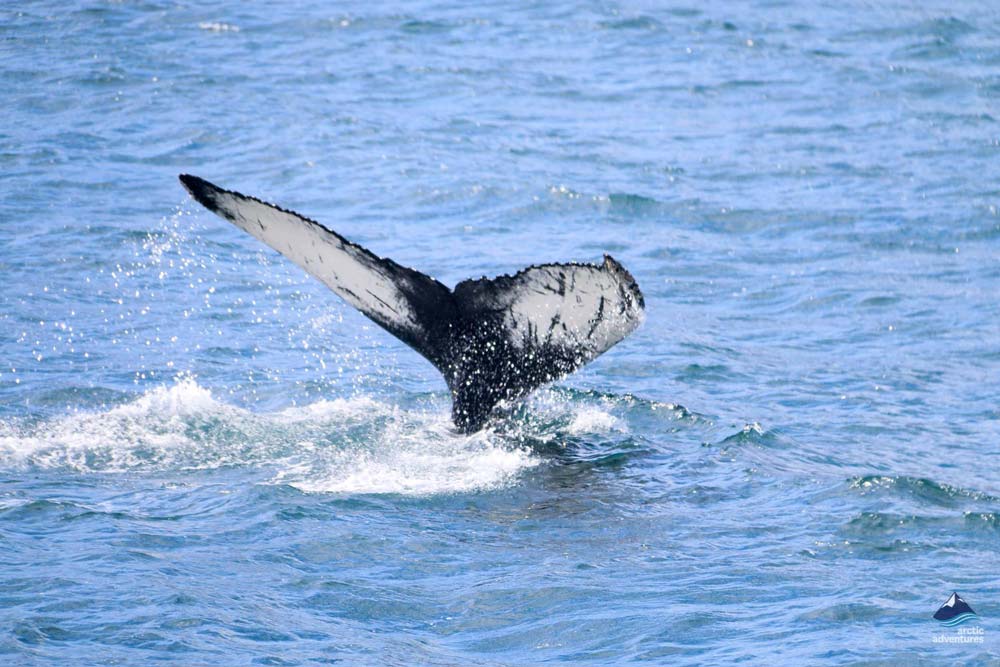 Your third day starts with a morning exploration of the open sea with a whale watching adventure.
Please note that participants are required to meet up at the Old Reykjavik harbor at least 30 minutes prior to their departure for this activity.
In the afternoon,  head to the Blue Lagoon for a relaxing afternoon at the stunning lagoon. Pick up & departure times for both activities are to be confirmed by one of our agents after booking as entrance times to the lagoon are subject to the availability of the lagoon.
*Please note that this itinerary is a drafted itinerary whereas the order of the days may be swapped and you might start with the Whale Watching & Blue lagoon visit and end with the Glacier Hiking or the Golden Circle & Rafting adventure.
Book this tour
Price from: From 67.062ISK