Visit some of the most beautiful places Iceland has to offer on this 3-day tour packed with full of exciting activities. This is the ultimate Icelandic Winter Bucket List tour!
INSTANT BOOKING CONFIRMATION
This is the ultimate checklist tour for Iceland. In only 3 days you will catch all the best highlights including the famous Golden Circle, magical dancing Northern Lights, the breathtakingly beautiful south coast and the extraordinary ice cave in Skaftafell National Park. Get up close and personal with the greatest contrasts in Icelandic nature, the glaciers and volcanoes – Enjoy the land of ice and fire to the fullest!
Perfect for those who arrive in the morning – Pick-up starts at 12:00 pm.
If a morning departure is more suitable to your schedule, you should have a look at our morning version instead –
3 Day South Coast – Golden Circle, Jokulsarlon Glacier Lagoon & Ice Cave
Suitable for most people in fair condition.
Tour highlights

Small Group Experience
Afternoon Departure
Blue Lagoon
The Golden Circle
Northern Lights Hunt
Seljalandsfoss Waterfall
Skógafoss Waterfall
Reynisfjara Black Beach
Reynisdrangar Basalt Columns
Jökulsárlón Glacier Lagoon
Diamond Beach
Knowledgeable Guides
Included

Pick-up & drop off from Reykjavík
Accommodation with a Private Bathroom - 2 nights
Breakfast at the Hotel
Private Bathroom
English Speaking Tour Guide
Admission to the Blue Lagoon
Guided Minibus Tour
Guided Golden Circle (Gullfoss, Geysir & Þingvellir) tour
Highlights of the South Coast
Guided Ice Cave Tour
Certified Glacier Guide
Northern Lights Tour
Free WiFi on Board Your Bus
This tour could also be called how to make the most out of 3 days in Iceland. There is no end to the extraordinary vistas that await you. The experience starts with an afternoon tour of the world-famous Golden Circle, it's a combination of history, nature and beauty. We return to Reykjavik for a Northern Lights hunt in the evening, followed by a guided tour of the South Coast highlights the next day.
Your first stop is the unique Thingvellir National park. One of the UNESCO World Heritage sites here in Iceland and the place where we founded the first parliament. As this was in the year 930 the Icelandic parliament, Alþingi is actually one of the first parliaments in the world. But Thingvellir isn't only historic it's also an enchanting home to lakes, rivers, waterfalls and the meeting of the Eurasian and North American tectonic plates. You will get a chance to explore this area well and your knowledgeable and friendly guide will tell you all about it.
Next up we have the king of all geysers in the world. Actually, the word geyser comes from the Icelandic name Geysir and its home is your next stop. In 2000 a huge earthquake shook Iceland and Geysir sits quietly ever since but as a result of his baby brother, Strokkur gained strength and now puts up the most amazing show every 4-10 minutes bursting into the sky like a firework. Every time you are as amazed and every time it's as beautiful. This is the perfect place to really feel the power of the Icelandic nature!
Last but not least we have the fascinating Gullfoss waterfall, the Golden Falls. Dropping about 32 meters with two separate drops this endless source of glacier water has amazed locals from the beginning. The water originates at the second largest glacier in Iceland, Langjökull is its river is often named Hvítá, the white river. Enjoy the view, take photos, let is all sink in!
After experiencing the Golden Circle, you will be dropped off at BSI bus terminal in downtown Reykjavik. From here you will take a shuttle bus to the Blue Lagoon at 19:00 pm. If luck will have it, you may even get a chance of seeing the northern lights from the lagoon, and what a sight to see!
After staying the night in Reykjavík you will start your journey to the exciting south coast. Prepare to be amazed as we will make our way along the south coast stopping at all the best spots and enjoying the unbelievably beautiful Iceland.
The South Coast
The first stop will be at the ever so lovely Seljalandsfoss waterfall, often nicknamed as "the one you can walk behind". Here you will get a chance to go even deeper in your waterfall exploration and your guide will tell you fun facts about this amazing place. Next, on the waterfall menu we have the powerful and alluring Skógafoss waterfall. There is something truly magical about this place and many believe it to hide treasure under its great flow. Numerous folklore tales also mention Skógafoss and if you hike up its hills you will get a chance to see a troll's face that legend says turned into stone after losing track of time staring at its beauty.
Next, we go down to the sea into the volcanic black sand beach of Reynisfjara. With its dramatic Reynisdrangar basalt stacks, caves and formations this place is quick to capture your attention. Right above the beach, we have the charming little village of Vík and there we will stop for lunch. Be sure to look out for the picturesque little church that stands tall on a hill above the village.
Onwards we go through lava fields that somehow manage to be soft and rough at the same time, through volcanic areas and glaciers views before reaching the town of Kirkjubæjarklaustur. We will spend the night in a country hotel or guesthouse in the Skaftafell area and if the forecast is looking good your guide will show you the best spots to watch out for the Northern Lights.
In the evening we will test our chances with the Aurora Borealis or the Northern Lights. They are a natural phenomenon so we cannot guarantee the sight but our expert guides will take you to the best spots and with their professional knowledge they will provide the absolute best chance of seeing them. We can basically say with us you are in the best hands to see the Northern Lights!
Next morning we wake up for a good and filling breakfast before heading back on the road for the amazing Vatnajökull National park. Vatnajökull glacier is the largest glacier in the whole of Europe and today you will get a chance to visit.
The first stop is at the dazzling Jökulsárlón glacier lagoon, known globally as a Hollywood filming location for movies such as James Bond Die Another Day, Tomb Raider and Batman Begins and locally as one the most beautiful places in Iceland. With it's floating blue icebergs the vision is surreal as you stand in front and take it all in. The lagoon is enormous so is the experience! The icebergs slowly move out of the lagoon and onto a black volcanic sand beach and there you can get a chance to touch and really investigate these stunning glittery blocks giving the beach the name The Diamond Beach.
And now the adventure you have all been waiting for: The Ice Cave!
The natural ice cave of Vatnajökull will completely blow you away with its gorgeous blue colors and crystal-like ice. We will join an expert glacier guide for this part as the caves are so unique and extraordinary and we want you to get the absolute best experience possible. Your guide will tell you how new ice caves are formed each year and the story of the cave you are visiting.
With stars in our eyes and a mind filled with great memories, we will start to head back to Reykjavík making stops at beautiful spots and keeping an eye out for the Northern lights.
It's amazing to experience places and phenomenon like this in a great group of like-minded travelers and to have an expert guide to tell you all the best stories and tips for your journey.
Arrival in Reykjavík is expected between 21:00 and 23:00. The Icelandic weather can sometimes influence schedule a little in winter.
---
Pick-up Information
Pick-up is at 12:00 pm from your hotel or a nearby meeting point in Reykjavík. Picking everyone up can take up to 30 minutes, your patience is much appreciated.
Available pick-up points: Arctic Adventures's pick-up list.
---
Remember to bring: Warm outdoor layers (wool, fleece or synthetic are best, not cotton), a waterproof jacket and pants, headwear and gloves. Good hiking shoes are recommended.
Please note
This is a combination tour which means that you will participate in three different tours. This also means that you, together with other participants on three-day day tour, will have three guides that specialize in different areas for each tour, an experienced Golden Circle guide, expert Northern Lights guide and knowledgeable South Coast driver guide. Your group will also get our very own certified Glacier Guide, based in Skaftafell, for the ice cave part of the tour.
Our main ice cave to visit is the Crystal Ice Cave. At times it is inaccessible however and in that case we will visit another ice cave. During the summer months (April-October), we will go to The Ice Cave Under the Volcano ice cave. If it is inaccessible, we will do a glacier hike instead.
DAY 1: The Golden Circle & Blue Lagoon
The trip starts with the wonderful combo of a Golden Circle Afternoon tour plus the Northern Lights tour. This tour is perfect for those who are arriving in the morning the same day.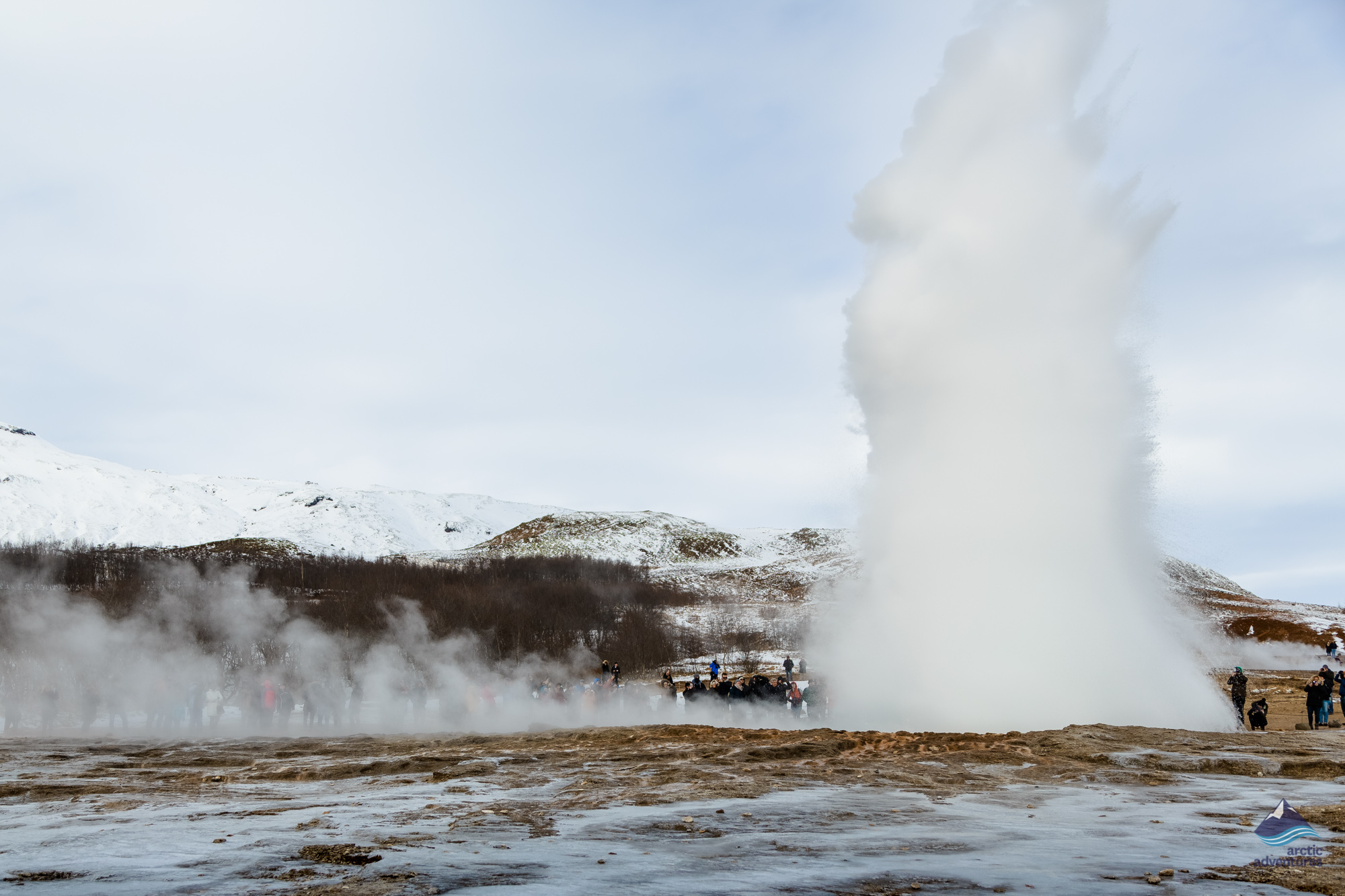 You travel through beautiful countryside to Þingvellir National Park, the amazing site of Iceland´s historic parliament, Alþingi, the oldest still existing parliament in the world, founded in 930 AD. This incredible UNESCO World Heritage Site is also one of the great geological wonders of the world. The Eurasian and North American tectonic plates have slowly moved apart creating an incredible rift valley which runs right through Þingvellir.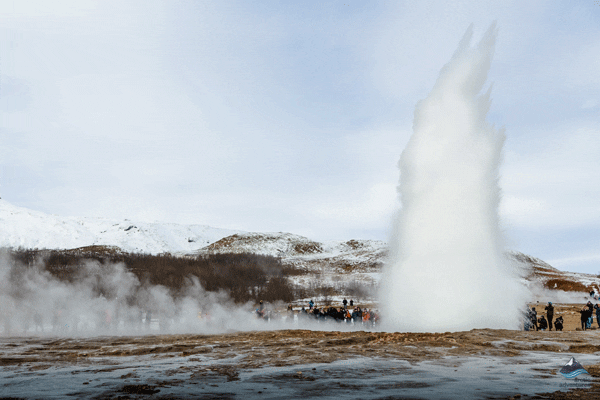 Next on the agenda is the Geysir hot spring area. Great Geysir is no longer active, but Strokkur, a nearby erupting hot spring, spouts huge jets of superheated water every 8 to 10 minutes. These scalding expulsions often soar to 25 m and sometimes even 40 m skywards. Watching a geyser erupt is always a stunning and incredible moment.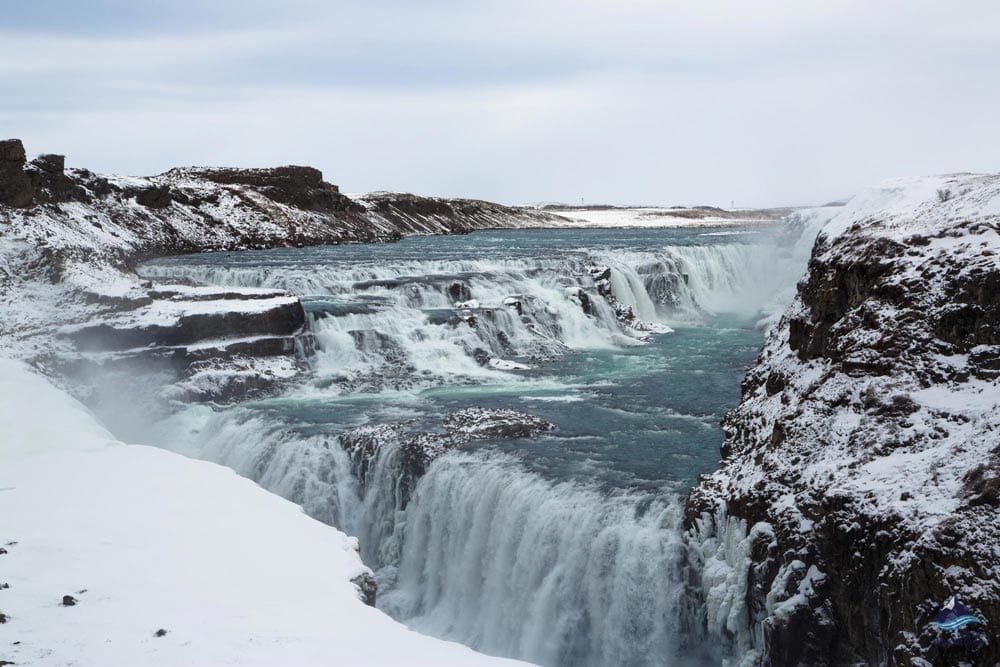 You will visit the magnificent Gullfoss Waterfall (the Golden Falls), the river flowing through the falls originates at Langjökull glacier. That river is called Hvítá, meaning 'the White River', and there is certainly plenty of white water. The roaring river thunders through the rugged canyon, dropping 32 m in two stages. You will see the golden-hued spray which gave this waterfall its name, and, maybe, a rainbow – remember to make a wish!
After your Golden Circle tour, we will drop you off at BSI bus terminal. From there you will catch a shuttle bus towards the Blue Lagoon.
The tour returns to Reykjavík around midnight.
Day Highlights

Þingvellir National Park
Geysir Hot Springs
Gullfoss Waterfall
Blue Lagoon
Expert Guides
Included

Pick up and drop off - Minibus transport
Golden Circle tour
Admission to the Blue Lagoon
Certified Guides
Accommodation in Reykjavík
Private Bathroom
Breakfast
Accommodation
Reykjavik Lights Hotel
or Similar
DAY 2: The Grand South Coast & Northern Lights
Pick up is at 9:00 am from your hotel so everyone will gather to start their south coast exploration.
This jewel of Iceland tour packages will take you south before continuing to the east as we whisk you away for two days of amazing adventure sightseeing. We drive towards the slowly rising sun on the way to our first stop, the very unusual Seljalandsfoss waterfall, you can actually walk behind the gracefully falling cascade. It is well worth getting a little damp for such an exciting experience!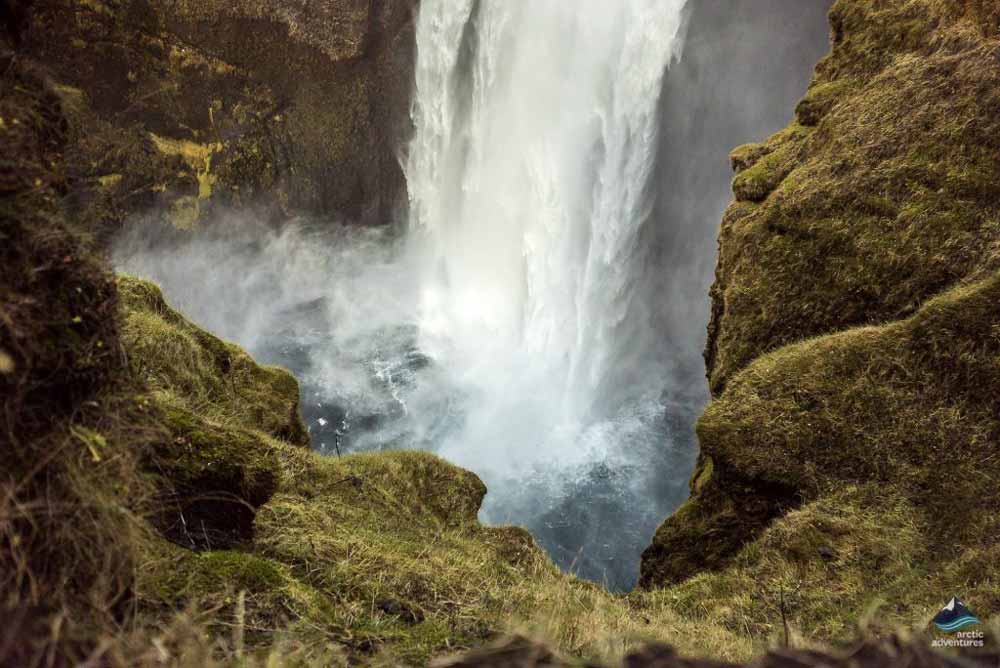 Our next highlight is another waterfall, Skógafoss, located at the foot of a very famous volcano, Eyjafjallajökull.  On a clear day, you will also get a great view of another volcano mountain glacier, Mýrdalsjokull. As we continue on, we come to Reynisfjara, a black beach where some fantastic sights, such as the picturesque basalt column formations and the famous Reynisdrangar peaks, will greet us. We will drive through the charming small town of Vík on our way to our accommodation.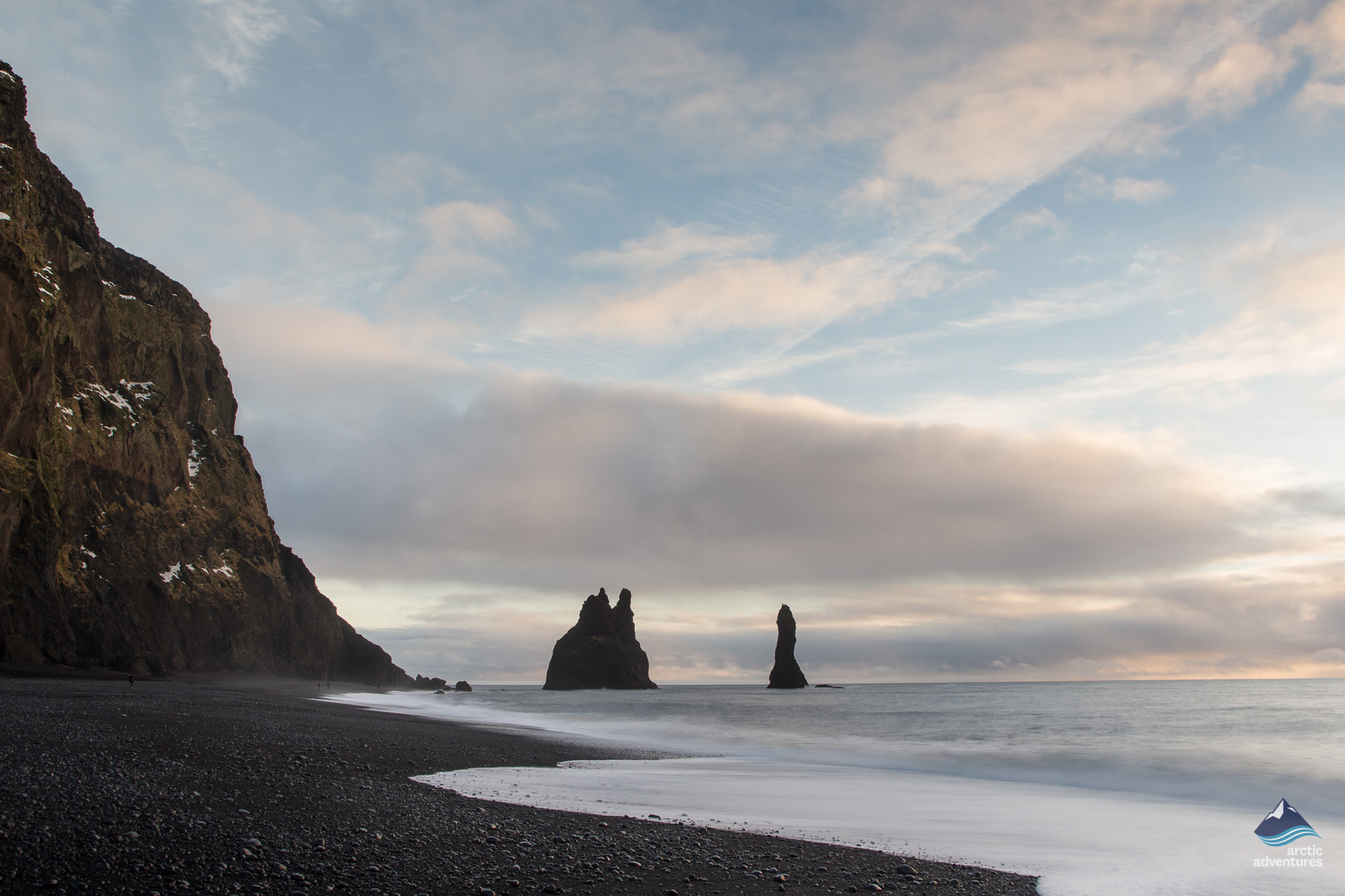 Throughout the entire day, you can expect to see breathtaking landscapes consisting of vast lava fields, waterfalls, black sands and glacier tongues. We will enjoy a relaxing evening, if the conditions are right we will hunt for those northern lights! The countryside close to Vatnajökull glacier, away from the city lights, is perfect for spotting this natural phenomenon. Your hotel will be in the Skaftafell area.
We will take you to the best places out in the country to see the aurora. The moment when you spot their shimmering, jewel-bright colors is always awe-inspiring and magical. Green, yellow, white and sometimes blue auroras are usually seen. Violet, purple and rose northern lights happen less often. Really red auroras, from rose to stronger reds, are more common in Iceland than anywhere else in the world, although they are still quite rare. We can never promise that you will see the lights but we always do our very best.
Day Highlights

Seljalandsfoss waterfall
Skógafoss waterfall
Reynisfjara Black Beach
Village of Vik
Northern lights hunt (if conditions are right)
Included

Pick-up in Reykjavik
Guided tour in minibus
Visit to highlights of the south coast
Accommodation
Private Bathroom
Breakfast
Accommodation
Hótel Geirland
or Similar
Day 3: Land of Ice
Today you will really get to know the glacier, venturing into the sparkling, blue/white world of an ice cave with a qualified guide, and visiting the extraordinary glacier lagoon, Jökulsárlón. Getting up close and personal with a vast glacial tongue of the great Vatnajökull glacier does not get any better than this!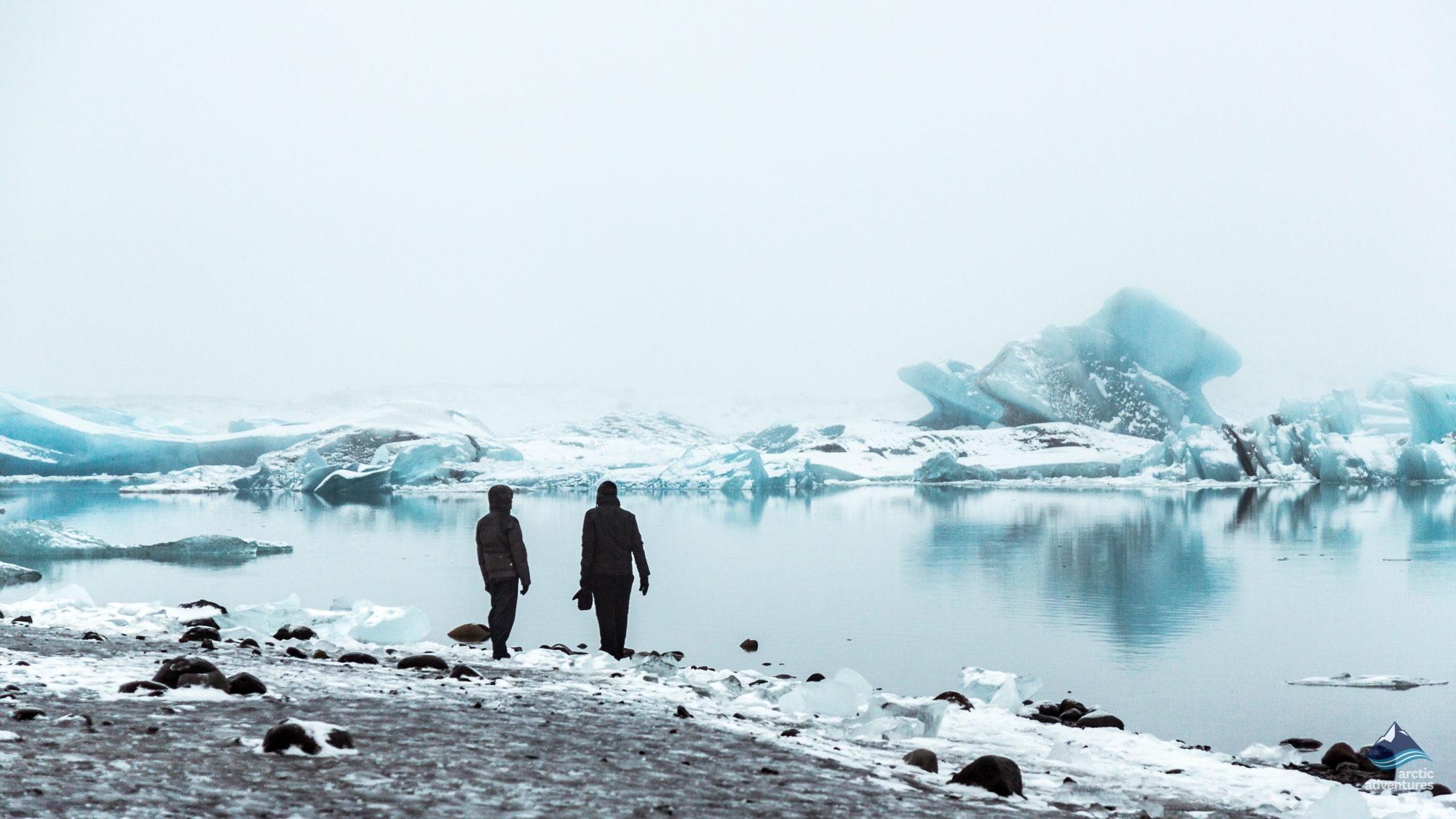 The renowned Jökulsárlón Ice Lagoon, made famous by several blockbuster movies including Batman Begins and The Secret Life of Walter Mitty, to name just a couple, is a totally mind-blowing place. Splendid icebergs of amazing shapes, some incredibly large, have calved off the receding Breiðamerkurjökull glacier. They jostle one another in the huge lagoon before gliding on their surreal and stately journeys to the Atlantic ocean. Many of these natural ice sculptures are washed onto the nearby Diamond Beach, you will see them glittering like diamonds, as they rest on the dramatic coal blackness of the beach.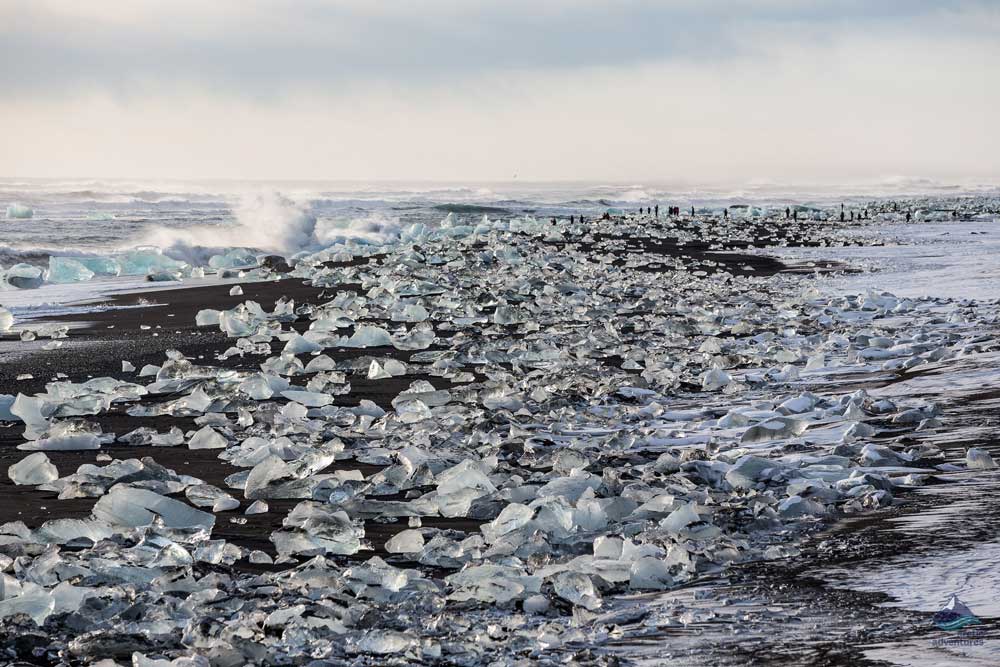 Next, you go into the glacier with a qualified guide! Ice caves are fascinating. New caves are formed each winter by the melt/freeze cycle of the glacier, they are always changing, both from year to year and within each winter. The journey into an ice cave will give photographers the most amazing opportunity to capture the shimmering blue light which passes through the glacial ice. Surprisingly deep shades of jewel blue will surround you, these tones are caused by ice compression, the way we perceive light and color, and the blueness can sometimes be intensified by algae.
After visiting the ice cave we head towards Reykjavík. We stop at Skaftafell Nature Reserve in Vatnajokull National Park, a green area in the midst of amazingly jagged mountains and glacier-topped peaks, the splendid scenery of Skaftafell is certain to be a highlight of your tour. As darkness falls we look out for the northern lights.
---
We return to Reykjavík around 21:00 pm.
---
Pick-up Information
Pick-up is at 12:00 pm from your hotel or a nearby meeting point in Reykjavík. Picking everyone up can take up to 30 minutes, your patience is much appreciated.
Available pick-up points: Arctic Adventures's pick-up list.
---
Please note that ice caves are an ever-changing natural phenomenon, it is, therefore, not possible to say we will visit a specific cave. The choice of ice cave will always be based on conditions and safety considerations at the time.
Day Highlights

Jokulsarlon Glacier Lagoon
Natural Ice Cave
Vatnajökull Glacier
Diamond Beach
Skaftafell Nature Reserve
Northern Lights Hunt
Included

Breakfast at hotel in Skaftafell
Visit to Jokulsarlon
Guided tour in Ice cave
Certified Glacier Guide
Necessary glacier equipment
Drop off in Reykjavik
Disclaimer
All our tours are undertaken on the responsibility of its participants. Arctic Adventures does not assume any responsibility for accidents that are caused by its customers or can be traced to their own actions. Participants have to sign a waiver before undertaking all trips stating that they realize that all outdoor activities carry an inherent risk.
Book this tour
Price from: 89.990 ISK
NO BOOKING FEES
FAST & SECURE PAYMENT