See the famous Golden Circle attractions and a winter adventure in the remote highland mountains - Snowmobiling, hiking and snowshoeing
INSTANT BOOKING CONFIRMATION
Explore geological wonders at historic Þingvellir, watch an erupting geyser and feel the power of Gullfoss Waterfall. Your highland guide will drive you to Kerlingarfjöll, journeying through the really rugged outback, way off the beaten path in a super jeep. Nature and the weather play a big role.
Snowmobiling, mountain hiking, snowshoeing, hot pool bathing and northern lights watching are all on the agenda. Your return to civilization is crowned by a visit to the Secret Lagoon!
Want to add a south coast adventure instead? – Please have a look at this exciting tour – 3 Day Golden Circle, Secret Lagoon, South Coast, Ice Cave & Jökulsárlón
Duration

3 days (2 nights)
Suitable for those in good condition.
Tour highlights

The Golden Circle: (Gullfoss Waterfall, Geysir, Thingvellir)
Super Jeep Remote Highlands Adventure Tour
Snowmobile Riding
Mountain Hiking
Snowshoeing
Hot Spring Pool Bathing
Northern Lights Watching
Minibus Tour to the Secret Lagoon
Included

Hotel Room with Private Bathroom - 2 Nights
All Meals Included
Pick-up & drop off in Reykjavík
Golden Circle Tour
Highlands Super Jeep Adventure Tour
Snowmobile Riding (Helmet and Suit)
Snowshoes
Minibus Tour to the Secret Lagoon
Golden Circle
Þingvellir National Park
Your first Golden Circle attraction is Þingvellir National Park (Thingvellir), a UNESCO listed World Heritage Site. This is the place where Iceland melded together as a nation, when Alþing, the historic Icelandic Parliament was founded here in the year 930. The Eurasian and North American tectonic plates continue to move part, you will see the cliff of the Almannagjá gorge.
Geysir
Your next stop is at the Geysir hot spring site in the Haukadalur Valley. This area is filled with steam and bubbling otherworldly hot springs. You only have to wait 4 – 10 minutes to watch Strokkur erupt, projecting massive torrents of scalding water and steam 20/25 m high.
Gullfoss Waterfall
A short drive brings us to Gullfoss, a favorite waterfall of the Icelanders since Viking times, now it is your turn to watch the thundering torrent drop 32 m through the canyon in two stages. You have the opportunity to buy yourself lunch at Gullfoss Café before your highland wilderness adventure gets underway.
Kerlingarfjöll Mountains and the Icelandic Highlands
A specialist highland guide will drive you in a super jeep way up into the remote highlands, into the real outback of Iceland. The drive to your comfortable highland hotel will take you through some really harsh and challenging terrain. Mount Kerlingarfjöll is very beautiful but this is real outback country – the journey takes as long as it takes – don´t worry the skill of your driver will ensure you arrive in good time for your three course welcome dinner!
Your cozy hotel room has a private bathroom, there is a restaurant, bar and a steaming outdoor hot tub. You are in a fabulous place to watch out for the Northern Lights if the forecast is good!
Highland Activities
Day 2 continues with a guided hike will take you exploring this sensational wilderness area.The hiking route is selected with the weather in mind, if the conditions allow we hike on snowshoes – the hike usually lasts between 4-6 hours. Sometimes there is a stop at a natural bathing pool with 35°C hot water. We enjoy snowmobile riding to explore the pristine Ásgarður Valley, snowshoes, hiking poles and all necessary snowmobiling gear are provided. Dinner and the welcoming bar await you back at the hotel! In the evening you can enjoy the hot tub and watch out for the glittering swirls of the northern lights, in the depths of the countryside they are at their most vibrant – of course, you need a clear sky and a little aurora luck!
On the morning of day three we go with the flow, maybe a little more snowshoeing, snowmobile riding or hiking. Before noon your guide will, once again, drive you through the rugged mountains back to Gullfoss Waterfall ready for your minibus tour to the Secret Lagoon.
The Secret Lagoon
Our minibus will whisk you from Gullfoss to the Secret Lagoon, a wonderful hot spring pool in the picturesque geothermal region of Flúðir. This charming bathing pool is surrounded by beautiful nature with pathways leading around hot springs and gurgling geysers.
---
Return Time
After three days and two nights your tour returns to Reykjavík around 18:00 in the evening.
---
Pick-up Information
Pick up is at 9:00 AM from our available Reykjavik pick-up points. Picking everyone up can take up to 30 minutes so your patience is much appreciated.
Available pick-up points: Arctic Adventures's pick-up list.
---
What to bring: Warm layers of clothes, such as wind and rainproof outer shells, warm wool socks, hats and gloves, thermal or wool middle layer and inner layer. Sturdy and waterproof hiking boots are essential. (Spikes which fit on your boots to provide extra grip on the ice are useful.) Don't forget your bathing suit, towel, slippers to wear at the hotel, nightwear and anything else you need.
---
Please note
The accommodation is in twin rooms.
Day 1 - The Golden Circle-Mount Kerlingarfjöll
You are picked up in Reykjavík at 9:00, picking everyone up can take up to 30 minutes. Your tour begins with Golden Circle sightseeing, your first stop is at Þingvellir National Park (Thingvellir), the place where it could be said that Iceland came together as nation. The Icelandic Parliament, established in 930 AD/CE is the oldest still existing Parliament in the world. This UNESCO World Heritage Site is recognized for its unique geological, historical and cultural importance. The unique geology where two great tectonic plates have moved apart has produced some extraordinary scenery, you will see the rift valley and the magnificent Þingvallavatn Lake.
Geysir is your next Golden Circle attraction, the famous Great Geysir is no longer active, its nearby brother, Strokkur, reliably spouts superheated water skywards every 4 to 10 minutes – make sure you are ready with your camera to capture the moment! Just a short drive away we come to Gullfoss Waterfall, the 'Golden Waterfall' on the River Hvítá, this crashing torrent is close to the heart of every Icelander. Feel the spray in the air as the water thunders through drops of 21 m and 11 m. You get the chance to buy lunch at Gullfoss Café.
Your highlands guide will meet you at Gullfoss Waterfall ready for your exciting super jeep journey into the highlands. You will be heading for Mount Kerlingarfjöll, a cluster of mountains close to the center of Iceland between the Hofsjökull and Vatnajökull Glaciers. It does not get more remote than this – the all terrain features of the super jeep will be well tried and tested! Your expert guide/driver will adapt to the conditions and take the best route through the outback to the comfortable hotel which will be your base for the next couple of days. You are right out in the wilderness but you have a room with private facilities, a restaurant serving an excellent three course dinner, a bar, an outdoor hot tub and just outside the door the most amazing nature imaginable. If your northern lights luck is good magical aurora could even paint the sky! Often, so far from sources of artificial light, these show up as great swirling curtains unfolding across the sky. Each time is different, sometimes they do not show at all, other times they are magnificent.
Day Highlights

Þingvellir National Park (Thingvellir)
Geysir
Gullfoss Waterfall
Super Jeep trip to Mount Kerlingarfjöll
Included

Pick-up in Reykjavík
Hotel room with private bathroom
Three course dinner
Guided Golden Circle minibus tour
Visits to Golden Circle highlights
Adventure tour to the remote Highlands (Kerlingarfjöll)
Hot tub bathing
The Northern Lights (in the right conditions)
Day 2 - Mount Kerlingarfjöll Adventures - Snowmobile & hiking
Today is all about wilderness exploring and adventures. After a nourishing breakfast we set off for our first adventure of the day, a snowmobile riding, guided hiking and snowshoeing are all part of the action, when conditions allow we often hike to a hot spring bathing pool with 35°C hot water. Bring your bathing suit and towel.
The Kerlingarfjöll mountains were created by repeated volcanic eruptions, they are very colorful and are characterized by their un-eroded shapes. The hotel by Kerlingarfjöll is situated within the Ásgarður Valley. At the northern edge of this cluster of mountains, a hydro-power plant is part of the sustainable infrastructure in this area. This has been constructed with great respect for the stunning mountain scenery, it is a really great example of what can be achieved without spoiling nature.
After a day of outdoor adventures and mountain exploring a warm welcome and a delicious 3 course dinner awaits you at the hotel. There is the bar and the hot tub to enjoy, will the northern lights display their brilliant colors? We have to wait and see! One thing is for sure you, well away from artificial light, you will be in an excellent location to get a grandstand view if they show up.
Day Highlights

Snowmobile riding
Guided hiking
Snowshoeing (in the right conditions)
Hot spring pool bathing (possibly)
Hot tub bathing
Included

Hotel room with private bathroom
Breakfast Buffet
Lunch
Three Course Dinner
All snowmobile gear
Hiking poles
Snowshoes
Hot tub bathing
The Northern Lights (in the right conditions)
Day 3 - Kerlingarfjöll-Gullfoss-The Secret Lagoon-Reykjavík
We enjoy a nourishing breakfast and plan the morning. There is time for an adventure activity before we leave this wild mountain paradise. We consider the conditions, any preferences and choose our final highland highlight! Snowmobile riding, snowshoeing or hiking – what will it be? One thing is for sure, we really make the most of our final hours in the highlands. Just before noon our Super Jeep will transfer you back to Gullfoss – we adapt to the conditions and take our time – this is slow travel at its best!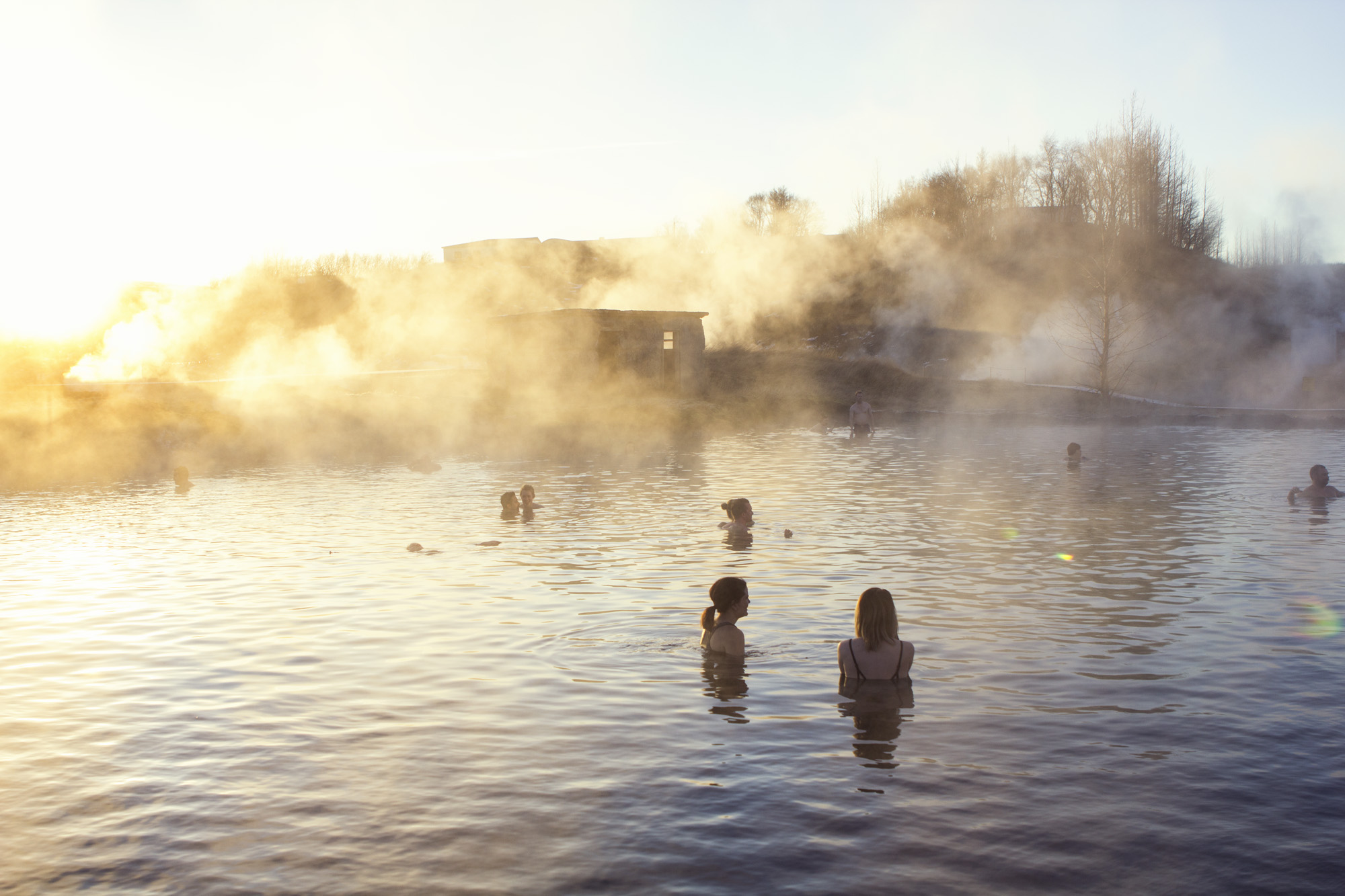 At Gullfoss Waterfall our minibus will be waiting to whisk you away to the Secret Lagoon. This is the oldest swimming pool in Iceland, its Icelandic name is Gamla Lónið, which literally means the 'Old Pool'. It came to be known as the Secret Lagoon because so few people knew about it, hidden away in an idyllic landscape, by the trees at Flúðir, a very active geothermal area. There are hot springs all around the area, poolside pathways take your around them and bubbling geyser springs. Enjoy a coffee or drink in the refreshment area – we will get you back to Reykjavík around 18:00 after three extremely varied and action packed days!
Day Highlights

Snowmobile riding
Hiking
Snowshoeing
Super Jeep drive back to Gullfoss
Bathing at the Secret Lagoon
Included

Breakfast Buffet
Hiking
Snowshoeing
Snowmobiling
Super Jeep transport to Gullfoss
Minibus tour from from Gullfoss to Secret Lagoon
Entrance to the Secret Lagoon
Drop off in Reykjavík
Operated with our trusted partner
Book this tour
Price from: 129.990 ISK
NO BOOKING FEES
FAST & SECURE PAYMENT
Loading...