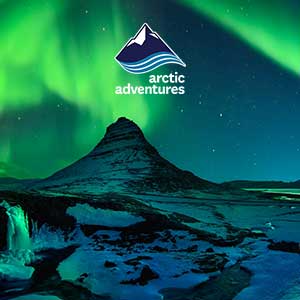 Snorkeling in Silfra Fissure in Thingvellir National Park is the perfect day tour from Reykjavik. Floating through the crystal clear water of Silfra, one of the best dive sites in the world, is something you won't forget!
INSTANT BOOKING CONFIRMATION
Snorkeling in Iceland has become one of the most popular things to do because of Silfra fissure. On this tour, you will snorkel in Silfra which is located in Thingvellir National Park which is a UNESCO world heritage site. Silfra is a rift that opens between the tectonic plates of North America and Europe so you will be snorkeling in between the continents. The water in Silfra is remarkably clear and has a visibility up to 100 meters. Snorkeling in Silfra is an unforgettable experience.
Suitable for those in good condition.
Tour highlights

Small Group Experience
Silfra Fissure
Thingvellir National Park
Snorkeling in Silfra
North American & Eurasian Tectonic Plates
Included

Pick-up & drop off in Reykjavík
All Necessary Snorkeling Gear
English Speaking Tour Guide
Certified PADI Diveguide / Divemaster
All Necessary Safety Equipment
Silfra Admission Fee
Hot Chocolate & Cookies
Free WiFi on Board Your Bus
Silfra fissure snorkeling tour from Reykjavik
Silfra is located in Thingvellir National Park in Iceland, known for being one of the three key attractions of the Golden Circle. This tour offers a breathtaking snorkeling experience which is frequently rated as one of the world's top ten dives. Snorkeling here in the canyon between the American and Eurasian tectonic plates, which have been moving apart at the rate of 2 cm per year, will take you into a magical sub-aquatic world. Colorful marine algae, including the bright green kind, often called 'troll hair' add jewel bright colors to this deep blue world.  The water at Silfra flowed from Langjökull (Long Glacier), it has been purified on its journey through lava for around half a century, giving Silfra the unrivaled crystal clear visibility for which it is famous. This really is a remarkable dive, truly a once in a lifetime dive!
Our experienced and well-qualified specialist diving guides will ensure you are provided with all of the equipment and information you need to safely and confidently snorkel through the Silfra Fissure. The water temperature at Silfra is between 2 C and 4 C but you will be nicely insulated in an undersuit and drysuit. Whether you are an experienced snorkeler or a beginner – this dive is an absolutely mesmerizing experience!
As you glide through Silfra, extraordinary rock formations will be revealed to you. There are four sections, each with a different character: the deep Silfra Crack, the majestic Silfra Hall, the expansive and rich blue world of Silfra Cathedral and Silfra Lagoon which has the most incredible visibility. We warm up with a nice cup of hot cocoa before heading back to Reykjavik. Bring a waterproof camera because the photo opportunities are incredible!

---
Pick-up Information
Pick up is at 08:30 am from your hotel or a nearby meeting point in Reykjavík. Picking everyone up can take up to 30 minutes, your patience is much appreciated.
Available pick-up points: Arctic Adventures's pick-up list.
---
Return time
If you choose the Reykjavik pick-up option, then you will return to Reykjavík around 13:00 pm / 17:00 pm approximately.
---
Meet on location
If you want to meet us on location please see our Snorkeling in Silfra tour
---
Practical Information
Remember to bring: Warm long underwear, preferably fleece/wool (no cotton!), warm woollen socks and a change of clothes (can happen that your baselayer and socks get a bit wet).
---
Prerequisites
Participants need to be comfortable in the water and be able to swim. You are unable to participate if you are pregnant, due to the small risk of cold water entering the suit.
Weight limit: 45-120 kg
Height limit: 150 cm -200 cm
Age Limit: 12 years old minimum. Guardian's approval needed for minors under 18.
English: It is important that you can both understand and communicate in English in order to participate in the tour.
---
Book this tour
Price from: 20.490 ISK
NO BOOKING FEES
FAST & SECURE PAYMENT
"Snorkeling in Silfra Fissure - So Pretty!"
This is my favorite activity I did in Iceland! The water is so clear and the water bubble on the seaweed look like pearls! The whole adventure seems like a fantasy. I went in September so the weather was slightly chilly – but those wetsuit is amazingly warm and kept you cosy. Also even if you can't swim, don't worry. Those suit has great buoyancy. Tip – if you want to film – best use an action cam or go pro. Phone in Waterproof pouch might not be best – because the pressure of water is still pretty heavy and also, it's hard to tap if you need anything. Tip2 – if you drive there yourself and park nearby the lake – you should go to the visitor center first to get a parking permit. but if you park at the visitor center – it's free, and there will be a van to pick up and drive you to the lake. van will also drop you off back at center.
"Can't say enough good things about it! "
"absolutely fabulous"
The experience was absolutely fabulous. Thanks to the beautifull weather the visibility was remarkable. As beginning snorkler we were well informed before going into the water, and the company of the guides in the water was comforting. All we needed to do was enjoying the gliding through the Silfra Crack. So happy we did this !!