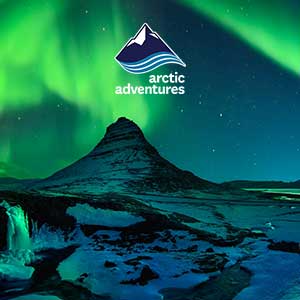 Katla Volcano and Myrdalsjokull glacier combined their forces and made the most amazing ice cave!
Looking for something off the typical tourist track? This is the tour for you!
It's time to jump on a Super Jeep, strap on your crampons and step into the mighty Myrdalsjokull glacier.
Mother Nature has really outdone herself with this one, the movie-like surroundings and glaciers everywhere you look and grand ice walls you walk amongst to enter the magical blue and black ice dome of the outlet glacier named after the powerful volcano Katla. Prepare to be amazed!
Availability

February 1st - May 31st
Suitable for most people in fair condition. You have to be able to walk on uneven surface and hike for at least 2 – 3 hours at a slow pace, with breaks. Trails are generally of good quality and glacier travel at a relatively low angle.
Tour highlights

Scenic Super Jeep ride
View over Myrdalsjokull
Visiting a natural Ice Cave
Epic landscapes
Expert info on the ice cave
Included

Super Jeep Ride
Visit to a natural Ice Cave
Crampons for walking on ice
Knowledgeable glacier guide
Mýrdalsjökull glacier is one of the best known glaciers in Iceland, it feeds the glacier hiking paradise, Sólheimajökull, and from it the alluring Kötlujökull originates. Kötlujökull is named after the robust Icelandic Volcano Katla and is home to some of Iceland's most impressive natural ice caves. On this exhilarating Super Jeep tour you will get to explore the wonders of the biggest one, Katla's Ice Cave Dome as many like to call it. You will see why as soon as you step in!
Meeting point: The Katla Icecave tour departs from the Ice Cave Café in Vík / Icewear Store / Vík Wool. By the entrance, you will be able to find our guide holding an "Arctic Adventures" sign or standing by a super jeep that is marked "Arctic Adventures".
The tour will start from Vík (approximately 2.5 hours from Reykjavik) where you will join everyone in a huge Super Jeep for the exciting day ahead.
The drive starts on the famous road 1 but soon we will make a turn to what seems like a no man's road. There we will descend to the mountains with enchanting glaciers and mountains surrounding us the whole time. The Super jeep has no problem taking on the rough and rugged road but the drive is exciting unlike anything else. We will come to a stop right at the roots of Kötlujökull glacier and the view that greets you is otherworldly, layers and layers of different colored ice making beautiful stripes in the glacier and at one point an opening in the glacier and that's where you are going. With giant ice walls on each side you will go deeper into the glacier and further into the cave. Your guide will tell you all about the history of the glacier, the ice cave and the area around it making the tour educating and exciting all at once.
At the end of the ice tunnel you will find an opening, a hole in the glacier roof where light shines in creating a heavenly atmosphere. This feels a lot like standing in a cathedral's' dome but this one of 100% natural and inside a glacier. One simply must try!
When we are back out from the glacier we will walk around see if any smaller ice caves are accessible before returning back to our super truck. The drive back is an amazing one an in winter time the sun will start to sit behind the mountains creating a magical wintery sunset. Make sure to bring your camera!
Disclaimer
All our tours are undertaken on the responsibility of its participants. Arctic Adventures does not assume any responsibility for accidents that are caused by its customers or can be traced to their own actions. Participants have to sign a waiver before undertaking all trips stating that they realize that all outdoor activities carry an inherent risk.
Book this tour
Price from 19.990 ISK per person.
The Ice Cave under the Volcano | Average rating: 5/5 based on 4 customer reviews
"A genuinely amazing trip" |
By Adam Nettleship 22/02/2018
A genuinely amazing trip that was the highlight of an all round great time in Iceland.
"Awesome adventure" |
By Richard Maloney 25/02/2018
Awesome adventure. The ice cave is in the middle of nowhere and is absolutely breathtaking. Highly recommend you take this adventure.
"Best guide and tour" |
By Kathryn 13/03/2018
This was honestly the highlight of our vacation in Iceland! Our tour guides were extremely knowledgeable and very funny. The tour is perfect for seeing all the best parts of Iceland, many photo opportunities and light activity if you're not looking to trek while you're there. Having used two other tour agencies while there, Arctic Adventures was the best out of all of them. Well worth the price as groups are smaller and more engaging. I would use them to plan everything for my next visit!
"Natural Ice Caves tour was even better than expected" |
By Michael 14/03/2018
Our tour guide Elkie (sp?) made our trip a truly memorable one. It was our first full day in Iceland and he provided us with a TON of knowledge about the country, the geographic uniqueness, and anything else we asked about. I highly recommend this tour, and even more so our guide. Thank you!