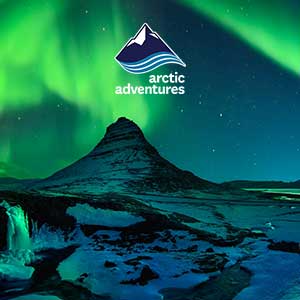 Katla Volcano and Myrdalsjokull glacier combined their forces and made the most amazing ice cave!
INSTANT BOOKING CONFIRMATION
Looking for something off the typical tourist track? This is the tour for you!
It's time to jump on a Super Jeep, strap on your crampons and step into the mighty Myrdalsjokull glacier.
Mother Nature has really outdone herself with this one, the movie-like surroundings and glaciers everywhere you look and grand ice walls you walk along to enter the magical blue and black ice cave of the outlet glacier named after the powerful volcano Katla. Prepare to be amazed!
This tour is a meet on location tour from Vík. If you prefer a pick-up from Reykjavik please see The Ice Cave under the Volcano from Reykjavík
Suitable for most people in fair condition.
Tour highlights

Small Group Experience
Scenic Super Jeep Ride
View Over Myrdalsjokull
Visiting a Natural Ice Cave
Epic Landscapes
Expert Info on the Ice Cave
Included

Super Jeep Ride
Visit to a Natural Ice Cave
Crampons for Walking on Ice
All Required Safety Equipment
English Speaking Licensed Adventure Guide
Mýrdalsjökull glacier is one of the best-known glaciers in Iceland, it feeds the glacier hiking paradise, Sólheimajökull, and from it the alluring Kötlujökull originates. Kötlujökull is named after the robust Icelandic Volcano Katla and is home to some of Iceland's most impressive natural ice caves. On this exhilarating Super Jeep tour, you will get to explore the wonders of this stunning natural phenomenon. You will see why as soon as you step in!
Meeting point: The Katla Icecave tour departs from The Ice Cave Bistro/ Restaurant in Vík. By the entrance at the back of the building, you will be able to find our guide holding an "Arctic Adventures" sign or standing by a super jeep marked with an Arctic Adventures sign in the window.
The tour will start from Vík (approximately 2.5 hours from Reykjavik) where you will join everyone in a huge Super Jeep for the exciting day ahead.


The drive starts on the famous road 1 but soon we will make a turn to what seems like a no man's land. There we will descend to the mountains with enchanting glaciers and mountains surrounding us the whole time. The Super jeep has no problem taking on the rough and rugged road but the drive is exciting none the less. We will come to a stop right at the roots of Kötlujökull glacier and the view that greets you is otherworldly, layers and layers of different colored ice making beautiful stripes in the glacier and at one point an opening in the glacier and that's where you are going in. Your guide will tell you all about the history of the glacier, the ice cave and the area around it making the tour educating and exciting all at once.
When we are back out from the glacier we will walk around and see if any smaller ice caves are accessible before returning back to our super truck. The drive back is an amazing one and in winter time the sun will start to sit behind the mountains creating a magical wintery sunset. Make sure to bring your camera!
---
What to bring: Warm clothing, waterproof jacket and pants, hiking boots, head-wear and gloves.
---
Disclaimer
All our tours are undertaken on the responsibility of its participants. Arctic Adventures does not assume any responsibility for accidents that are caused by its customers or can be traced to their own actions. Participants have to sign a waiver before undertaking all trips stating that they realize that all outdoor activities carry an inherent risk.
Book this tour
Price from: 19.990 ISK
NO ADDITIONAL FEES - BUY
DIRECTLY FROM THE OPERATOR
FAST & SECURE PAYMENT
---
"A genuinely amazing trip"
"Fantastic experience"
---
You have chosen: Ice Cave Tour only
Loading...
You have chosen: w/ Reykjavík Pick-up
Loading...
Katla Ice Cave tour under the Volcano | Average rating: 4.7/5 based on 27 customer reviews
"A genuinely amazing trip" |
By Adam Nettleship 22/02/2018
A genuinely amazing trip that was the highlight of an all round great time in Iceland.
"Awesome adventure" |
By Richard Maloney 25/02/2018
Awesome adventure. The ice cave is in the middle of nowhere and is absolutely breathtaking. Highly recommend you take this adventure.
"Best guide and tour" |
By Kathryn 13/03/2018
This was honestly the highlight of our vacation in Iceland! Our tour guides were extremely knowledgeable and very funny. The tour is perfect for seeing all the best parts of Iceland, many photo opportunities and light activity if you're not looking to trek while you're there. Having used two other tour agencies while there, Arctic Adventures was the best out of all of them. Well worth the price as groups are smaller and more engaging. I would use them to plan everything for my next visit!
"Natural Ice Caves tour was even better than expected" |
By Michael 14/03/2018
Our tour guide Elkie (sp?) made our trip a truly memorable one. It was our first full day in Iceland and he provided us with a TON of knowledge about the country, the geographic uniqueness, and anything else we asked about. I highly recommend this tour, and even more so our guide. Thank you!
"Fantastic experience" |
By Samantha callà 17/03/2018
Beautiful hike in the ice caves, beautiful superjeep ride to get to the caves with a nice guide. I recommend it to everybody!
"Well worth the effort" |
By John Christensen 21/03/2018
We joined this tour as ""meet on site"" guests. Unfortunately we encountered a very bad snow storm on our way from Reykjavik to Vik, and arrived about 1/2 an hour late. We were very surprised to find that the tour guides had waited as, as we weren't the only family that was late, and they knew about the road conditions. We joined the Super Jeep, and waited for others to arrive, and departed about 15 minutes later. The cave and the glacier trip were fantastic, the guides were very knowledgeable and gave some good insight on the cave and their formation. Thanks very much Arctic Adventures and the local guides.
"Katla Ice Cave Tour" |
By Skylar 21/03/2018
We had a fun time off roading to the ice cave tour. It was about a 30-40 minute drive from the meeting point in Vik. Just a heads up it's a bumpy ride and snowy. We had a blast. Once we got there we put on our crampons and helmets and our guide let us explore and offered some history on the cave and volcano in general. The cave and the area outside in is certainly other worldly. We got back in 1 piece and we're glad we had the experience, though we do feel it's a bit overpriced- as with many things in Iceland!
"Best tour!" |
By Terri Totzke 22/03/2018
My friend and I scheduled this tour at the last minute, because we were not able to both be included on the two-day trip we originally wanted to take. At the end of the day, we were SO glad we were able to do this one! The weather was less than optimal, but that just added to the fun. George, the tour guide was so friendly and helpful and willing to answer questions. He also took us to the black beach as an extra, which was beautiful. The SuperJeep driver to the ice cave, Elsa , was great, as well. Very entertaining! They also timed our trip through the cave around lunchtime, so we were able to get in rather quickly. This was reallly nice; as we were leaving there were about 5 other groups in line to go through. This was a super tour with competent and friendly tour guides - they are professional while at the same time very approachable and fun. My friend and I wished we would have scheduled all of our tours with Articadventures. Highly, HIGHLY recommended. You won't be disappointed! Thank you!
"Stunning ice views" |
By Eva 23/03/2018
Our family of 5 really enjoyed our trip to see the ice caves on the edge of the glacier. This is not a spelunking tour, but a chance to see caves on the edge of a glacier. The ice and ash layers are striking to see. The ice changed color based on lighting. My family was awestruck to stand within a cave made from ice older then our combined ages. Be warned that The ice cave tour picked us up from the foyer near the food court of the icewear store which isn't easily understood from the receipt. Be prepared that the vehicles taking you to the tour won't say Arctic Adventures either. Be sure to dress for the weather like the receipt states and pack dry clothes just in case. Fortunately we wore wool socks, because your feet do get soaking wet crossing the streams. The guides do warn you that you will get wet. Magnus, one of our guides, willingly answered all our questions and seemed to truly love his job. I did not get a chance to speak with our other guide, but he too seemed to answer any questions thrown at him. I would have loved to have spent more time both exploring the area and speaking to our guides.
"The tour was great, plenty of time" |
By Anne-Marie 23/02/2018
The tour was great, plenty of time. The place where we must be for the pickup was great, only dificult to find the guide. So we have walk a lot to find some on the help us. Try to contact the office but there was no one at the telephone.
"Awesome tour" |
By Eric Kainz 22/03/2018
Awesome tour with a joung funny and informative tour guide. Always my pleasure. Kind Regards Eric Kainz
"Great tour" |
By Kristell 22/03/2018
The cave under the volcano was a great tour, amazing landscape with a nice and interesting guide.
"A wonderful trip" |
By Olga 28/03/2018
A nice and wonderful trip. Mýrdalsjökull glacier is amazing. The ice caves are very different than expected, but really beautiful. It was well a prepared and planed trip with much interesting information during the way, good guids. Only thing, I could think different, is that it could be more time for lunch in Vik.
"Ice Cave under the volcano - Katie Ice Cave Tour" |
By Marcia Glaros 29/03/2018
This was the best tour we took on our trip to Iceland. It was a small group of people, so we were all able to experience the sights on a personal level without any other tour groups around us. We were taken far from the beaten path on a crazy Jeep and had an great experience. The cave was amazingly beautiful and unlike anything we had ever seen before. The guide was both friendly and competent. I highly recommend this tour.
" Thank you Magnus!" |
By Alessia Pinto 29/03/2018
Ice caves are impressive! So beautiful! But we have to say that this tour was so great also thanks to Magnus, our super guide! We really enjoyed this tour with him! Grazieeeee!!!
"Amazing experience" |
By Esther Laliga 02/04/2018
We booked the Crystal cave tour, but they had to change the tour as the cave was flooded, and it was fantastic. It makes a different to know that they don't simply cancel and refund the money, as It's usually difficult to rearrange the tour for another day when you are on a round trip through the island. We were 5 people and we all loved the tour. The guides were really funny and the place was magnificent. We enjoyed an amazing ride through rivers, ice and snow, and an unforgettable visit to a unique place.
"Everything is good" |
By William 05/04/2018
Everything is good. If it can spend more time in ice cave, could be much better
"AMAZING" |
By Nadia centeno 06/04/2018
Great tour, it was amazing. And. The guide was a great guy
"Fun Tour with Knowledgable Guide" |
By Gordon 09/04/2018
Ice caving was a truly unique experience. Though it took a little while to get out there, being able to see the cave, ash and snow was something that I will definitely remember. The actual ride out there in the SuperJeep was also an adventure, as we had to go off road in the snow and through (shallow) streams, etc to reach our destination The one caveat is that it is quite a long trek to get out to the volcano site. Luckily, our guide took us to a couple of waterfalls on the way back that broke the ride home up a bit. Overall, I would recommend this trip.
"Beautiful Ice Cave" |
By Patricia 09/04/2018
The ice cave we had booked got flooded and Arctic Adventures offered us another option, which we really enjoyed. It is a lot of fun the way to the ice cave in the 4WD, but I got a little bit carsick from all the shaking - perhaps Arctic Adventures could offer some carsick pills for those in need. The tour is not cheap, but comparing to other places we saw it seemed to be one of the best prices. The tour is not rushed, which allowed us to take our time and take some pics :)
"Ice Cave Tour" |
By Jim Berlin 09/04/2018
Very enjoyable day. Our guides were all informative, friendly and fun. Worth the trip for sure.
"It was overall a very nice experience" |
By BLS 11/04/2018
The tour was scheduled for three hours, but lasted closer to two. Wish we spent more time in the cave. Also wish the tour guide gave more history/background/etc on the drive out there, but she did have her hands very full. Regardless, it was overall a very nice experience.
"Fun Tour!" |
By Ryan Logrieco 20/04/2018
Well organized tour - suitable for all ages Wished we could have explored more but I assume there are limited number of caves and areas to explore.
"Wet & wild" |
By Ed R 24/04/2018
We went to the two caves in a driving rain so conditions were not ideal but our tour guide was good and personable. He got us out to the caves and back with no problems. The super jeep was sturdy and safe but we were all very cramped, especially because everyone had on rain gear. The caves were great but fairly small. I was expecting more. That said, they were very beautiful. Overall, we were satisfied and would do the tour again.
"It was a good tour" |
By Teresa 28/04/2018
It was a good tour. We followed directions as per email to wait at the entrance and look for our guide who will be holding a sign by the entrance or near the Arctic Adventures bus. There were multiple entrances and there was no guide holding a sign or waiting by the Arctic Adventures bus. My husband and I looped around the entire centre multiple times to ensure we didn't miss the group. Turns out the guide had his own unbranded van and was waiting with a group which we had assumed was another private tour. It would have been nice for the guide to come look for us - we had arrived 20 minutes early and ended up being late to meet the group because we were waiting at the entrance.
"This was a great tour! " |
By Kellan 29/03/2018
This was a great tour! Our tour guide was experienced and made the trip enjoyable for the whole group. He provided educational background on the caves and Iceland. I would highly recommend this trip for anybody.
"Ice cave tour" |
By Mrs Alla James 21/05/2018
Had a great tour to an Ice Cave near Vik. Meeting instructions were sufficient, the tour left on time and the guide was very informative. Needless to say, the ice cave itself was great. What else could you wish for :-). Would recommend this tour with Arctic Adventures.