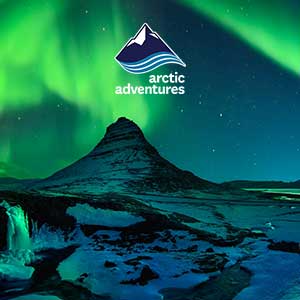 Feel the rush of adventure as one of the longest lava tubes in Iceland unfolds in the beam of your headlamp!
INSTANT BOOKING CONFIRMATION
Want to do this trip for free? Tag us @arcticadventures on your social media stories and photos during your trip and enter a chance to win a full refund. The winner will be picked once a month!
---
Join us on a half-day lava caving tour just 30 minutes from Reykjavík. We explore Raufarhólshellir lava tube cave, It's a great option for the whole family! Lava tubing is a fantastic way to explore Iceland from a different point of view and all of the curious shapes in the cave. 
Suitable for most people in fair condition.
Departs from

Reykjavik / Raufarholshellir
Tour highlights

A Scenic drive through a lava field
Visit to a Lava Tube Cave
Included

Pick-up & drop off from Reykjavík
A Certified Caving Guide
All Required Safety Equipment
Helmet & Head Torch
Free WiFi on Board Your Bus
Iceland is known for its volcanic activity across the country. This is your chance to explore the fascinating subterranean landscape beneath the lava fields. 
Raufarhólshellir is one of the longest and best-known lava tubes in Iceland. This is a great opportunity to see the path of an ancient volcanic eruption. The Leitahraun eruption carved out the landscape around 5200 years ago. Every winter, wondrous icicles appear at the mouth of the cave. 
The tunnel stretches about 4500 ft (1360 m), 30 m wide with headroom up to 10 m high. 
Bring the whole family to discover the hidden world beneath us. With an endless multitude of colors and jagged rock formations, this lava caving tour is sure to give you a unique and captivating experience. This is a perfect opportunity to step outside your comfort zone and discover something completely new.
Your half-day lava caving adventure will end with a drop off in Reykjavik.
---
Pick-up Information
Pick up: The pick-up is at 08:00 am from our available pick-up points in Reykjavik. Picking everyone up can take up to 30 minutes so your patience is greatly appreciated.
Available pick-up points: Arctic Adventures's pick-up list.
---
Meet on location
If you prefer to meet us on location the tour begins at 09:30 am. Please be at Raufarholshellir Cave 20 minutes prior to departure. The tour is 1 hour in duration if you meet us on location.
---
Practical information
Remember to bring: Warm outdoor clothing, waterproof jacket and pants, headwear and gloves. Good hiking shoes are highly recommended.
What if I don't own all of these clothing necessaries?
Don't worry, you can always rent the necessary clothing in the booking process.
Please note
This tour is operated with our trusted partner.
Book this tour
Price from: 6.990 ISK
NO BOOKING FEES
FAST & SECURE PAYMENT
OPERATED WITH OUR TRUSTED PARTNER
You have chosen: From Reykjavik
Loading...
You have chosen: Meet on Location
Loading...
"Lava Caving - really enjoyable!"
We went on the lava caving experience and found it brilliant! Our guide (Vicky) was amazing, full off all the information for the tour but also Iceland and Icelandic things in general! Lots of fun and great to see the inside of the lava tunnels. All in all a great trip! Only takes up a few hours of your day too so well worth it!
"Lava Tubes"
Tour was excellent! Richard our guide was knowledgable, fun and all-around great. Highly recommend the lava tubes tour if you have a free 3-4 hours to burn in Reykjavik!
Underworld - Lava Caving Tour | Average rating: 4.5/5 based on 12 customer reviews
"Excellent caving trip" |
By Fiona Macdonald 30/01/2018
Our guide Andrea was punctual, polite and friendly. A very informative and enjoyable trip
"I had a great time" |
By Wenjing Zheng 04/03/2018
The crew members are very friendly and lovely. The tour itself was more like a little adventure caving tour, and this is the kind of caving I love!
"Icelands Finest" |
By Lisa Reilly 08/03/2018
Definitely worth doing. Fine visual treats!
"Great trip" |
By John 10/03/2018
Our trip to the lava tube cave was well worth it. The trip was short, but not rushed and made for a great start to the day. Zaho our guide did a good job leading us through the caves. We would recommend it.
"Overall the tour was fab" |
By Hannah Vallance 01/03/2018
My only comment would be that the bus windows got lots of condensation on them so we couldn't really enjoy the view on the way to the lava tunnel. Overall the tour was fab and I'd def recommend to a friend.
"Great tour!" |
By Caitriona Hartnett 06/03/2018
Great tour! Loved the caving but felt totally unprepared for crawling into a hole in the ground. Would have liked to be provided with clothing recommendations when we booked the tour. really enjoyed the golden circle tour! we booked 2 tours with your company - should have offered some sort of a discount for booking more than one tour.
"Both trips where very nice and the guide was great" |
By Nicole 10/03/2018
We make the tour together with the hirse riding tour. Both trips where very nice and the guide was great. The only problem was the connection between the tours which cost a lot of time.
"The Lava Tunnel tour was incredible" |
By Raven 22/03/2018
The Lava Tunnel tour was incredible and our tour guide was very knowledgeable. I'd definitely go on another tour with Arctic Adventures when I'm Iceland again!
"The part we saw was impressive" |
By Jennifer Lohmann 17/04/2018
Unfortunately, only a part of the cave was shown to us. The other part is not accessible in the "winter", the guide made us aware before the start. The tour through the cave lasted only 30 minutes. The part we saw was impressive.
"Great tour" |
By Cathal 31/01/2018
Great tour. Friendly guide. Ran like clockwork.
"The tour was great!" |
By Mário Canastro 11/05/2018
The tour was great! but there should be a little bit more explanation about the cave.
"Fantastic experience with Arctic Adventures" |
By Sesh 19/05/2018
Great tour. Enjoyed the adventures - glacier hiking, lava caving, geysers. Nice knowledgable tour guides