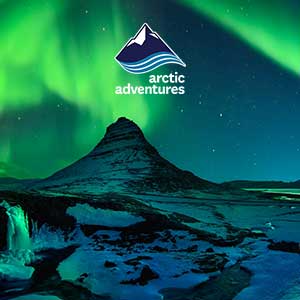 Feel the rush of adventure as vast underground networks of a hidden lava cave unfold in the beam of your headlamp!
Half day lava caving tour in the vicinity of Reykjavík, a great option for the whole family. Lava tubing is a great way to explore Iceland from a different point of view and put yourself into the speleologist's shoes while exploring the magnificent formations nature has made for us to enjoy.
Suitable for those in good condition who are able to walk for about 4 hours at a low or moderate pace. Trails are generally of good quality and glacier travel at a relatively low angle.
Tour highlights

Small group experience
A visit to a lava cave
Lava caving
Included

Transfer to/from Reykjavik
A certified caving guide
Helmet and head torch
Iceland is known for its volcanic activity across the country. This is your chance to explore the fascinating subterranean landscape of one of Iceland's many lava fields. Cave Leidarendi, located in the Blue Mountains area just out of Reykjavik and Gjabakkahellir lava cave located in Thingvellir area are typical lava tubes, formed by flowing lava moving beneath the hardened surface thousands of years ago. Bring the whole family to discover the hidden world beneath us. With an endless multitude of colors and jagged rock formations, this lava caving tour is sure to give you a unique and captivating experience. This is a perfect opportunity to step outside your comfort zone and discover something completely new. In the winter time, you are sure to see some amazing icicles hanging from the cave roof on your underworld adventure. Prepare to get down on all fours on this great half day tour. Your half-day lava caving adventure will end with a drop off in Reykjavik.
Please note that this tour includes pick up from our available pick-up points in Reykjavik. Pick up starts at 09:00 am for our morning tour and 13:00 pm for our afternoon tour and can take up to 30 min.
Available pick-up points: Arctic Adventures's pick-up list.
Remember to bring: Warm outdoor clothing, waterproof jacket and pants, headwear and gloves. Good hiking shoes are highly recommended.
What if I don't own all of these clothing necessaries?
Don't worry, you can always rent the necessary clothing in the booking process.
Please note
We recommend bringing gloves to wear inside the cave.
This tour does not offer the chance of meeting us on location.
We provide you with a headlight and a helmet.
You are in the cave for about 1-1,5 hours.
Like always in Iceland, it's best to dress in layers. A warm layers closest to you preferably wool/thermal underwear, pants sweater and on top waterproof outdoor clothing. We also recommend that you wear good hiking boots and gloves. Jeans have proven to be a bad choice.
Disclaimer
All our tours are undertaken on the responsibility of its participants. Arctic Adventures does not assume any responsibility for accidents that are caused by its customers or can be traced to their own actions. Participants have to sign a waiver before undertaking all trips stating that they realize that all outdoor activities carry an inherent risk.
Book this tour
Price from 9.900 ISK per person.
"Lava Caving - really enjoyable!"
We went on the lava caving experience and found it brilliant! Our guide (Vicky) was amazing, full off all the information for the tour but also Iceland and Icelandic things in general! Lots of fun and great to see the inside of the lava tunnels. All in all a great trip! Only takes up a few hours of your day too so well worth it!
"Simply Great"
Review of: Small Group Lava Caving Experience From Reykjavik

Thanks, tour guide Michael. You were great. Nice short morning tour. Guide very accommodating, and looked out for the entire group. Very informative. You can tell that he cares about the history and preserving the cave and not just in it for the paycheck. I'm a 55 yo not-so-in-shape mid-life crisis person, but I was able to manage this tour. Not easy with the crawling and stooping, but I came through OK with only some sore muscles and some brused knee caps. It was ABSOLUTELY well worth it to see the cave. TIP: This is a circular route through the cave, so no feeling like you have to backtrack again to get out. Adventure and surprises at every turn.
"Lava Tubes"
Tour was excellent! Richard our guide was knowledgable, fun and all-around great. Highly recommend the lava tubes tour if you have a free 3-4 hours to burn in Reykjavik!