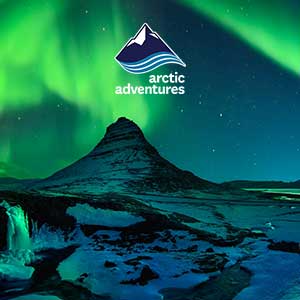 Travel deep into Raufarhólshellir Lava Tube and out to the wild Iceland countryside on a magical Northern Lights hunt!
INSTANT BOOKING CONFIRMATION
Want to do this trip for free? Tag us @arcticadventures on your social media stories and photos during your trip and enter a chance to win a full refund. The winner will be picked once a month!
---
Unearth the secrets of Iceland's wild nature outside of Reykjavik. Our afternoon tour will kick off with a spelunking expedition into the beautiful Raufarhólshellir Lava Tube. Once night falls, we hit the roads on an unforgettable hunt for the aurora borealis. The very best of earth and sky!
Your guide will take free photographs of you and the aurora so you can keep the memory alive!
Availability

Sept. - Apr.
Suitable for most people in fair condition.
Tour highlights

Small Group Experience
Visit to a Lava Cave
Lava Caving
Northern Lights Tour
Northern Lights Photos
Included

Pick-up & drop off from Reykjavík
Minibus Transportation
Lava Caving with a Certified Caving Guide
Helmet & Torchlight for Caving
All Required Safety Equipment
Guided Northern Lights Tour
Northern Lights Photos
English Speaking Tour Guide
Free WiFi on Board Your Bus
Raufarhólshellir Lava Tube
Your first stop is the Raufarhólshellir Lava Tube, about 25 minutes from Reykjavík. Your guide will supply helmets and torchlights for your lava caving adventure. Get ready to be entranced by an amazing subterranean world! 
Raufarhólshellir Lava Tube is noteworthy as one of the most mind-blowing lava caves in Iceland. Follow your guide past curious stalactites and stalagmites, some of which oddly resemble figurines. Look out for vivid colors, splashes of rusty red and charcoal black. It was formed ages ago when hot lava coursed through the earth and petrified over time. We'll spend around an hour in the cave.
After the caving trip, we will drop you off in Reykjavik again, where you can enjoy the sights of the city until we pick you up in the evening for your northern lights tour.
You're driven back to Reykjavík and dropped off between 11:00 and 11:30 at your original pick-up location, allowing some time to grab a bite in the city before we pick you back up in front of your hotel for your magical Northern Lights hunt at 20:30 pm (8:30 p.m.). Please note that food and beverages are not included.
Northern Lights Tour in Iceland
Your guide monitors Iceland's auroral zone forecast and drives out to locations that give the best chance of witnessing the brilliant colors of dancing northern lights. Our quest can take us out into the countryside in any direction, away from the city lights: Hvalfjörður, Þingvellir, Reykjanes, anywhere optimal that evening.
The moment the aurora appears in all of its shimmering glory is breathtaking. You might see a green curtain ripple in the dark sky, or if you're lucky, drapes of yellow, white, violet or blue. The rarer red lights are more common in Iceland, thanks to our proximity to the magnetic poles, than anywhere else in the world. As the aurora is a natural phenomenon, we can't guarantee that you'll see them, but we always do our very best considering the weather and viewing conditions.
The tour returns to Reykjavík around midnight, you are dropped off at your pick-up location.
---
Pick-up Information
For the Northern Lights adventure, pick up is at either 20:30 (8:30 p.m.) or 21:30 (9:30 p.m.), depending on the season. You'll find the actual pickup time on your final voucher. Picking everyone up can take up to 30 minutes, your patience is much appreciated. Available pick-up points: Arctic Adventures's pick-up list.
---
Practical Information
What to bring: Warm layers, a waterproof top layer, headwear, scarves, and hiking boots or sturdy shoes. If you have them, spikes which fit on your boots are useful in icy conditions. We recommend bringing gloves to wear inside the cave.
What if I don't own all of these clothing items?
Don't worry, you can always rent sturdy hiking shoes, waterproof jacket, and pants in the booking process. We do not rent gear from locations, it must be ordered in advance.
Book this tour
Price from: 17.990 ISK
NO BOOKING FEES
FAST & SECURE PAYMENT
OPERATED WITH OUR TRUSTED PARTNER
Loading...