---
Barnafoss is a breathtakingly beautiful waterfall located in the fertile valley of Borgarfjordur in West Iceland. It is often spoken of in an association with the lava falls, Hraunfossar but these two are located within a short walking distance of each other. Barnafoss is not your average waterfall but moreover a series of rapids which bursts out from under the pitch black rocks surrounding it. It is located in the middle of lava field named Hallmundarhraun but it was named after a giant who is believed to have lived there. This is just one of the many tales surrounding his mesmerizing water-wonder!
Barnafoss waterfall takes its waters from Langjökull glacier which is located east of the waterfall.  It is the very same glacier that feeds the voluminous Gullfoss waterfall and the neighboring falls, Hraunfossar.
Barnafoss is, therefore, one of the many waterfalls in Iceland created from glacial water which can affect its coloring, from time to time. Usually, though, the waterfall is in a very distinctive light blue color, similar to the Blue lagoon. The waterfall is situated in the midst of a river named Hvítá or 'the White River' and you will understand why once you are close to the waterfall. Its brims and tops are as white as snow creating the most beautiful array of colors.
The waterfall is believed to have had a few natural stone bridges leading over but today you can only see one. Those arches were anything but safe and there have been tales of people falling into the river and drowning. One of which is traced in the next chapter.
---
The Folklore Tale of Barnafoss
The name Barnafoss translates to the 'waterfall of children' but the tale of the name is quite a tragic one. The lore can be found in the famous Jón Árnason folklore books.
It tells a story of a wealthy widow who lived at the farm Hraunsás (which exist in real life and you will pass when getting to the waterfall). The woman had two young boys.
One night she, along with all of her farm-folk, she went out to attend an event at a church nearby. She asked the boys to stay behind and to not, under any circumstances, go out. But, as soon as she and her party had left the boys, did just as they had been told not to and followed. They decided to take the northern route to the church. This meant to cross the river, vítá and the only way across was by walking along the thin natural stone arch which stood above the bulging river. The took each other hand and started to slowly cross the arch but once they had reached the center they made the fatal mistake of looking down. This led to them losing their balance falling into the powerful stream.
When their mother returned from church the boys were nowhere to be found. Someone had witnessed the boys falling in but been too late to help them. Upon hearing of this terrible occurrence their mother was understandably furious and ordered for the stone bridge to be removed immediately so that no one would ever get across Hvítá River alive. The waterfall has since been named Barnafoss or the 'children's' waterfall'.
---
Fun Facts about Barnafoss
Barnafoss' water originates in Iceland's second largest glacier,

Langjökull

.

Hraunfossar, the famous Gullfoss and Barnafoss all originate from the same glacier.

The waterfall was originally called Bjarnafoss but changed later to Barnafoss.

There are two waterfalls named Barnafoss in Iceland, the other one is not as known.
---
Where is Barnafoss located?
Barnafoss is located in Borgarfjörður, 127 kilometers (78,9 mi) away from Reykjavík, 58,5 kilometers  (36 mi) away from Borgarnes and 334,5 kilometers (207.8 mi) away from Akureyri.
---
How to get to Barnafoss?
Barnafoss and Hraunfossar are the perfect waterfall combination to visit on a road trip out from Reykjavík. The drive will only take about 90 minutes and take you along a well-marked path, most of it along the famous Ring Road.
Driving: Head north from the capital, passing mt. Esja and going through the Hvalfjarðargöng undersea tunnel. Once you are about to cross the river to Borgarnes you make a right turn to road 50. Follow this road past Hvanneyri, Kleppjárnsreykir and Reykholt. Make a left turn to road 518, it will take you all the way to the car park.
Joining a tour: your options are endless when it comes to tours visiting Barnafoss, you can simply go on a day tour out from Reykjavík or join a Ring Road excursion which includes wonderful stops all around the country including Barnafoss. See options below.
---
Where to eat near Barnafoss?
During the summertime, you will find a lovely café located between the waterfalls.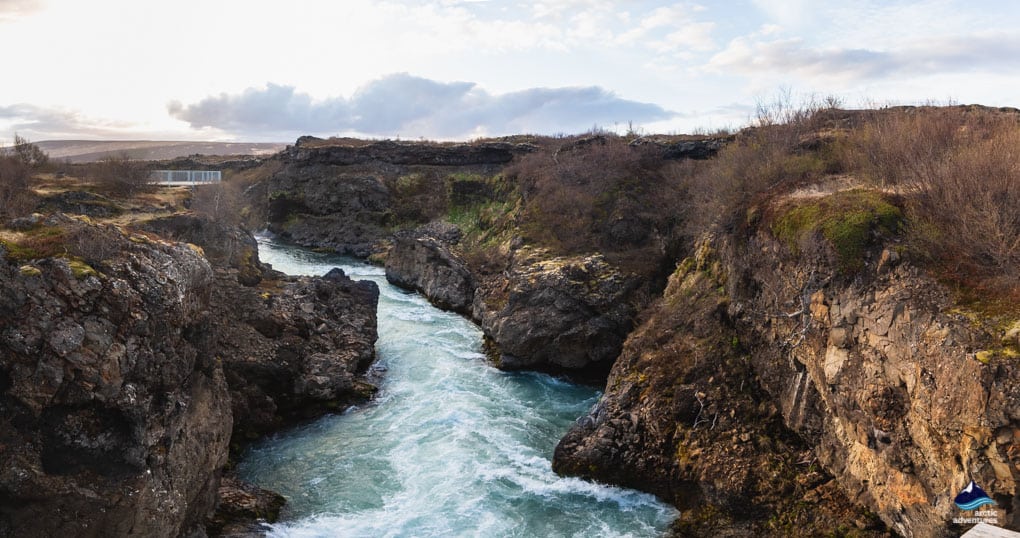 ---
Where to stay near Barnafoss?
Hotels
Hotel Á

Hotel Húsafell

Fosshotel Reykholt
Guesthouses, B&Bs and Farmstays
Guesthouse Gamli Bær

Guesthouse Steindórsstaðir

Kópareykir Holiday Homes

Hverir Sælureitur í Sveit

Geirshlíð Guesthouse
---
Camping near Barnafoss
These are the two nearest camping sites to Barnafoss waterfall. Both are very well kept and located at beautiful sites.
Húsafell camping ground has been popular amongst locals for a very long time. It is situated in Húsafell's best spot, in between the cottages and within walking distance from all the services on site. Those include a swimming pool, a playground, a golf course, walking paths, a bar, a restaurant and even a small shop. The facilities at the campground itself are hot and cold water, electricity (per 24 hours: 1100 ISK), Wifi, washing machines and showers
Price: Per adult for a night is 1500 ISK.

Open: All year around.
Hverir camping ground at Kleppjarnsreykir is the other campsite in close proximity to Barnafoss. It is a smaller camping ground and has a homey feeling to it. Its facilities include hot and cold water, lovely hot tubs, washing machines (500 ISK per wash), tumble dryers (500 ISK per use), showers, toilets and electricity (per 24 hours: 1100 ISK).  Another close by attractions are the swimming pool, the walking trails, a restaurant, and a children's playground.
Price: per adult per night is 1500 ISK.

Open: from the 30th of March until the 30th of September.
---
Barnafoss in winter
Barnafoss in winter is like something from a winter themed fairytale. Its surroundings are usually covered in snow quite early in the winter season and the lava rocks around the waterfall often have hanging icicles dangling. This is truly a fascinating sight and surely worth bringing your camera along.
You must be mindful of your step if you plan on visiting in winter as the paths around it might be slippery and remember to dress weather accordingly. Those sneaky Icelandic winds tend to bring chills to the bone!
---
Interesting places near Barnafoss
Hraunfossar Waterfalls

Borgarfjörður Valley

Húsafell

Meet-on-location site for

Into the Glacier Landgjökull Ice Cave Experience

Surtshellir Cave

Víðgelmir Cave

Háafell Goat Farm

Reykholt and Snorrastofa

Krauma Geothermal Baths

Steðji Beer Brewery

Hvanneyri

Borgarnes

Harmarsvöllur Golf Course

Gerðuberg Basalt Columns
---