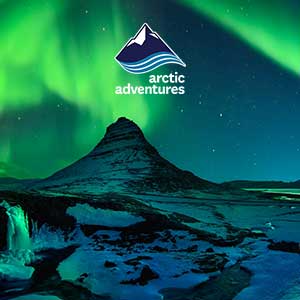 Feel the rush of adventure as vast underground networks of a hidden lava cave unfold in the beam of your torchlight!
Half day lava caving tour in the vicinity of Reykjavík, a great option for the whole family. Lava tubing is a great way to explore Iceland from a different point of view and put yourself into the speleologist's shoes while exploring the magnificent formations nature has made for us to enjoy.
Duration

3 hours / 1pm - 4pm
Suitable for those in good condition.
Guide zu Teilnehmer Ratio
Tour Highlights

Small group experience
A visit to a lava cave
Lava caving
Inklusive

Transfer to/from Reykjavik
A certified caving guide
Helmet and head torch
Please note that this tour includes pick up from hotels in Reykjavik. Pick up starts at 1 pm and can take up to 30 min.
Iceland is known for its volcanic activity across the country. This is your chance to explore the fascinating subterranean landscape of one of Iceland's many lava fields. Cave Leidarendi, located in the Blue Mountains area just out of Reykjavik and Gjabakkahellir lava cave located in Thingvellir area are typical lava tubes, formed by flowing lava moving beneath the hardened surface thousands of years ago. Bring the whole family to discover the hidden world beneath us. With an endless multitude of colors and jagged rock formations, this lava caving tour is sure to give you a unique and captivating experience. This is a perfect opportunity to step outside your comfort zone and discover something completely new. In the winter time, you are sure to see some amazing icicles hanging from the cave roof on your underworld adventure. Prepare to get down on all fours on this great half day tour. Your half-day lava caving adventure will end with a drop off to your hotel in Reykjavik.
Remember to bring: Warm outdoor clothing, waterproof jacket and pants, headwear and gloves. Good hiking shoes are highly recommended.
What if I don't own all of these clothing necessaries?
Don't worry, you can always rent the necessary clothing in the booking process.
Bitte beachten Sie
This tour does not offer the chance of meeting us on location.
Diese Tour buchen
Preis ab: 9.900 ISK
Loading...
"Lava Caving - really enjoyable!"
We went on the lava caving experience and found it brilliant! Our guide (Vicky) was amazing, full off all the information for the tour but also Iceland and Icelandic things in general! Lots of fun and great to see the inside of the lava tunnels. All in all a great trip! Only takes up a few hours of your day too so well worth it!
"Lava Tubes"
Tour was excellent! Richard our guide was knowledgable, fun and all-around great. Highly recommend the lava tubes tour if you have a free 3-4 hours to burn in Reykjavik!